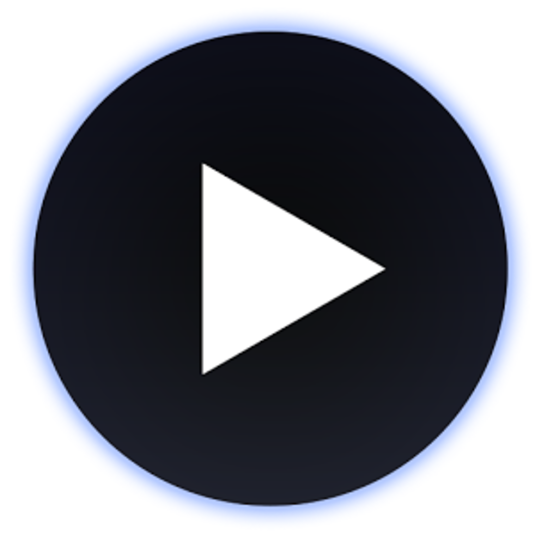 Poweramp
I don't need to say how important music is, everyone knows how important it is. The same music might not be important to everyone, but some kind of music is important. It is like air, we need it to be alive. Music has a lot of power – it heals, elates, upsets, excites, brings memories, angers and most importantly, is a way of expressing ourselves.
We have a lot of devices to keep this healing touch alive, and those devices have a lot of apps. One such amazing music app happens to be Poweramp Music Player. It's key features include:
– plays mp3, mp4/m4a (incl. alac), ogg, wma*, flac, wav, ape, wv, tta, mpc, aiff (* some wma pro files may require NEON support)
– 10 band optimized graphical equalizer for all supported formats, presets, custom presets
– separate powerful Bass and Treble adjustment
– stereo eXpansion, mono mixing, balance
– crossfade
– gapless
– replay gain
– plays songs from folders and from own library
– dynamic queue
– lyrics support, including lyrics search via musiXmatch plugin
– embed and standalone .cue files support
– support for m3u, m3u8, pls, wpl playlists
– OpenGL based cover art animation
– downloads missing album art
– custom visual themes, lot of skins available on Play
– 4 widget types with many selectable styles, advanced customization; Android 4.2 lock screen widgets
– configurable lock screen
– headset support, automatic Resume on headset and/or BT connection (can be disabled in settings)
– scrobbling
– tag editor
– fast library scan
– high level of customization via settings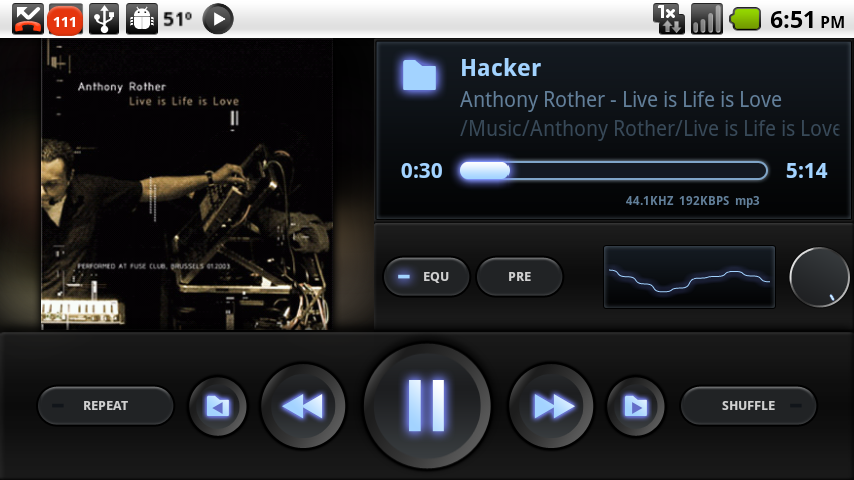 Here are some of the latest improvements on Poweramp Music Player:
– 575: fixed rare issue with compressed id3v2 tags
– improved stability @ Lollipop
– fixed issue with tag scanner crashing on some incorrect tags (huge thanks to Saurabh Arora, who helped investigating the issue)
– added workaround to skip wbmp album art as it crashes Android in albums/folders list (huge thanks to Luan Andrade, who helped investigating the issue)
– fixed drag and drop in playlists @ Android 4.4+
Now, if you find your songs missing in the library of this app, ensure you have all your folders with music actually checked in Poweramp Settings => Folders and Library => Music Folders.
Your original Android Library is not changed, nor any files deleted.
Poweramp library is a separate, completely independent library. When you installed Poweramp 2.0, it just got filled with the files scanned from your sd card/other flash memory, as specified in Music Folders.
Also, if you are having any volume issues, Try to disable Direct Volume Control in Poweramp Settings => Audio => Advanced Tweaks.
Poweramp 2.x uses Direct Volume Control by default on 2.3+ mid-to-high end devices. On stock ROMs this produces much better audio output. But many custom/buggy ROMs, while supporting DVC, can fail with it.
Even though this is quite an amazing app, yet, the best part about it is that you don't get to know what it is all about only after you have purchased it. Poweramp Music Player has a trial version that can be downloaded just for you to make sure that you will be getting your money's worth!
One thing that I have heard more than often from people when asked about their likes is music. I cannot remember a single person who has told me that they do not like music. Each one of us listens to music. Some listen to all kinds, some listen to some kinds. If music were not as important to us as it is, then there would not have been a multi-billion dollar music industry.
Music Volume EQ
After listening to a lot of different kinds of genres with different artists, I have realized that every listener has their volume preference that gets them in the zone. Let me explain it a little more.
Some people love death metal at an extremely high volume. Some like death metal, but, not that much. And definitely not at a high volume, they end up getting headaches. Therefore, they do not mind listening to it, but, at a very low volume. Similarly, slow love ballads are usually enjoyed by people at a lower volume, the effect of such ballads will not be the same at a higher volume, it would kill the romance.
Thus, what we need is an app that can perfectly regulate the volume of songs as we would like it to be. Therefore, what we need is an app called Music Volume EQ. Music Volume EQ is a volume slider with live music stereo led VU meter and five band Equalizer with Bass Boost and Virtualizer effects. Improve sound quality on your Android device and get live audio readings of your current music volume level. Use with headphones for best results.
Music Volume EQ includes the following features:
– Media volume control
– Five band equalizer
– Bass boost effect
– Virtualizer effect
– 9 equalizer presets
– Save custom presets
– Stereo led VU meter
– Home screen widget
– Lock media volume
Music Volume EQ works with most music and video players.
Installation and usage:
– Add Music Volume EQ widget on home screen.
– Put headphones
– Turn on the music player and play your music
– Press Music Volume EQ widget and adjust sound level and frequency.
– To save custom preset press Save Preset on list and type preset name. To delete preset, long press preset name and delete.
– To close application and remove from Status Bar long press application power button.
Not just this, they have added 'Settings' button on the main screen, small bug shave been fixed and improvements have been made in the Status Bar notification.
If you are thinking why else this should be the app that you download, it is because Music Volume EQ will not just regulate the volume of the volume according to your preference, but, it will also make your android no less than a proper sound system. Now even if you cannot manage getting those awesome speakers at the party, all you need to do is have this app on your phone and you can dance the night away!
Karaoke Anywhere
If you have the body, mind and should of Michael Jackson or Jennifer Lopez, and by that I mean that if you are someone who loves to sing and perform and the best kind of a party for you is a karaoke party, Karaoke Anywhere for Android is the app for you.
Karaoke Anywhere is the world's first and only fully featured Android karaoke application with a streaming library of over 10,000 songs! Included with the app are a ton of free songs for you to sing to.
Karaoke Anywhere gives you the full experience of karaoke without requiring expensive equipment or going to a crowded karaoke bar. You now have the world's largest karaoke song book at your fingertips!
Karaoke Anywhere for Android includes the following features:
– Free streaming songs included with the application from a variety of artists
– Join Club Karaoke access to over 10,000 streaming songs updated monthly
– Import your existing Karaoke MP3+G files
– Purchase individual songs from our library of over 40,000 tracks from our download store
– Join the community of Karaoke Anywhere users and listen, like and comment on performances
– Real, high quality backing tracks for a true Karaoke experience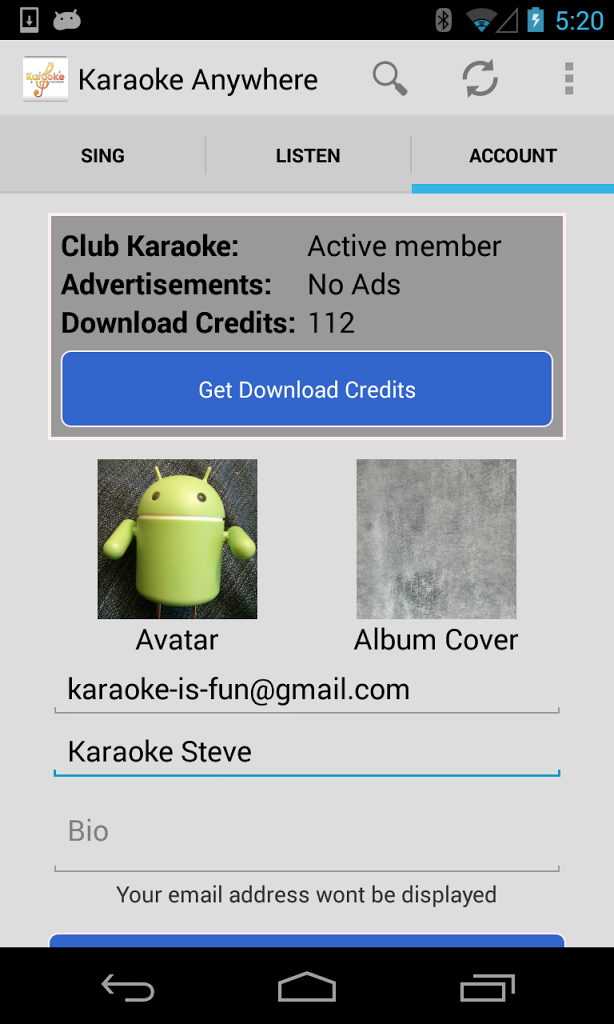 [ Instant Download ]
Welcome to seamless purchase and playback! Building your Karaoke library has never been easier. With our instant download feature, you can browse our selection of over 40,000 tracks for purchase and play them instantly! No syncing or waiting for downloads. Going to be without internet access? You can save any of your purchased tracks for offline play directly to your device.
[ Import Your Own Tracks ]
Already have Karaoke files? Simply copy them into the Karaoke Anywhere folder found on your sd card or internal storage. Your files will be accessible immediately!
Already a Karaoke Anywhere user? Login to the application using your username and password to link your device. All of your purchased tracks will automatically be imported and available for instant playback.
[ Club Karaoke Details ]
– Joining Club Karaoke is optional
– Your monthly subscription includes UNLIMITED access to the streaming content for thirty days.
– If you choose to subscribe, you will be automatically billed $9.99 USD monthly via your Google Play account
– Subscriptions automatically renew. You can disable renewal through the Google Play application
– No cancellation of your current subscription is allowed during the active subscription period
Bottom line: You will be automatically billed monthly and you can cancel the auto-renew at any time.
A wifi connection while streaming karaoke songs is recommended. Also, Monthly subscriptions are provided by Karaoke Cloud / Digitrax. Digital downloads are provided by TriceraSoft.
It is time to get out of the shower and show the world how good you can actually sing. And if you cannot, Karaoke Anywhere for Android will help you do it better because it becomes easier to sing with music and lyrics. On the other hand, if you love to sing and would like to convert every party that you attend into a karaoke night, this app will definitely come in handy!