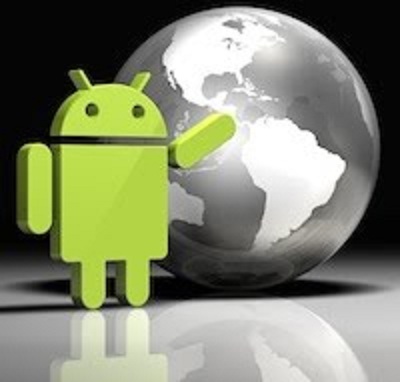 NetCut
There is a lot of technical stuff involved with respect to how your internet works on your smartphone and a lot of it has got to do with the local area network, more fondly known as LAN. It is also the reason why sometimes the internet on your phone is not at its best. Therefore, it is good to have a filter against bad users. Thus, there is an app that can help you with this filter by becoming this filter, if you have rooted your android device. And that app is known as NetCut.
NetCut is one of the most powerful network administrator tool. This tool allows admin proof test of how the firewall can efficiency handle a bad user in the local network. By one click from your hand you can test cut any network connection between internet gateway and devices in your local network remotely.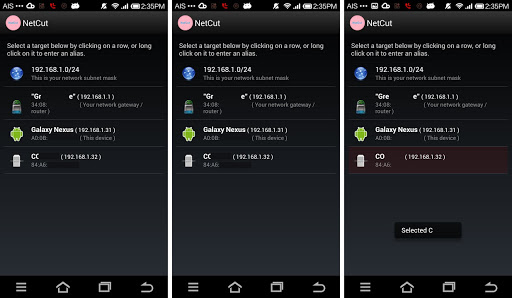 Here are a few details of how NetCut works:
– Every LAN connectable devices have one unique number called a MAC Address
– Even when the devices want to communicate with another device they need two things, an IP Address and a MAC Address.
– The device's only know destination is the IP Address(Ex: gateway) but not the Mac Address, it may change when that device reconnects and gets a new IP, that means you can't have a static fix on this pair of an IP and a MAC address together.
– The only way to get a destination MAC Address is through a request, the device sent can ask for a request command to every device. It goes something like this:
"Hey! , IP 192.168.1.1 what is your MAC Address?"
– Every device receives this request but not the answer except the device which carries IP 192.168.1.1,
This is the response "OK, my IP 192.168.1.1 and Mac Address is 12:82:FA:22…" this response is not for all, it is only directed to the originator of the question.
– when the asker receives the response, they pair IP and MAC together and start communication.
– If they ask every time when they want to communicate, it makes a lot of traffic, so the device
must be cache the pair for a while (Ex: 5 min)
It looks like a proper algorithm to solve this problem but if something is wrong, it could have implemented in the low level network communication so they missed some check of replier that can make this algorithm weak. NetCut uses vulnerability of implementation to send a reply command without a request to victim, making the victim cache incorrect IP and MAC Address, this makes them lose connection.
While using this app, you must keep in mind that this application has only been made for testing network security. If it is used for other purposes, something could go wrong.
Therefore, just like we make sure that all our important items are secure, we need to make sure that even our internet has proper security because it is increasingly becoming a vital aspect of our life. Thus, internet network security is as important, if not more, as any other thing in our lives. So, NetCut is a must!
Internet Booster
The internet revolution has been the most beneficial to the human kind. Everything has its good and bad but internet has been more good than bad. Best of all, it has made the world a global village in the true sense. I might know things about a celebrity in some other country much more than the people of those country. This is because knowledge is now about interest, not access. Internet is the way how we can affordably stay constantly connected with our loved ones no matter where they are, as long as there is a good internet connection on both ends. It is a means of earning our livelihood, especially for people like me. Without internet we will not be able to pay our bills.
Internet is also the reason behind a global audience, it is the reason behind shopping at our doorstep. It is that thing that does not require too much capital investment but can give birth to multi-million dollar companies. It is the be all and end all of almost all of us.
Therefore, the better is our internet connection, the smooth four lives become. To aid to this is an app that you can use if you have rooted your phone. This app is Internet Booster, a very straightforward name, I know.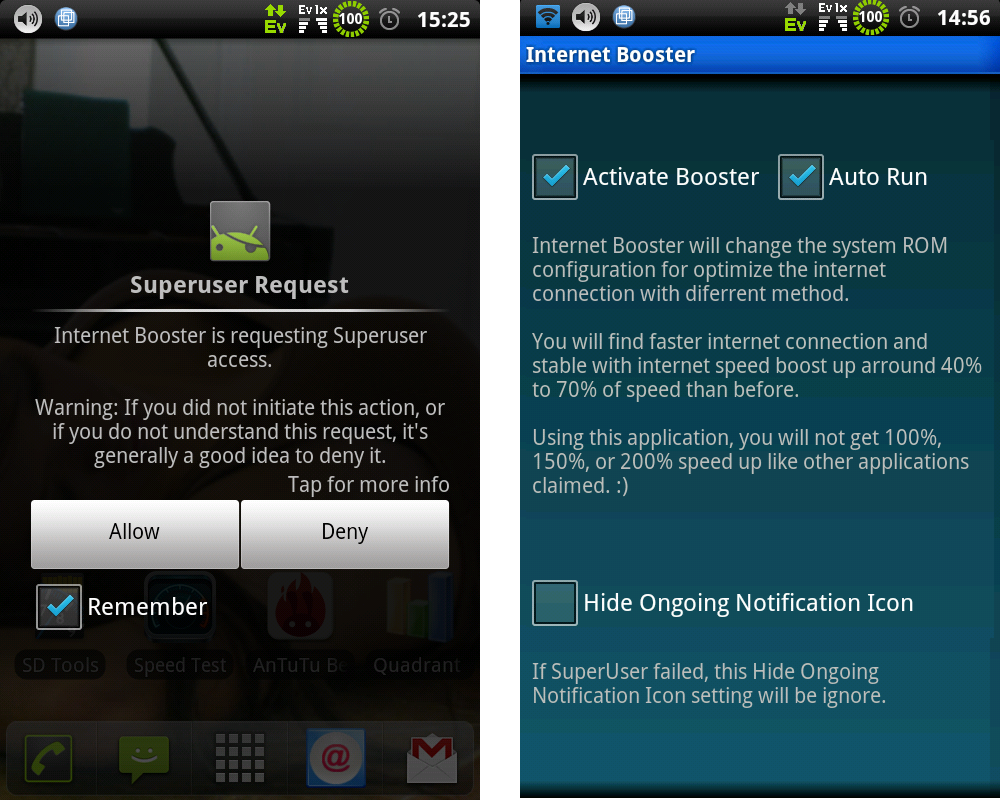 Internet Booster will change the system ROM configuration for optimize the internet connection with different method. You need to allow the SuperUser privileges to run this application.
Without the SuperUser privileges, this application cannot change internet configuration in system ROM. You will find faster internet connection and stable with internet speed boost up around 40% to 70% of speed than before.
However, you must keep in mind that on some devices, it may "lock down" the wifi or tether connection after activate Internet Booster (if the wifi or tether is already active or turn on) because this booster change the system setting.
If this happens on your device, you need to turn off and turn on again the wifi or tether to use the new setting.
The most best setting is Booster A (default), but it might be the case Booster B is better than Booster A. It all depends on the internet provider's base setting on their BTS. Also, user experience needs to find out which one is the best for your personal need.
The best part about Internet Booster is not just the fact that it is completely free, it is also completely, a hundred percent ad-free. So no annoying ads will pop up in the middle of this app's usage. Also, you can use the back button to save and execute new setting (not the home button).
And, if you need to check all permissions, you can do so (show all permissions) in app information (manage apps) to find out.
With Internet Booster, you will never face the problem of a slow internet, especially when you need it urgently. It is best for an uninterrupted video calling experience!
History Cleaner Pro
I know you have been naughty lately, it is not lately really, it has been the case since you hit puberty. I know this because we are all on the same boat. Fine, don't admit it but you know exactly what I'm talking about. I'm talking about the one unsaid fact about society that all of us indulge in but no one wants to acknowledge. This could be because it is deeply private, embarrassing or inappropriate. Whatever the case is, it is hidden by all.
Yes, there are people who will argue that history needs to be cleaned for various other reasons as well. That is true but seriously, who are we kidding here? Unless we are planning a surprise party for someone through their own device (a very bad idea), we primarily need to delete history for one and one reason alone. And that reason is porn.
Therefore, if you have rooted your android device, an app called History Cleaner Pro will prove to be the most powerful history and cache cleaning tool for Androids, and the only one designed for rooted phones.
It uses root access to clear the data of countless apps such as Firefox, Chrome, Dolphin Browser, and YouTube (see below for a full list). This is unlike every other history cleaning app which can only clear what Android normally allows (call history, clipboard, google play searches, etc). History Cleaner Pro clears history, caches, residual files, and more in order to free up space and memory, protect your privacy, and keep your phone running snappy and bloat free.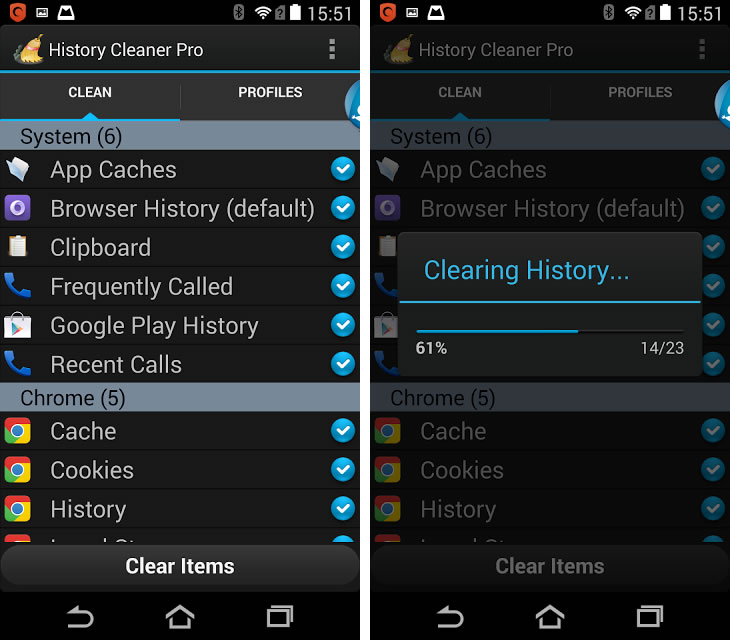 In addition to being powerful, it is also easy to use. To simply clear a few items, just check them and press the button to do so.
If there are a few items you want to clear frequently, you have the option to create shortcuts on your home screen that can clear customizable lists of items in just one click. For advanced users who want total control, there is even Tasker support for virtually endless customization.
It includes the following wonderful features:
– Clears over 50 different items with new ones continually added
– View data to be cleared (supported by most, but not all items)
– Profile support for saving lists of selected items
– Homescreen shortcuts for one-click clearing
– Tasker support for virtually unlimited customization
History Cleaner Pro supports items like the default android browser, the clipboard, frequent contacts, Google Play search history, call history, SMS history, Firefox, Gmail, among other things.
This is a very useful app to download to save yourself from the trouble of fiercely protecting your phone each time someone unlocks it. Especially if you are someone with a lot of secrets, History Cleaner Pro will wipe away all your secrets so now you can fearlessly search whatever you want without getting worried about what would happen if someone found out. However, this app should not be used to wipe away evidence of a mischief that could possibly hurt someone. Let's keep our conscience clear and enjoy this app.