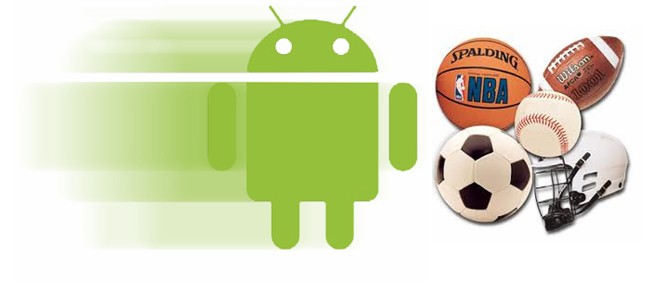 Fitivity

– Get One Step Closer to Your Superbowl Dreams

Every sportsman and athlete would know just how important it is to keep practicing; practice makes man perfect after all. And all of them would also always vouch for a proper training. Mere practice of a sport is not enough. It does not help you become the best sports person you can. It always needs to be accompanied by proper training for any sport – football, rugby, cricket, badminton and every other sport.

Without proper training and fitness one can never be number one. And if you have aspirations of becoming the greatest footballer the world has ever known, but do not know how to go about it, don't think twice and download Football – Speed and Agility right away. The first step in becoming an amazing sports person is perfecting the sport.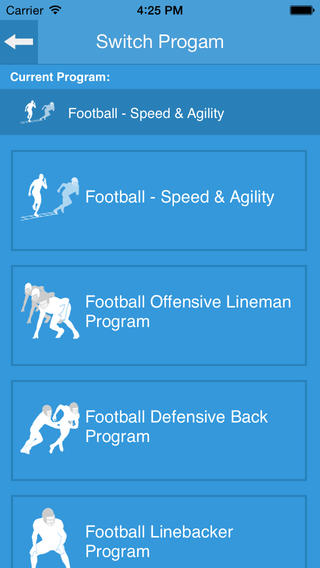 Whether you are a receiver, running back, or lineman – speed matters the most. This program includes the most advanced football speed and agility exercises used by pro and collegiate football players.
The types of exercises and drills you will use in this program will work for you:
– Agility
– Speed
– Explosiveness
– Power
– Footwork
– Quickness
– Lateral Quickness
– Jumping Ability
The top pro football players use these drills to prepare for the combine in order to get an advantage and propel their game to the next level Football becomes much easier – when you are faster and quicker than your opponent.
That is obviously not all. This app comes with a lot more than what one could ask for, including:
– Instructional coaching using video and voiceover
– Animated demonstrations with detailed descriptions
– Functionality to track workouts and exercises completed
– Multi-Level Beginner to Advanced Workouts
– Warm Ups, Cool Downs
– Tips, Secrets, Overview of the Workout
– Fitness, sports and recreational events in your city!
Fitivity's trainers are some of the top athletic professionals in the world. Their staff includes sports and fitness trainers who work with professional athletes, fitness enthusiasts and people who have never exercised before. They understand training and are here to help you improve.
So, when so many professionals are there to make your dream of becoming a footballer become reality, then stop going to your backyard with your next door neighbor, winning against him and feeling like a stud because the football world has much more competition that Brady from next door. It is not going to get you anywhere because out there, the competition is real. The competition does not have a huge belly and loves potato chips. The competition has amazing skills because they are one step ahead of you in downloading Fitivity and getting their training right.
Do not waste any more time to know how to bend it like Beckham because you might rub shoulders with him if you play it correct. Remember, it all begins with proper training. And what better way is there to achieve proper training than by having it through a few touches on your smart phones?
Coach's Eye – Be the Best Judge of Yourself You Can Be
Do not go by the title, it is only because we cannot afford professional help and a third umpire is out of the question. So what do we do when we know that we can play a sport very well, all we need is someone to help us out and that someone costs a bomb?
In such a situation, we replace that someone called a coach with something called and app. That app being Coach's Eye. It is the performance-enhancing video app for serious competitors.
You can now evaluate performance on the field or on the go using powerful instant replay tools. Record amazing HD videos and instantly review them in slow motion. Create and share coaching videos that help you train smarter and see results faster. Record your players and instantly show them how to improve, right on the field. Refine your pitcher's fastball, analyze your golf swing, easily break down a volleyball serve, improve soccer skills, or even demonstrate proper weightlifting form. Every coach, parent and athlete needs the edge Coach's Eye delivers.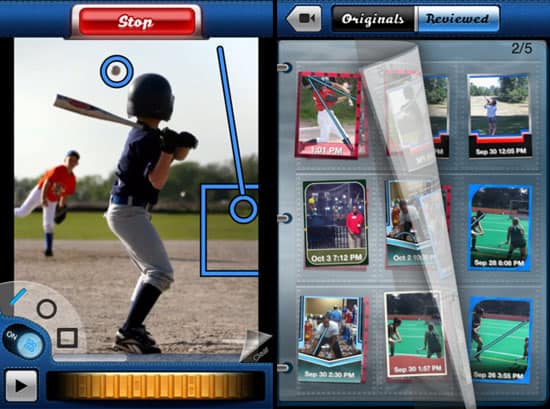 This app actually trumps having a real coach because the features it provides are not humanly possible:
VIDEO CAPTURE AND IMPORT
• Quickly record videos.
• Import video from your device's Gallery or apps like Dropbox.
• Instant import of videos shared from other Coach's Eye users.
INSTANT VIDEO ANALYSIS
• Instantly review video with slow-motion playback and drawing tools.
• Slow-motion video review is easy using our flywheel for precise video scrubbing.
• Zoom and pan videos during analysis to see just the details that matter.
• Draw on videos using the square tool. Additional tools available for purchase.
• Create analysis videos with audio commentary, annotations, and slow-motion.
• Easily create Animated GIF's and Collage images from your videos.
SIMPLE VIDEO SHARING
• Email
• Text Message
• Facebook
• Twitter
• Gallery
• Display on a big screen for on-the-spot video analysis in a group setting with HDMI connection.
Not just that, it allows you to be social as it has a whole community that you can relate to and interact with:
EXPLORE THE COMMUNITY
• Find inspiration with popular videos found in our Leaderboard and Staff Picks
• Discover what others are doing around the world with videos on the Map
• View and import videos that were publicly shared by other coaches and athletes.
Now you have everything you always wanted because you know you can do it, but wait, there is more! You can customize your Coach's Eye by adding additional features:
Everything Pack
• Unlock all the tools and features of the app.
Video Comparison
• Compare and analyze two videos.
Drawing Toolkit
• Line tool
• Freehand tool
• Circle tool
• Arrow tool
Precision Pack
• Angle tool
• Timer tool
• Spotlight tool
Tagging
• Keep your videos organized with tagging.
Video Export
• Share your videos additional apps and locations like YouTube, Dropbox and more.
Record Analysis
• Create unlimited analysis videos for your athletes.
Ad Remover
• Remove ads from app.
Do you feel like you have gotten much more than you bargained for? Well, it is not about finding the right coach anymore. It is about finding the right app for everything to fall in place so that you can become the best athlete you could ever be!
Workout Trainer – For That Perfect Body That Requires Some Training
All of us love being healthy, fit and fabulous; however, most of us also have a bit of laziness and a lot of yummy food (if it is yummy then it is unhealthy 99% of the time, unless you are one of those who do not understand why people do not find broccoli yummy). The proof of that would be so many Instagram accounts of humans that look like picture food porn sites. I am quite sure they end up eating it; I mean who orders food just to click a picture for the sake of social media, right? Even you are not sure how to answer that? Says a lot, does it not?
Anyway, picture or no picture, to be able to afford the union of food and mouth, we need to work out. And the best way to do it is having a trainer who tells you exactly how you need to work out according to your body and your personal requirements. But if you are like me and you rather spend that money on more good food than hiring a trainer then you can download Workout Trainer – an app that helps you get in the best shape of your life with thousands of free workouts and premium workout programs that help you achieve your fitness goals.
Your certified personal trainers guide you through exercises with timed, step-by-step audio, photo and video instructions complete with encouragement! Whether you are doing body weight workouts at home or lifting weights at the gym, Skimble's Workout Trainer is the ultimate fitness companion. You can also choose your area of focus and use it to get a six pack, lose weight, improve your running, practice yoga, and more. Workout Trainer is ideal for people who want to get in shape without using any exercise equipment. It is also great for those who enjoy Tabata, High Intensity Interval Training (HIIT), timed workouts and CrossFit WOD.
Are you wondering how exactly it helps you out? Here you go:
– Follow along to workouts with audio instructions and progress cues
– See instructional photos and videos that explain each move in detail
– Complete free virtual fitness consultation wizard for a customized experience
– Easily create and edit workouts from your Android
– Add the home screen widget to see a new workout every day
– Share your workouts via Email, Facebook and Twitter
– Play your favorite music while working out
– Discover their community of exercisers like you
– Try new and recommended workouts from the community
It also has a Pro version, Premium PRO+, which is even more fabulous than the regular one:
– PRO-only Workout of the Week challenges and specialized workouts
– All access pass to custom training programs ($500+ value)
– HD exercise videos with PRO audio coaching
– Do web workouts on the www.skimble.com website
– Created unlimited workouts including Shakercizer
– Access PRO-only community forums with trainers
– Enjoy an ad-free experience & more
When there is so much going for you through Workout Trainer, do not let those talented chefs stop you