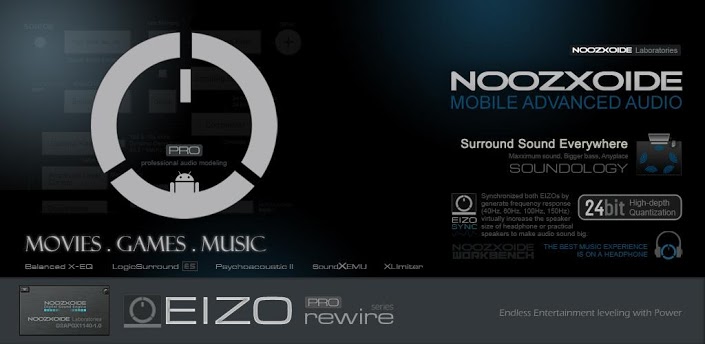 When you listen to music on your phone, you don't usually expect the best sound quality. However, with certain apps installed, you can vastly improve sound quality on Android in just a few minutes.
Ready to listen to the best Android audio experience possible – regardless of your hardware? Today, we're explaining how to improve your Android audio experience.
1) Install Noozxoide EIZO-Rewire PRO
Noozxoide EIZO-Rewire PRO is a free app available on the Google Play Store. Sure, the name isn't exactly catchy, but it's a good equalizer that doesn't require root access.
After installing the app, you'll find three sections, including Line-Out (headphones), Built-In (your phone's onboard speakers) and Wireless (wireless speakers and headphones).
Each section has the same audio enhancements, but you'll need to enhance the audio in each separate section depending on how you listen to music from your Android.
The developer of the app recommends using professional speakers or headphones to maximize the effectiveness of the app, although careful listeners will be able to notice the difference on all types of hardware.
Essentially, Noozxoide EIZO-rewire PRO takes stereo/mono content and uses a virtualizer to create "phantom" speakers around your headphone, room, or other listening environment. The app's description on Google Play gets a lot more technical, but that's the gist of how the app works.
2) Install Music Volume EQ
Music Volume EQ is another app that no longer requires rooting. Using this app, you get an equalizer that floats over your home screen whenever it's opened.
Whenever that equalizer is on your screen, you can play audio from any app and enjoy an enhanced listening experience. You can also use the Music Volume EQ widget or app icon to adjust the settings even further.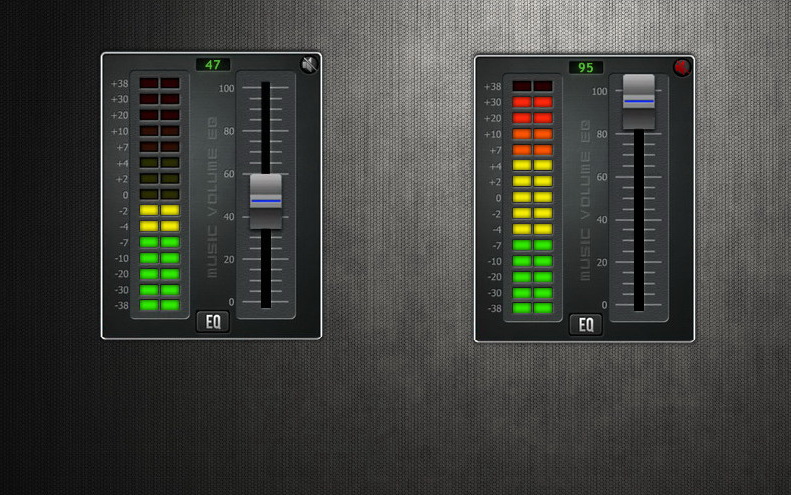 Unless you're an audiophile, you'll probably want to stick to the default presets, which come with customized levels for hip hop, rock, dance, pop, Latin, metal, and classical. Choose the preset that matches up with whatever music you're listening to, and you'll be surprised by the difference.
Obviously, most of us have used an equalizer before. It's a difference you can notice on even cheap, basic audio equipment.
3) ViPER4Android
ViPER4Android is the only app on this list that requires a rooted Android. The app is for advanced audio users, and it allows for extensive customization. However, if you don't know much about audio, then you can also choose from preferences like "Super Audio Quality", "High Audio Quality", and "Power Saving".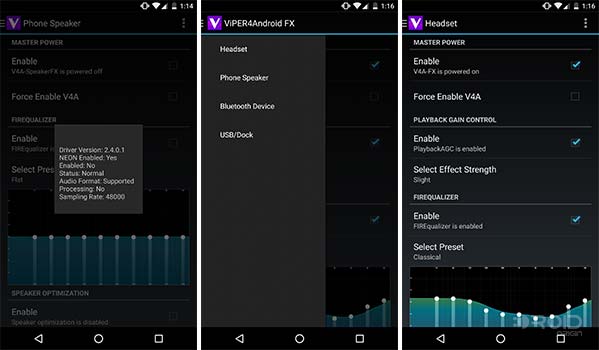 V4A is one of the most popular audio customization apps on Android. You get options ranging from adjusting an equalizer to loading Impulse Response Samples (IRS). This allows you to mimic the sound style of high-end equalizers – some even compare it to HTC's BoomSound and Dolby Audio, so obviously, ViPER4Android is in elite company. It can make a very significant difference in audio performance.
Now here's the bad part: ViPER4Android isn't the easiest app to install or customize. You'll need to download the .zip file here, then unarchive it and place the extracted files into the /sdcard/ViPER4Android/Kernel file (if this is your first time installing V4A, then you'll need to make a new "Kernel" folder yourself.
Your Android Will Never Sound the Same
Ultimately, if you're playing music over your phone's speakers, then you're not going to get the best quality. HTC is the only major flagship that has decent sound from the built-in speakers. However, if you're playing songs over Bluetooth, external speakers, headphones, or another third-party audio device, then the tips listed above will vastly improve your listening experience.