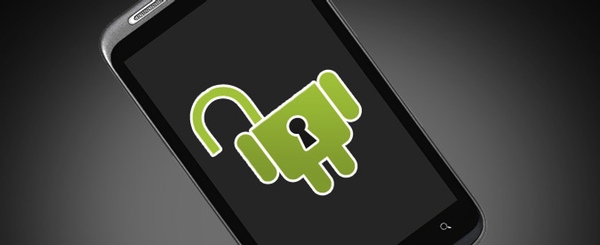 VIRUSfighter Antivirus
I have always urged everyone to have one antivirus app installed in their beloved Android because I feel that it is a way to give back whatever it gives to us. It gives us immense convenience, leisure and entertainment. It is there for us when things are going fine and more importantly, when things are not going so well. Our Android smartphone is our true companion in every sense of the word because for most of us it is the first thing that we look at in the morning and the last thing we lovingly see before hitting the sheets.
When something can do so much for us and mean so much to us, can we not download one tiny app for its safety? After all, it is going to be our loss should a virus spread so even this is basically for us.
Therefore, I will again be covering an antivirus app today, and that app is VIRUSfighter Antivirus. A thorough antivirus solution for protecting your Android device from the latest malware threats, VIRUSfighter Android FREE checks your installed applications, data and new installations.
– Fast and Reliable Scan for more than 30.000 viruses, malware and spyware threats
– Free Product and Threat Updates!
– Simple and Easy to use, with high-speed scanning and minimal usage of resources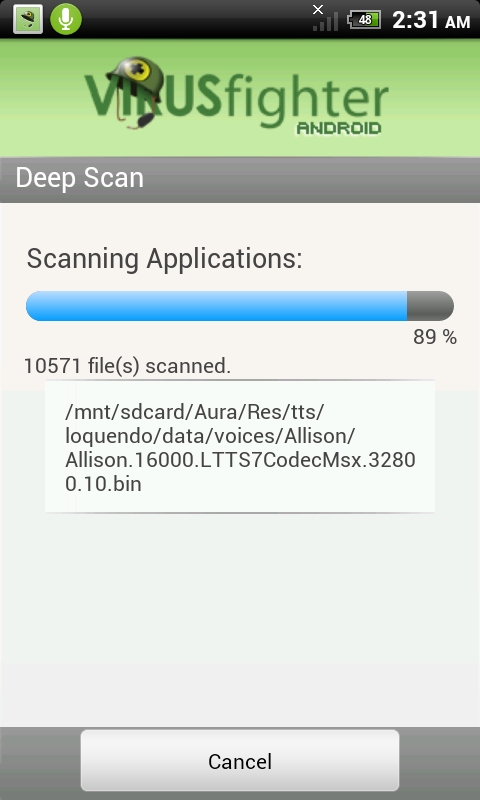 With the number of threats for Android devices growing at an alarming rate, VIRUSfighter Android FREE helps protect your valuable files, data and network from emerging viruses, spyware, malware, trojans, key-loggers and other threats.
*(PRO only) Real-time antivirus protection – You're now protected from viruses, malware and spyware in real-time!
*(PRO only) Security Advisor – Identifies potential security holes by looking at the various "entry" points to your device.
*(PRO only) Privacy Advisor – Find out if your account info, contacts, messages and other private data are accessible.
*(PRO only) Application Manager – Check the permission settings of your downloaded applications.
FREE Support – Free phone and email support in the following languages: English, German, Dutch, Danish, Chinese, Czech, Thai and Korean.
With VIRUSfighter Android FREE you will get an effective, easy-to-use antivirus for your Android device!
Here is a list of all the features in VIRUSfighter Antivirus:
– Regular updates keeps you protected from the latest threats
– Real-time scanning while you surf, email, and use applications (PRO only)
– On-demand scanning
– Security Advisor (PRO only)
– Privacy Advisor (PRO only)
– Application Manager (PRO only)
– Lightning fast scanning technology
– Small footprint with ultra-low battery consumption
– Scheduled scanning
– Fully customizable settings
VIRUSfighter Antivirus is a great app and is absolutely free. It will be really sad that you still will not download it. This is because we might think that nothing will happen to our phones but bad things happen all the time. And god forbid, should a virus spread, you will be thinking of the time when you could have easily prevented a corrupted phone by simply downloading VIRUSfighter Antivirus. So do not delay, download it right away, instead of regretting later!
Mobile Security & Antivirus
When it comes to mobile security, there should not be any compromise. Not only is our hardware very prized, the soft data contained in it is priceless. So whether it is theft or it is some virus threatening, we need to be good parents and shield our baby from the unwanted elements. Thus, we need to have as many options as we can when it comes to mobile security apps. So today's app is dedicate to yet another amazing security app that might just be the one that you were looking for and it is called Mobile Security and Antivirus. 
Protect your Android smartphone or tablet with Mobile Security & Antivirus from ESET. Proactive Anti-Theft will alert you before you even realize your device might be missing. Anti-Phishing shields your personal information online.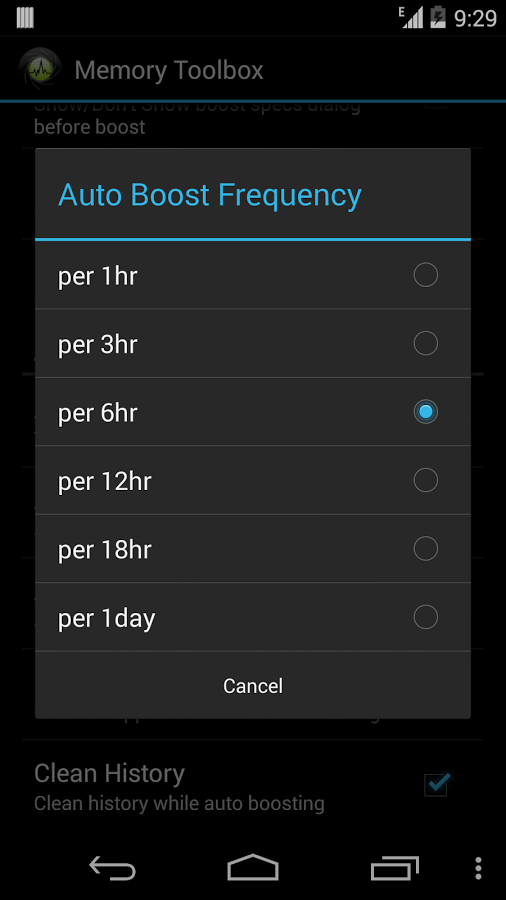 You may choose from the free or the premium version.
The features included in the free version are:
– Antivirus with 100% detection rate (AV-Test, 2015)
– Automatic Scan of downloaded applications and files
– On-demand Scan that you can activate at any time
– Quarantine where all discovered items reside so they don't infect you further
– Anti-Theft activated by SMS commands – Remote Lock, Remote Siren, GPS Location and Remote Wipe
– Tablet friendly interface
The features included in the premium version are:
– Proactive Anti-Theft which notifies you of suspicious activity
– Online management of your lost or stolen device at my.eset.com
– Scheduled scanning of apps, settings, files
– Safe browsing and phishing protection
– Device Monitoring of important settings
– Application Audit of installed apps to tell you what they have access to
– SMS/MMS/Call blocking
– On-charger scan to preserve battery life
– Automatic updates of key modules and settings
– Mobile cyber security education
What is good about Mobile Security & Antivirus is the fact that there is a 30 day free trial available of the premium version. So you can test it before you spend money on it and you will know exactly what you are in for – no surprises!
Also, If you decide not to purchase a 1 year premium subscription after your free 30-day trial ends, your basic free virus protection will continue indefinitely.
You may even try the proactive anti-theft:
– Automatic notification – Suspicious state is activated when wrong PIN/pattern is entered or unauthorized SIM change detected
– Online anti-theft management at my.eset.com for Android devices and Windows laptops protected by ESET Smart Security
– Camera Pictures – Front/back camera snapshots
– On Screen Message – Customizable message to potential device finder
– Low Battery – If the device hits critical battery level, its current location is sent to my.eset.com
– User Network Address Details – Listing of IP addresses the device was connected to if marked as missing
STAYING SAFE ONLINE
– ESET Cybersecurity Training teaches you essential tips for making your mobile online experience even safer
– Series of simple online educational videos with a printable safety list.
Mobile Security & Antivirus is one of the best apps when it comes to a holistic approach towards mobile security as it will protect your device not just from theft but also from mobile viruses!
Lost Android
The world's population is increasing at a very fast pace. This means that there are more number of people on earth. This means that there are more number of good people on earth. This also means that there are more number of bad people on earth. Yes, as much as would like to think otherwise, it would be stupid to think so. We need to accept that fact. There are all kinds of people on this planet – some are good, some bad and some terrible. Therefore, there always will be crime in the world.
It could be a small crime or a big one, but the world will never be crime free. What we need to do as individuals above all else is be careful. But sometimes, we can become victims no matter how careful we are. We live a long life and there are ups and downs and sometimes becoming a victim to a crime is bound to happen.
And when it comes to our smartphones, there is a high rate of crime because our smartphones are a treasure for thieves, not just because of the awesome hardware, but because of all the information they get access to. But, this does not mean that we will stop carrying our smartphones or constantly be tensed about it. We need to live our life and be stress free. We also should hope for the best, but, be prepared for the worst. And even if we have rooted our android devices, even that cannot help us from getting our phone stolen.
Therefore, rooting or no rooting, what we need to do for our preparation for the worst is download an app called Lost Android, in case our phone ever gets stolen or lost. With this app, you can remotely control your android device through their website or SMS.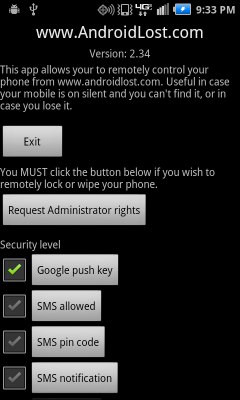 Lost Android includes the following features:
– read sent and received SMS messages
– wipe phone
– lock phone
– erase SD card
– locate by GPS or network
– start alarm with flashing screen
– send SMS from web page
– message popup
– forward calls
– phone status: battery, imei, etc.
– remote SMS alarm
– remote SMS lock and unlock
– remote SMS erase SD card
– remote SMS wipe phone
– remote SMS APN control
– start/stop GPS
– start/stop WIFI
– hide from launcher
– e-mail when SIM card is changed
– get call list
– take picture with front camera
– take picture with rear camera
– make your phone speak with text-to-speech
– SMS message command
– SMS speak command
– lock timeout
– restore settings on boot
– record sound from microphone
– start and stop data connection from SMS
– start and stop WIFI connection from SMS
– content browser prototype
What is more is that Lost Android does no polling to a server, so there is no extra battery usage. When it comes to prized possessions, one can never be too careful and it is always good to be prepared beforehand instead of taking action after an undesirable incident happens. And when there are apps like Lost Android, why not make the most optimum use of the app culture?