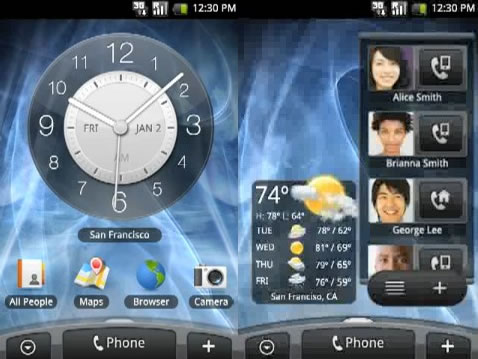 Android apps are very popular and even as this is being written, some app or the other is being developed and released on the Play Store. The fact that many of them are free to use is the icing on the cake for early users of this platform as they would like to experiment and try them out. But cluttering the home screen with just apps may not be the right way to use your Android. There are a number of Android widgets too that you need to use and here are 5 of them you would love to adorn your home screen with. Many Android fans have actually confessed they cannot do without them at all.
The Chronus is a widget that elegantly displays weather information, news feeds and the calendar. It is a one stop panel for important information and was designed drawing inspiration from the CyanogenMod widget albeit with more features. You can have the Yahoo weather panel and also the Internal Article Reader along with a calendar displaying a list of events coming up that you just have to scroll through.
Google Keep is the next widget that has been developed in-house by Google and is excellent to ensure that you always keep to appointments and finish your tasks. You can use the voice commands provided by this widget to list out or make small notes that will serve as reminders to you at the appropriate time. The widget also has some cute photo features that allows you to take a snap shot of an important document or receipt for retrieval later on through a search.
Next up is the Aix Weather Widget which as its name suggests tells you the weather condition outside. This one shows temperature, minimum and maximum precipitation levels and the sun rise/setting details in a graphical manner. The forecast is accurate as the app gets its information from Norwegian Meteorological Institute. The forecast is particularly accurate for Europe as well as North America. If you are not located in these regions, you may use the Chronus which is as good.
DashClock Widget lights up the lock screen with information that is always critical to you. It displays the missed calls, text messages and the unread mails you may have marked as priority. It also displays the next alarm you have scheduled as well as the appointment already fixed. You can go through your day just using this widget and not unlock the phone.
The last one if Power Toggles. This app is ideal to toggle through the many key settings your Android smart phone has. Whether it is mobile data connections, flashlight functionality, Wi-Fi or custom applications, using this widget provides you with an easy and quick way to access settings without having to go to the specific screens of those functionalities.
The above widgets are surely not the only ones. They are however the most popular and you can surely give them a try and find out for yourself.