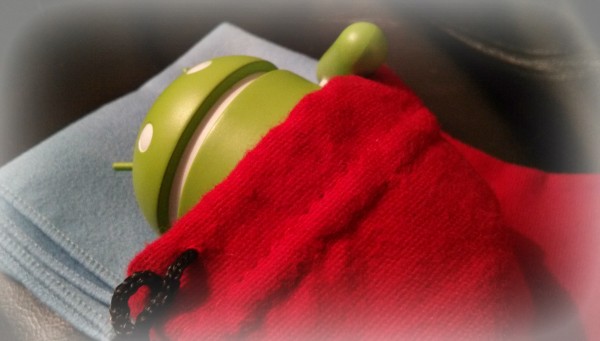 Let us for a moment assume that every single one of us is engaged in something preoccupying on a day-today basis. As the demand of our working lifestyle spikes up, it consequently erodes into our ever so precious sleep time. Scientists over the years have repeatedly stated in their studies that an average of 6-9 hours is extremely necessary for balancing the mental and physical health of an individual.
 Given the touch and go lives we all lead, managing a sleep period that comes up to 6 hours is a job in itself well done. However, there comes a time in every individual's life when it's considerably inappropriate to use lullabies or call for Mr. Sandman to put you to sleep. Now what if we told you, there is a fantastic Android app that can substitute their absence and not only put you to sleep faster, but also ensure that you are completely relaxed and cut out from the outside world away from all the commotion. Introducing to you two apps that do just that

The functioning of this app is extremely simple and is easy for the user to use. It simply emits a sound that provides for ultimate relaxation but what makes this app a whooping 4.7 star app is the diversity that it provides. With over 94 astoundingly ambient sounds and 6 binaural beats frequencies to choose from, Relax Melodies guarantees 100% brainwave entrainment and relaxation. Research suggests that the human ear requires an ideal sound frequency to put a human being to sleep which is exactly what is incorporated into Relax Melodies.
To give you a detailed description of what you as a listener are in for, here are a few key takeaway sounds the app supports
♬ River Ocean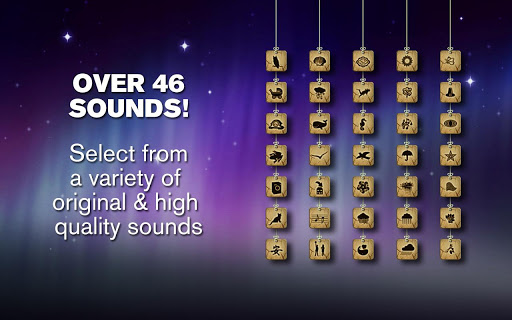 ♬ Winds
♬ Flute
♬ Rain
♬ Waterfall
♬ Campfire
♬ Fountain
♬ Train
♬ Sunny Day
♬ Forest
♬ Slow Waves
♬ Seagulls
♬ Underwater
♬ Immersed
♬ Seaside
♬ Forest Rain
♬ Rain on
♬ Fog Horn
♬ Monk Chant
♬ Oscillating Fan ♬ Womb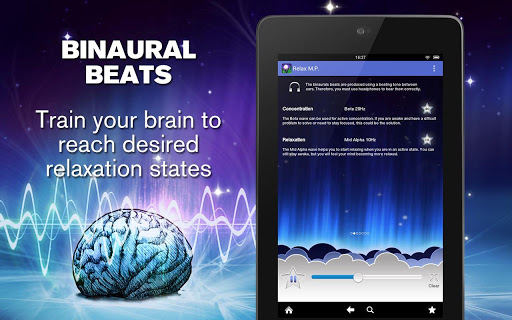 These also include 6 binaural beats for brainwave entertainment.
You can also create a multitude of sound combination through the app and create your own sounds for the customized personal touch and create the best sound for you that put you to sleep.
It includes 9 favorite modes to give you a good start-up and a feel of the app's functionality. You can save, create and hear them later as well. You can also set the timer for when you would like it to stop.
So plug on your ear phones and have the experience of a life time.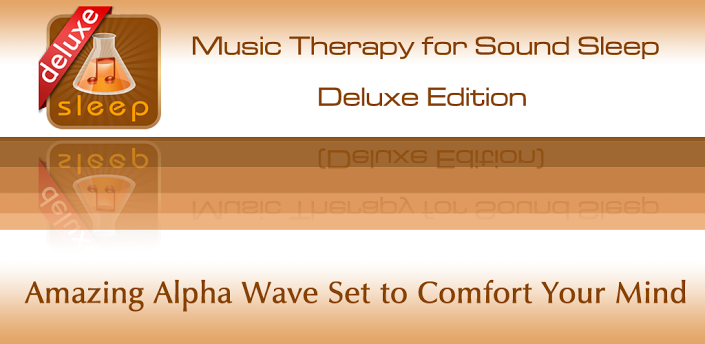 Here's another extremely well researched and effective app that studies the functioning of the brain under various circumstances.
The app functions on the principle of the EEG Electroencephalography to ensure the smooth running of the human brain.
Research suggests that Low Speed Alpha Wave (8Hz to 9Hz) make for a calm mind and sound sleep and this app provides exactly that.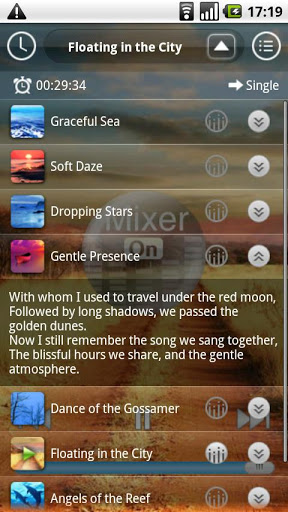 These Low Speed Alpha Waves with a frequency ranging from 8Hz to 9Hz stimulate the dazed state in which one finds himself where he is almost on the verge of falling asleep and cannot think clearly.
Now, in order to generate such a frequency binaural beats are given an output to. For instance if the right ear is provided with 508Hz of a steady tone and the left ear with a 500 Hz tone the two tines combine in the brain and the difference of 8Hz is perceived as a great spur which facilitate brainwave activity.
Music Therapy for Sound Sleep – Deluxe Edition provides a total of 8 Alpha Wave music melodies and 12 natural ambient sounds. The user can combine these voice tones to create their own ambient feel and use it to sleep.
In addition to this the above two apps can also be used while meditating, taking a power nap, while jogging, or simply relaxing by the sea side and many other such instances.
With the level of groundwork and innovation backing these two apps, a reasonable price tag is only but justified. The apps deliver exactly what they promise via its core features and gives you the most entranced comfortable sleep experience you've ever had. And admit it; it's been a while since you last slept like a baby. So let your hair down and your eyes shut by download both these cool apps today and enjoy the relaxation of a lifetime.