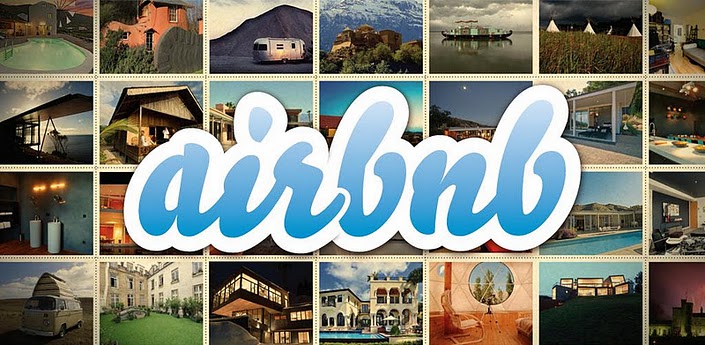 Hotels are obviously the most conventional avenue for outdoor living! But if you are the kinds who prefer something out of the usual and something way more economic, then Airbnb is the perfect app for you. The purveyor of modern, eclectic and unusual living spaces, be it a tree house or a funky abode, this apps got it all. Instead of splurging over hotel rooms, Airbnb is an Android app that lets you find bookings for spare rooms, apartments and houses of other people at a cheaper rate. It lets you connect with people who have spaces to offer for rent and even facilitates the transaction.
Users can also offer their extra space for others to use through the Airbnb app. The app acts as a managing agent for the owners or hosts who would like to rent out their extra room, unoccupied apartment or guesthouse. Airbnb is a market place for people to list, discover and book accommodations around the world.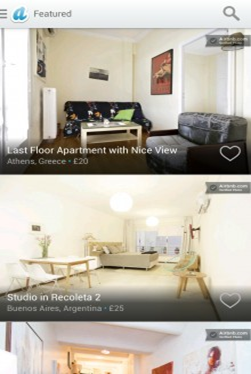 The Airbnb Android app has an interface that is seamless and uber-attractive. As soon as you launch the app, you can either start browsing or sign in via email or Facebook. Airbnb's front page offers an array of featured properties, each sporting a high quality photo, basic location information and the cost per night. The photos are marked with a special icon if they have been "verified" as actual depiction of the property by Airbnb.
Tapping on a particular property takes the user to a more detailed page from where he has access to more pictures, additional information about the property like amenities, price per night and the booking procedure. Payments are handled through Airbnb's payment system; however, the user also has an option to contact the host directly. The page also displays the hosts name and picture if any, clicking on which shows the user a detailed profile of the host.
The additional information provided by the host may include cancellation policies, house rules, minimum stays and etc. If the user likes a particular property he can add it to a "wishlist" and then continue browsing. Users may have multiple wish lists if they desire. However, the user needs to be signed in to use this feature. Users can also search for spaces by entering a destination and filter their search by specify the budget, number of rooms and bathrooms and etc. Airbnb makes sure travelers can find accommodation of their choice, whether it's a single room in a house or a huge villa or even an entire island.
Anyone can become a landlord using this app. If you've got a swanky place that's sitting empty and they wish to give out for rent, then you can post a listing on Airbnb using the "List your space" tab in the menu bar. The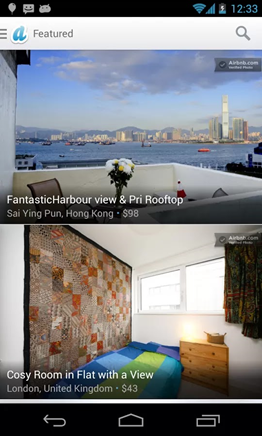 procedure then is very simple. The user needs to answer a few questions about their place like the kind of property, the location, number of rooms and so on. The Airbnb staff then contact the user and help put a price on the property. Airbnb also makes sure the entire experience is safe and secure by validating all the bookings and transactions. The "reservations" tab helps the user keep a track of their bookings and listings.
So if you want to save some money while travelling or make some money by offering the extra space you have, then try Airbnb. Whether you are looking for a castle or a romantic villa or a perfect pad, Airbnb has it all. Download it on your Android smartphone and unwind in your dream pad at your chosen destination for a much more economic price.