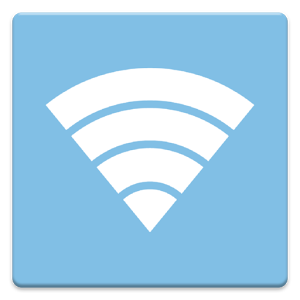 WiFinspect
Since the internet era has been booming like never before, there are pros and cons to it because everything has its set of good and bad. And one of the begets risk o fusing the internet is unidentified networks that could possibly contain a virus. Therefore, there is an app called WIFinspect, for the people who think that it is better to be safe than to be sorry.
WiFinspect is a multi-tool intended for Computer Security professionals and other advanced users that wish to monitor the networks they own or have permission, i.e. the app is a security audit tool and not a hacking tool. The functions include:
– Network Information
– UPnP Device Scanner
– Host Discovery
– Network Sniffer
– Pcap Analyzer (three options)
and many more such functions.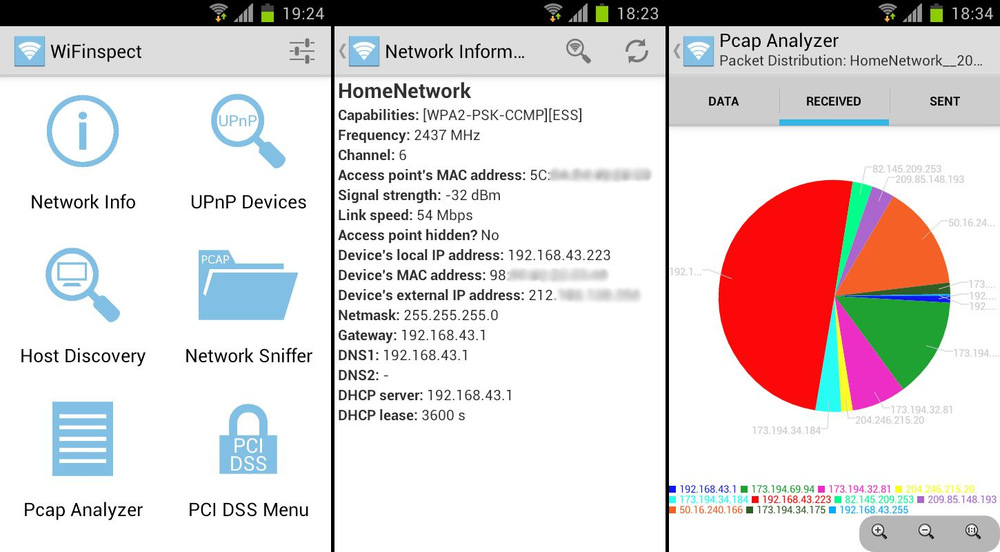 You can enjoy the features of this app only if you have a rooted android device. The functions include:
– Network Information (ROOT): Information about the connected network like MAC and IP addresses, gateway etc
– UPnP Device Scanner: Lists all UPnP devices on the network that are within the view of your device
– Host discovery (ROOT): Uses nmap to discover all devices on the network that are within the view of your device
– Network Sniffer (ROOT): Uses tcpdump to sniff on all packets that are within the view of your device. The resulting pcap files can be analyzed with Wireshark or the built-in Pcap Analyzer
– Pcap Analyzer: Uses jNetPcap to parse a pcap file. Three options: Packet Distribution, Bandwidth Distribution or Communicating Hosts analysis
– Access Point Default Password Test: Checks a pre-set list of default router passwords against your router's control panel and notifies you if your router is using a default password
– Access Point Security Test: Displays the access points that are within the view of your device with a note whether they are secure (WPA/WPA2) or not (WEP or unlocked)
– Access Point Scanner: Displays the access points that are within the view of your device
– Internal Vulnerability Scanner (ROOT): Uses nmap to find all devices on the network that are within the view of your device. A note is given whether exploits exists for a given device based on its operating system and open ports
– External Vulnerability Scanner (ROOT): Runs Host Information, Port Scan, Host Vulnerability Scan, Traceroute, Ping or Sniffer functions on a given IP address or hostname
– Host Information (ROOT): Uses nmap to retrieve the device's hostname, MAC address, vendor, operating system, device name and workgroup
– Port Scan (ROOT): Uses nmap to retrieve the device's open ports. Click on a port to view the Metasploit results for the device's operating system and port
– Host Vulnerability Scanner (ROOT): Uses nmap to retrieve information about the host along with a note stating whether exploits exists for the device based on its operating system and open ports
– Traceroute (ROOT): Uses nmap to traceroute to a host
– Ping (ROOT): Uses nping to ping a host
Now you can easily audit your security through WIFinspect and make sure that no unwanted connections are there in your network because prevention is better than cure!
SuperBeam 
I have been talking about how awesome the internet is and about its innumerable uses as well as our heavy dependence on it to lead more convenient lives since a very long time. I have also covered many apps that either provide a better internet connection or help you to help others by sharing your internet through making your phone a mobile hotspot. So continuing that theme, today's app is SuperBeam, for direct share of Wifi. This app works whether or not you have rooted your android. This is because root or no root, everyone deserves the convenience of direct Wifi.
SuperBeam is the easiest and fastest way to share large files between Android devices using WiFi direct. Devices can be paired using QR codes (with the included QR code scanner) , NFC or manual sharing key (PRO). No more clicks and manual approvals for connections. SuperBeam makes file sharing as convenient and fast as it should have been.
It has an amazing number of features, including:
• Blazing fast transfer speeds using WiFi direct.
• Pair devices using NFC or QR code scanning.
• Sharing with devices that do not have SuperBeam through web interface.
• Share single or multiple files of any type (photos, videos, zip files, APK's… You name it!).
• Supports Android 2.3.3 and later.
• Uses port 8080 for all types of transmissions, which means more compatibility on restricted WiFi networks.
• Light and dark color themes.
All received files are stored under "/sdcard/SuperBeam" directory by default, this can be changed in settings (PRO). Don't worry about duplicate files, SuperBeam will automatically add unique numbers to duplicate file names. SuperBeam Switches to hotspot mode automatically for devices that doesn't support WiFi direct. Also, it can use existing WiFi network connection between devices in case WiFi direct fails.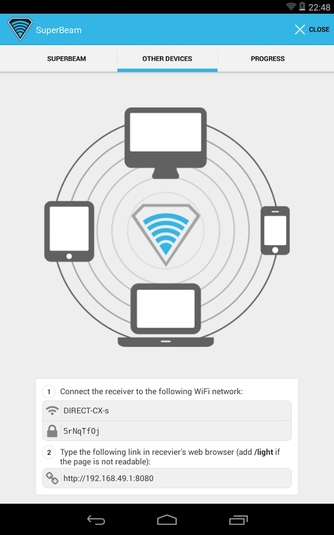 Not just this, it has a Pro version as well, with the following features:
• No more ads.
• SuperEasy sharing with your computer using SuperBeam app for PC (compatible with Windows, Linux and MacOS)
• Change default save location to any available storage.
• Send entire folders and preserve their structure.
• Receive using manual sharing keys.
• Send to more than one device at the same time.
• Share unlimited number of files on web interface, with the ability to download complete structured zip and share SuperBeam APK.
The internet has immense benefits and this will keep growing in the future. Not only has the internet been helpful on a personal level, it has been responsible to open up new professional avenues as well. This is a complete boon to the ever increasing world population. The best part about it not just the convenience and the saving of money but the constant connection it provides to people throughout the world.
The mighty internet is responsible to make the world truly a global village. And apps like SuperBeam only add to the glory that is the internet by letting its users, irrespective of whether or not there is root, share large files between android devices and Wifi in the easiest way possible.
FoxFi
Since all of us are heavily dependent on the internet, for small things like getting information to bigger things like shopping, from passing time to earning money, the internet is really the solution to everything. The internet and its by-products, that is. One of the biggest new age by product of the internet is the usage of smart phone applications. So when we know how important the internet is, and how convenient it is to have internet on the go, it is really sad to see one of our fellows not have a good internet connection. And since a friend in need is a friend indeed, we will not leave anyone behind and share our internet connection by making our phone a mobile hotspot.
Therefore, today's app is FoxFi which turns your phone into a Mobile Hotspot even if you have not rooted your phone or do not have a tether plan. If WiFi mode is not supported on your phone model you can also fall back to USB mode or Bluetooth mode instead using the included PdaNet feature. You can connect from any computers or tablets or even game console. Access Point is infrastructure mode with WPA2 security. FoxFi usage is covered under the same phone data plan you have and no tether plan needed. This saves you $20/month from your carrier.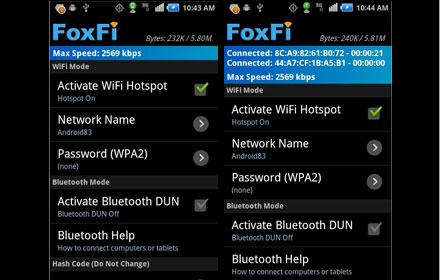 Some tips to help its usage are:
1. On some models if you run into WiFi problem after using the Hotspot, simply reboot your phone and rename the hotspot before activating to clear the issue.
2. For some Samsung phones if your computer is not able to get an IP address, try to turn on WiFi on the phone first and make sure it does not connect to any WiFi network, then turn on FoxFi.
3. FoxFi is tested on non-rooted phones. If your phone has a rooted ROM it may or may not work.
4. When WiFi hotspot is activated you may also see a hotspot notification of the built-in WiFi hotspot feature. Please ignore it. As long as you do not sign up for a tether plan you won't be charged.
5. If you enter or change the hotspot password, make sure you rename the hotspot also before activating.
6. Sometimes Windows need a "repair" on the WiFi menu to get a correct IP address.
Some more pointers for its use are:
Android 4.4 will also show a warning message that says "Your network usage may be monitored" as a result of installing the "FoxFi Certificate". You can safely ignore this warning because the FoxFi certificate can not be used outside of turning on hotspot.
If the screen lock or the monitor warning bothers you, you can actually remove the "FoxFi certificate" as soon as WiFi hotspot is ready (the certificate, as well as the VPN, is only needed during the "turning on" period).
To remove the FoxFi certificate, select "Clear Credentials" from phone security Settings (this removes ONLY the FoxFi certificate, all the stocked certificates will stay). If "Clear Credentials" is disabled, open the list of certificates and select the "User" tab, then open the FoxFi Certificate and scroll down to remove. Only after that your phone will allow you to set screen lock to "None".
Let us all grow by helping each other and one of the best ways to grow is through the use of th internet, thus, let us all share the internet with FoxFi!