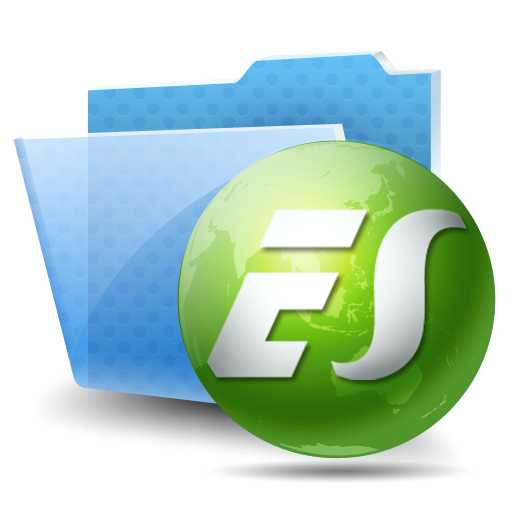 A little help goes a really long way, especially because we are increasingly becoming deeply involved and busy in our virtual lives. Some of us have even felt that our virtual reality is more complicated than our reality, that our actual lives are much simpler and as much as smartphones have assessed us for the better, they have also made us much busier.
Now I always make a statement, there is an app for every problem, and again I stand by it because if you need a file manager for your phone to make your virtual life less complicated in that respect, you have chanced upon the right article. Yes, there are a lot of file managers but each one has a unique quality so you can decide whose uniqueness suits you best. So, today's app being covered is called ES File Explorer File Manager. The name is a bit of a mouthful but its amazing features do justice to its long name.
ES File Explorer is a free, full-featured file and application manager. It functions as all of these apps in one: file manager, application manager, task killer, download manager, cloud storage client (compatible with Dropbox, Google Drive, SkyDrive, Box.net, Sugarsync, Yandex, Amazon S3, and Ubuntu One…), FTP client, and LAN Samba client. It provides access to pictures, music, video, documents, and other files on both your Android devices and your computers.
ES File Explorer allows Android users, no matter where they are, to manage their resources freely. You can access all of your files from your mobile device and share them with others. This app makes it easy to stay connected over 3G, 4G, EDGE, or Wi-Fi to share with friends, upload photos, and watch videos.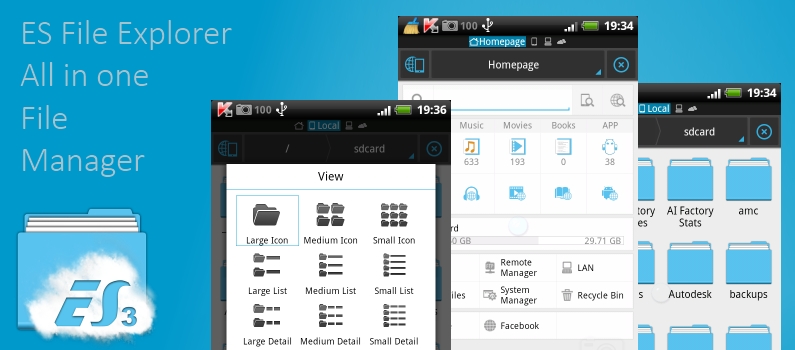 This app supports more that thirty languages including Japanese, Korean, French, Spanish and of course, English. Its features include:
– File Manager – Manage your files like you do on your desktop or laptop using Multiple Select, Cut/Copy/Paste, Move, Create, Delete, Rename, Search, Share, Send, Hide, Create Shortcut, and B-ookmark; operations can be performed on local files (on Android device) or remotely (on your computer)
– Application Manager – categorize, uninstall, backup, and create shortcuts to your apps
– Remote File Manager – when enabled, manage files on your phone from your computer
– Built-in ZIP and RAR support allows you to compress and decompress ZIP files, unpack RAR files, and create encrypted (AES 256 bit) ZIP files
– Built-in viewers and players for various file types, including photos, music, and videos; supports third-party applications, such as Quick office, for opening others
– Access your home PC via WiFi with SMB
Functions as your FTP and WebDAV client. Manage files on FTP, FTPS, SFTP, and WebDAV servers just like you manage files on your SD card
– Bluetooth file browser You can copy and paste files between Bluetooth ready devices. It supports OBEX FTP for browsing devices and transferring files between Bluetooth devices.
– Kill tasks with a single click, increase memory and speed up your device — includes a simple widget that stays on your home screen for knowing your current RAM situation and automatically killing tasks, with an ignore list to ignore the applications you want to keep running.Task Manager module required
– Cache Cleaner and Autostart manager — Delete those junk files that take up valuable storage space.Task Manager module required.
– Root Explorer — the ultimate set of file management tools for root users. Provides access to the entire file system and all data directories, and allows the user to change permissions.
And these are not all, it supports many more features. So for a holistic file management solution, install ES File Explorer File Manager and make your virtual life a bit more relaxed.