It's already a given that the new snoozing notification in Android's new system is quite a fantastic network, but you know what they say; there's always a room for improvement. Something about the snoozing notifications in Android is missing, just like a piece of a puzzle missing.
So what exactly is Notification snoozing?
You've probably experiences situations where you don't want a notification to disappear but you aren't able to check it right away. And that's where Notification snoozing comes in. This new feature in Android Oreo allows you to postpone things.
Pressing and sliding to the right also known as "Slow swiping" on a notification now gives you a timer icon in addition to the settings icon we're used to seeing since the Android Marshmallow. With the notification snoozing, whenever you tap on it, although it removes the notification from the tray, it doesn't necessarily mark it as "read" and after some time, it will pop back to your notifications. Notifications reappear with the same level of importance as the first time they appear so you'll hear a sound of it peek when you've set it do so.
This feature is something that many users have longed for especially the ones who use Google's Inbox app. Snoozing is an essential part of the Google Inbox's organizational system. So instead of letting your emails pile up and turn into a clutter, you can either deal with them right away or snooze them so that they'll get out of your way for the mean time and come back when needed.
No wonder a lot of users are excited to see the same concept come to the system-wide notifications in Android Oreo. There are cases when you'll get a notification for something that's not that important and you don't want to deal with it as of the moment. Just like when you receive some nonsense text from your friends and you're at work, most of the time users tend to ignore it especially when they're occupied with something. So they end up forgetting about it or just dismiss it at some point.
And now with the new Android 8.0, users can prioritize their notifications whenever they open it. So if there's some notification that needs your immediate attention you can deal with it right away. And if it's something that's not so important, you can attend to it some other time by snoozing it to get it out of your hair and then pings you back again when you're not that busy to open it.
It is, without a doubt, one of the best features of Android 8.0 Oreo. There's just something that has to be improved though. As of now, Android Oreo's notification snoozing system is quite limited. Thus, it isn't as useful as it should be. Let's compare it with Google Inbox – with Google Inbox, when you snooze an email, or select a handful of default times such as "Later today", "Tomorrow", "This weekend" or even "Next Week. All of these default times correspond with the times you can customize in the app's settings. So handy, isn't it? Beyond that, you can also specify any time or date or even physical location that makes sense as a trigger for the notification to reappear.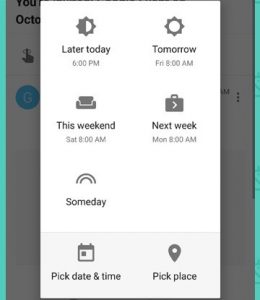 See the difference between Google Inbox and the system-wide notification snoozing in Android Oreo? The thing is, when you want to snooze a notification on Oreo you're given four options: you can snooze it for an hour or two, or 30 minutes or 25 minutes. And that's just it.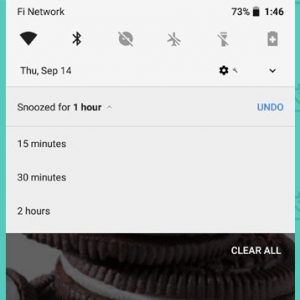 Don't get me wrong though, that time frame is still practical and it's still better than nothing. But think of the bigger picture here, of how it could do better, of how this notification snoozing could be expanded to include all the options just like what Google Inbox has and not just customizable default times but also the instance-specific time and date option as well as the super versatile location capability. With that kind of expansion, you could snooze the 3p.m. text message from your friend all the way to 8p.m. when you're most likely can get back to him. You could also snooze your Facebook notification or message with the address for a Saturday get-together all the way to Sunday. You name it. the possibilities are endless, as is the potential for an even more enhanced productivity.