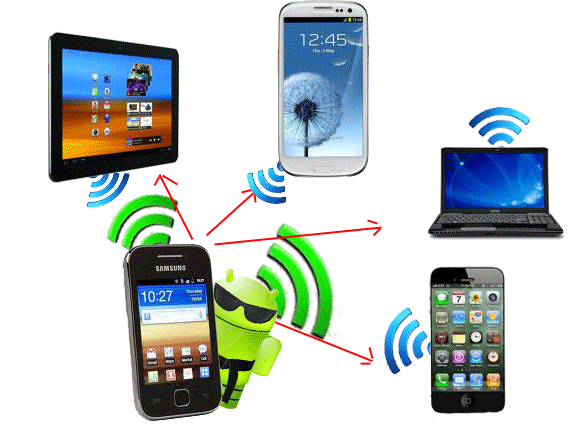 With the invasion of the internet in every aspect of our living it has become more of a lifestyle than just some service. It has become a core component of our existence and since it is so widely and easily available everywhere (making our generation affectionately being called the internet baby) we tend to take it for granted.
This is because no matter where we are – either at home, in the office or on the move, the internet is our constant companion. So much so that we feel lost and uncomfortable without it. But if you are someone who has a very good internet connection service and you are never out of coverage area, even where other's don't get coverage, you can turn your phone into a portable wifi hotspot and spread the love and also become the hero of the situation.
You can do this with an app called Portable Wifi Hotspot, if you have happened to root your device and if you believe in social service. If you are wondering how it works, a Wi-Fi hotspot is that offers Internet access over a wireless local area network (WLAN) through the use of a router connected to a link to an Internet service provider or mobile 3G network. Hotspots typically use Wi-Fi technology. Turn on Android device into Portable Wi-Fi hotspot. Share your 3g internet around you free with one click. Whether it works is really carrier or device specific.
However, this app might not work on certain devices if:
– Your operator doesn't support WiFi tethering and blocks it on purpose.
– Your phone's Mobile Data connection is too weak.
– Your system ROM had been modified by the manufacturer
– You don't have an active data plan
If you are wondering why you should use this particular app and not another, it is because it is:
-Simple and fast.
-Configurable with password.
-You can secure wifi with password.
-Multiple devices can connect your wifi.
-Every wifi device like PC, other phones, PS3 can connect your wifi.
 Breaking Down the Pro Features
The best part is that there is a 30 day trial version available which may help you decide whether you are willing to purchase the PRO version or not. Here is a little about the Pro version:
– Quick shortcut in status bar to Turn ON/OFF quickly.
– Use for unlimited days & full features.
– No advertisements & banners
– Secure Data transmission through Hotspot.
– See number of clients connected to hotspot.
– Tool to test the speed of connection
– Counters to keep updated with Data usage consumed.
– Battery management & alerts when required.
– Manage hotspot & access the usage reports.
– Monitor the connected clients & their usage.
– Quick shortcut in status bar to Turn ON/OFF quickly.
– Use for unlimited days & full features.
– Secure Data transmission through Hotspot.
– Ad-Free version.
I am sure you have heard of the saying "sharing is caring" and in today's time sharing the internet is the best way to show that you care. Therefore, download Portable Wifi Hotspot now and spread the love and care!