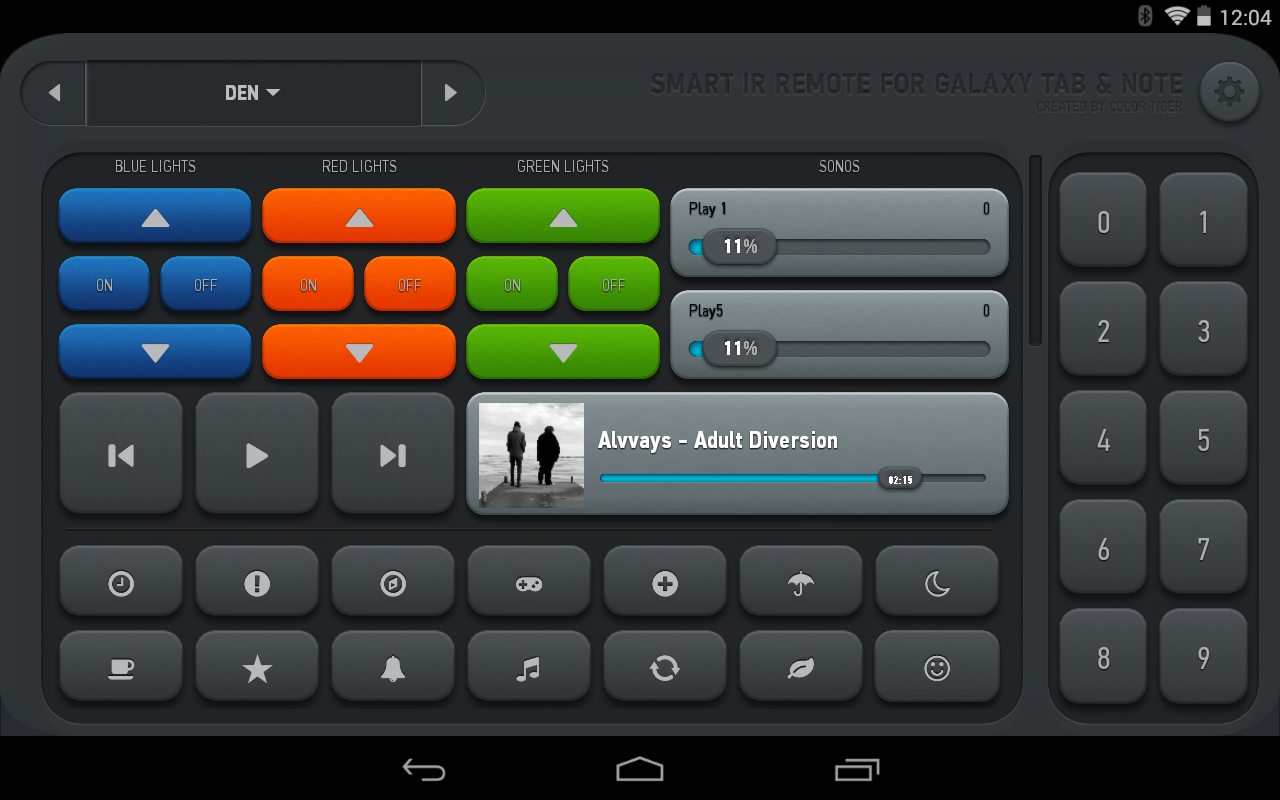 I know you are crazy about gadgets and you own a big screen LED television, a DVD player, a home theatre system, a Dolby 8.1 surround sound system and oh, you just bought that hot new Bluray player on the latest TV ads as well. And all this is just in the entertainment room of your house. When someone takes a whole tour of the house they would also find separate televisions, DVD players and sound bars in each bedroom.
It is good that you are one to splurge on these not so little luxuries in life but what comes along with having multiple systems are multiple remote controls. Yeah, I know, it is so frustrating to switch each gadget individually and adjusting volumes can get really annoying on every player.
When man can make so many gadgets, man can also make a universal remote. And man did. But since apps are the "in" thing these days, man made an app as well. An app called Smart IR Remote – Anymote!
Smart IR Remote is the only IR remote universal app for Android that you'll ever need: it's smart, with a device coverage that is huge (800000 devices, with more added daily and on request), and it's the only one that makes use of features only your phone/tablet have, that a plastic remote (like the Logitech Harmony) never will.
Smart Remote works with any Samsung, HTC and Medion Lifetab devices with an InfraRed Blaster, and most other brand phone/tablet with an IR Blaster that runs Android 4.4 or above provided originally by the manufacturer. Even better, Smart IR Remote also works on most custom ROMs like CyanogenMod.
Smart IR Remote is a universal smart remote control that can command almost anything that receives InfraRed commands, like a TV, Set Top Box (cable and satellite box), DVD, BluRay player, VCR, Amplifier, Air Conditioner, AV Receiver, DSLR camera, etc. Better yet, you can combine your remotes into smart remotes (activities) so that on your custom remote you will have the volume buttons to your surround system, the channel buttons to control your set top box and the display buttons to control your TV. It's the only Android universal tv remote that can do that, while controlling any other device too!
And since all this app is, obviously, operated through phones, it combines the usage of some of the smart phone features as well:
AIR GESTURES – exclusive to Android 4.1-4.4 Galaxy S4
Simply wave your hand above your phone to change channels, volume, or whatever your heart pleases – it's all configurable!
MUTE/PAUSE ON PHONE CALL
Smart Remote can now mute your TV, pause your media player, or even switch them off if you wish, all of that when your phone rings.
MACROS
Group commands in batches, sort them and add delays, and then execute the series of commands one after the other. Imagine being able to turn your TV, Xbox and surround system on, switch TV to HDMI 1 all with a single tap!
AUTOMATED TASKS
Automatically execute commands or macros when certain conditions occur: your phone rings, at a time chosen by you, when you use your phone's Volume Buttons. Are you a Tasker fan? We have a Tasker plugin that lets you to send commands.
WIDGETS
With both lockscreen and homescreen widgets, you'll have your favorite just a tap away when you grab your phone.
FLOATING REMOTE (CHATHEAD)
The floating remote is a remote that stays above other apps which can be shown with just a single tap and lets you send commands even while you're playing a game on your phone.
BACKUP / RESTORE
If you switch ROMs often or need the remotes you put hard work on to be available on all your devices, you can simply make a backup once and then restore on all your other devices.
RECORD REMOTES
This is exclusive to the HTC One due to hardware limitations in other devices.
Simply record each button to have it just the way you want it. Opt in to share your remote so that other customers can make use of your work too!
Almost all brands in the world are supported, including Samsung, Sony, Toshiba, Panasonic, Yamaha, DirecTV (Direct TV), etc.
Long story short – once you download this app, you do not have to worry about any other remote because Anymote will take care of all your remote, no pun intended, needs.