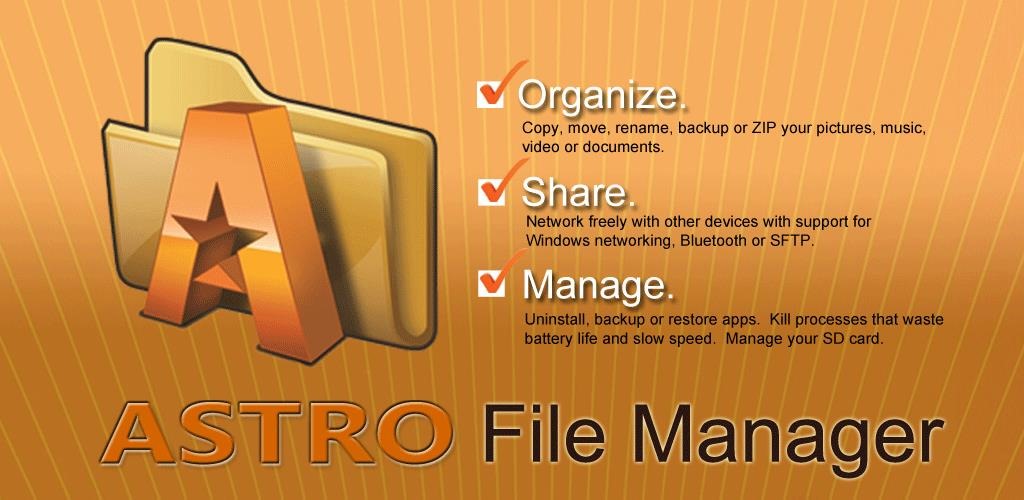 Since we are all adults here and know what we want, some of us do not want rooting. And if we do not want rooting, it does not mean that our phones should be treated any less that those rooted android devices. Each of them is beautiful in its own way, has its pros and cons, nothing and no one is perfect and that is what makes everyone beautify. So without sounding more like a dove advertisement, allow me to introduce to you an amazing file managing app for the unrooted android devices called Astro File Manager with Cloud. 
Organize, view, and retrieve all of your pictures, music, videos, & documents; built-in app backup & task killer; manage all your files regardless of where they are stored, in a cloud or on another device, such as your phone, tablet, Clouds (Dropbox, Google Drive, Facebook, Box & SkyDrive), PC, Mac, Linux (via networking).
Ever try to find a file but can't remember where you put it? ASTRO has the most robust technology to search phones or search for files in the mobile world, giving you the ability to do anything from broad searches across all locations mentioned above for types of content (pics, music, videos, etc.) to very specific file searches based on file name, size, location, etc. And, with ASTRO's unique "CLOUD HOPPING (TM)", you can move files from one cloud to another in a single copy or move/paste – without having to download them first before sending to your destination cloud!
ASTRO even has support for Leef Bridge, a powerful, yet simple, innovative USB flash drive that allows users to easily transfer files to other devices (Android phones, tablets, Macs and PCs).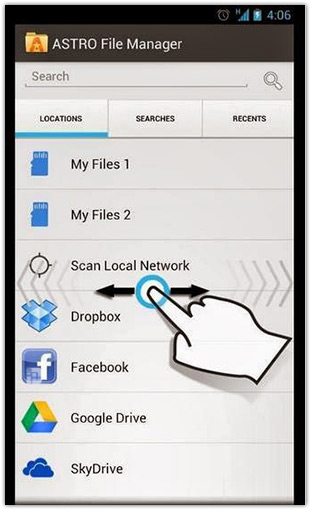 A few advantages of using this app's file indexing functionality are:
– After your first search, results are almost instantaneous across all indexed locations (mobile device, clouds, networked locations)
– If you are offline, you can still search for files that have been indexed.
– Eliminates redundant network calls in ASTRO, making some file search operations faster.
– Better file search, file browsing experience in areas with spotty or slow network coverage.
If you are wondering how the file indexing functionality functions, here is how:
– As you browse through directories on your device, clouds or networked locations, ASTRO begins indexing your files in the background in order to speed up future searches you perform.
– It will also build your index whenever you do a search. It will build the index for your internal and external SD cards very quickly (typically under 15-20 seconds). Clouds or networked locations will take longer and also depends on the number of files in those locations.
– You can also choose to proactively index any of your other locations like clouds (Box, Dropbox, Google Drive, SkyDrive) and networked locations by doing a search on those locations or by going to Settings, Search index and click Rebuild index. Keep in mind if you choose to index a 500GB server you have at home, it may take a while.
– You can go to Settings, Set Default Search Locations to set your default locations.
– You can go to Settings, Search index and clear your index at any time as well.
– SWIPE SCREEN RIGHT to get to Clouds, Network Locations or Saved Searches fast
– SWIPE SCREEN LEFT to get to Tools (App Backup, Task Killer, SD Card Usage), Settings and Help
Astro File Manager with Cloud is one of the finest file managers for unrooted devices. Now you don't have to worry about how to go about managing your files or fear losing them because this app will take care of all those things and never will a file go missing again!