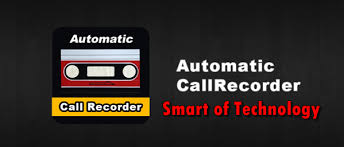 If you have always been a fan of detective fiction, or remember the adventures of Sherlock Holmes by heart and enjoy every other detective thriller movie so much so that you make it a point to see all of them first day, first show, then we have just the app you need.
On another, slightly serious note, if you are stuck in a situation where something wrong is happening with you or someone else, but you have no proof of it and no one is willing to believe you, this app will come in handy. This app called Automatic Call Recorder, which, I know I do not need to say it but, records calls.
Now you can take the matters into your own hands and not depend on someone to help you out when you are there to prove a point or if you just feel like recording a cute conversation you had with that special someone. Maybe you always want to record calls from your boss to keep up with all the instructions given by them or if you are taking a telephonic interview of someone. The Automatic Call Recorder helps you out with all these things.
It lets you automatically record the contents of calls on your phone and listen to them again any time. When you need to review the important call content, recall forgotten memories, distinguish right from wrong, or when you have forgotten to take a memo, this app is highly useful as it allows you to listen to recorded calls at any time.
It comes with a lot of features, including:
– Automatically record incoming/outgoing phone calls: No need to push a record button!
– Select small recording file formats like mp3, mp4 and 3gp, so you can get live-quality sound while keeping file size small.
– Important call recording list management.
– Listen to recorded files using the pre-installed media player.
– Send recordings through email, mms, or easily use messenger apps installed on your phone, cloud apps, SNS apps, or diary apps.
– Copy files to your phone's memory card directly (USB).
– Always able to check on available memory in order to save space.
– Set password so that no one but you can access.
– Choose whether to show or hide recordings on your phone's media player.
– Choose between Black/White app design themes.
– Easily find recording files by linking to cloud services, PC and other mobile devices.
(Dropbox, Google Drive, SkyDrive automatic linking provided)
When you forget something after a call, when a problem comes up, when it would have been great to be able to record that important phone call. This is exactly what you will be able to experience.
Many phones include a call recording feature, but it is difficult to predict if a certain call may become important, making it difficult to record those important calls. This is not a problem for Automatic Call Recorder because it automatically records all incoming and outgoing calls.
There is just one thing that you need to keep in mind while using this app – If another recording app is in use, operation will fail. Please stop or delete other recording apps. Apart from that just sit back, relax and enjoy reliving those conversations!