Whether of not you have a rooted Android device, what you need to make use of the smartness of your smartphone is a browser otherwise a smartphone is really just like any other phone with a caller identification system. Therefore, a good browser is always a good idea and even if you have not rooted your android device, everyone of us deserves a browser of premium quality because the browser we choose dictates how slow or fast our smartphone device-centric lives are going to run. Therefore, we must all have an extremely efficient browser and a good option of such a browser is Boat Browser for Android.
Boat Browser is a fast, smart and cool Mobile Browser; that brings an amazing Premium web experience. It is fully customizable, and you can easily change the button's locations as you choose and you can install your favorite add-ons to make your browser even more powerful.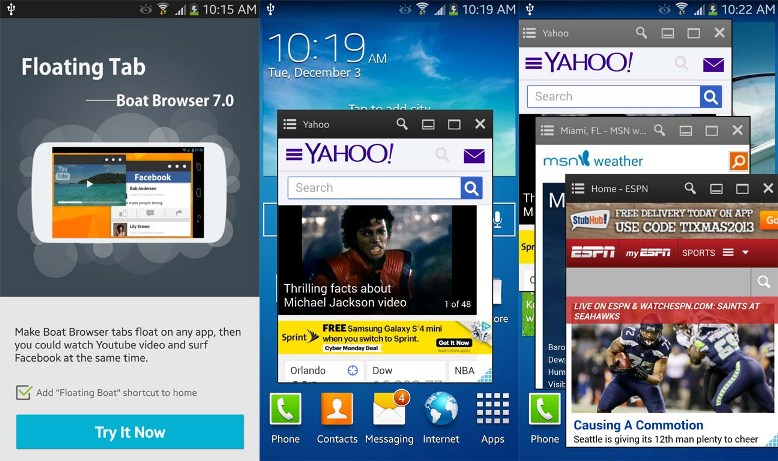 Boat Browser has an unending list of amazing features:
1. More Customizable
We have optimized the default features listed in the (Side) Toolbar. And you can customize the features as you like: re-arrange, add and remove buttons, just by dragging the corresponding icon.
In addition to the toolbar customization, you can also personalize the background color and the action of the Volume Keys. You can set the Volume Key's action to switch tabs, scroll up/down the page or zoom into the page.
2. Personalized Themes
Bored with the default theme? Can't be satisfied just changing the theme's color? No Problem! Boat Browser's got you covered!
Boat Browser's team will supply you more and more cool themes and styles, to make your browser completely personalized.
3. Add-ons
An Add-on is the unlimited expansion of your browser. Customize your browser by installing Boat Add-on's that will enhance your browsing experience. These features can be easily found in the Side Toolbar, after installation.
4. Powerful Bookmarks Management
Bookmarks Manager supports new folder, drag and drop, batch delete, import, export and Sync with stock browser bookmarks!
Cloud center supports backup and restore bookmarks and speed dials with Google Drive between devices with the same Google account. Also Firefox bookmark sync is supported (Pro feature).
5. Side Toolbar
You can reach the toolbar by swiping the right side of the screen. And, if you don't like it, just change the settings in setting menu.
6. Speed dial
Add your favorite websites into the speed dial menu and keep them handy. Folder for speed dials is supported (Pro feature)
7. Floating tab
This feature supports multi-windows as PC does. You may float multiple tabs on any app.
Boat Browser also supplies some very useful features like,
– Video & Flash Video & YouTube Video Support… (In Android 4.4 plus flash doesn't work on some devices)
– Voice Command and Voice Search…
– Support App to SD function…
– Support Cache to SD function…
– Easy file Downloading
– User Agent Switching that allows you to view websites/web pages, in many formats!
– Multi-touch Pinch to Zoom support
– Super easy copy/paste
And this is just the beginning of it. there are many many more special features apart form the above mentioned ones. A browser that offers so much is hard to find and Boat Browser is happy to make your virtual life as easy as possible!