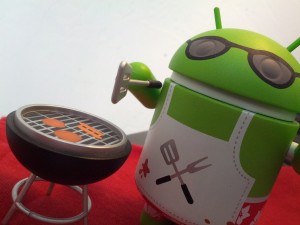 The rich world of Android apps has become a much celebrated feature, as more and more people can now integrate the wonders of Android technology into their lifestyle. Taking a page out of this user-embracing philosophy is the new iGrill app for Android – a great app for users who happen to be cooking enthusiasts and have wondered why there aren't enough cooking-oriented apps in Google Play Store.
The iGrill is basically a cooking thermometer component which can be paired with your Android device via Bluetooth. Previously exclusive to iOS devices, this cooking accessory application has now been updated for Android compatibility.
Using your Bluetooth connection, the iGrill can wirelessly pair with your Android device and give you exact real-time readings of the temperature of your food via the iGrill app on your device. While the iGrill thermometer component sells at a steep $79.99 price, the key benefit you should keep in mind is the absolute hassle-free and convenient cooking experience you can now have with a little tech-savvy at your disposal.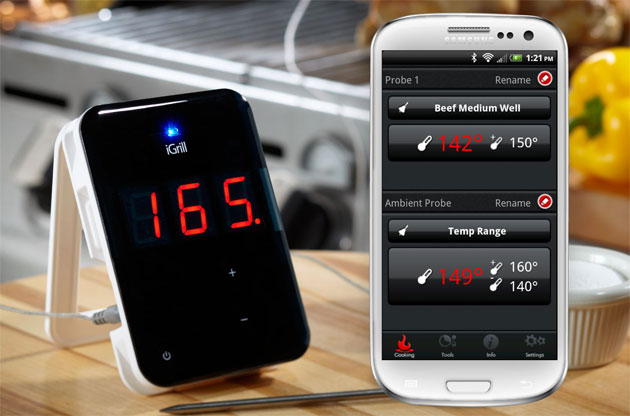 How to Operate?
After pairing the iGrill to your Android and opening the iGrill app, you can now access its highly user-friendly interface with a plethora of options to choose from. The right side of the menu contains the Tools section which lets you choose a cooking countdown timer for your dish, a graph to track the temperature curve of your cooked dish, and an owner's manual which guides you through the cooking experience and even provides you tips and tricks to cook different types of dishes.
The left side of the iGrill app menu gives you access to rename your probing device, an option to choose the type of meat you will be cooking so that it can show you the corresponding temperature needed to cook it properly. An automatic alarm will be triggered on your Android device once the probe reaches the pre-selected temperature. You can even set up your own temperature settings for the food you are cooking as per your preferences.
The bottom part of the menu lets you optionally select another meat probe or ambient temperature probe, which can be used to monitor the air temperature in your grilling unit. An air temperature range can be selected via your Android device; above or below which an automatic alarm will be triggered so you can go back and adjust the temperature of your grill accordingly.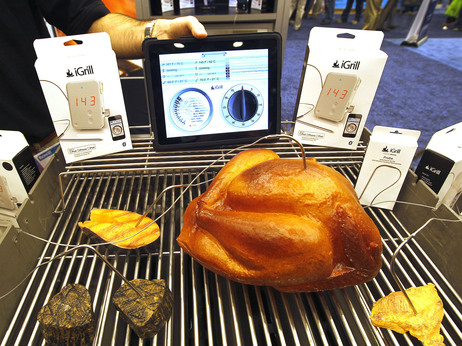 Final Analysis
The touch-sensitive interface of the iGrill is simple and easy to maintain. The iGrill device has a range of over 200 feet via Bluetooth connection and so you can easily multitask around your house with your Android device in hand to monitor what's cooking. The setup is surprisingly easy to do and the operation of the device and app is even easier. Using graph-based visual data, you can analyze your entire cooking time and ensure your dish is cooked to absolute perfection without any need to worry about your dish being undercooked or overcooked. The iGrill can track cooking temperatures up to 400°F.
With a perfectly designed cooking supervision system available at the touch of a button on your Android device, cooking while relaxing on the couch will become the norm instead of you bearing the kitchen heat for hours. The iGrill hits the mark perfectly for what cooking accessories should be like and is a delight for cooking enthusiasts who want to bring their cooking skills and accuracy on par with a professional chef, without compromising on time and convenience.