Did this? Oh you did, did you? As we grow up and trek through life's wayward slopes, we all love putting in a little wishful thinking and make up our own special bucket lists and milestones to achieve. Unfortunately, we get way too caught up in our lifestyles to remember prioritizing our dreams and regretfully have to give up on a lot of them. Enter Did This – a one-of-a-kind app for Android that will ensure you never forget to stay true to your wish list ever again.
Did This is an app like none other. It will simply change the way you once perceived your own hobbies and that of others too. Of all the time-killing apps that glue you to your Android device, this app may just get you away from it only to reclaim your true self. Confused? Did This is essentially a virtualized conscience for your wishes and dreams that reminds you of the countless things you once plan to do for yourself and for your loved ones.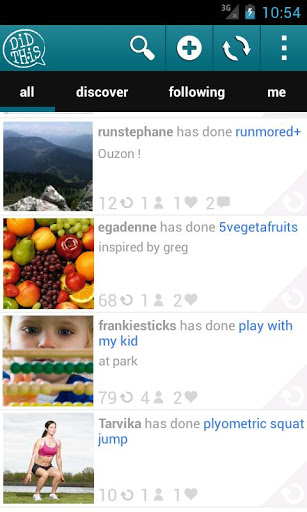 Did This is backed by a strong social community of people who want to stay away from their Android phones doing something different and fun to bring real meaning to their social life.
A community where you follow people and get followed but this isn't like every other community where you only like and comment on people's activities.
Did This provides you with a virtual checklist of things that you do and perform and then put up images or things that demonstrate and represent all that you did.
These may be unconventional things that you did and/or have always wanted to do. These could be something as adventurous as bungee jumping or something whacky like going on a spree of making crank calls.
The essence of this app is that you get to inspire people in the form of the deeds that you do and you can get inspired too.
You can discover things that you didn't even know existed or a few actions on the app may remind you of something you always wanted to do.
Additionally see popular actions too that are determined by the frequency of it being done by other people.
Simply tick or checklist a task from the lists provided the app or re-do the actions.
By logging your own actions that may be something new or something already done you open a new world of tasks and "can do's" to your followers and the community on the whole.
Add in that extra piece of information using a picture to describe what you did.
Did This gives you the functionality of weaving together various social communities into its homegrown community. Share all of your deeds on Facebook and Twitter and get some more cheers for your efforts to keep you inspired.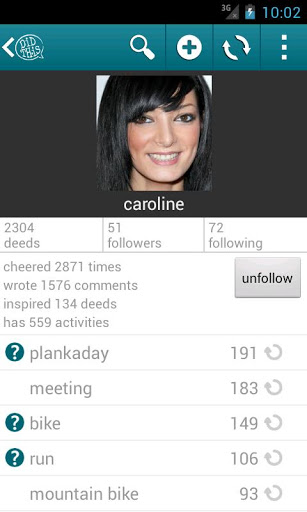 Yes. Through the Did This Android app, you can even cheer others and encourage them to push harder and give their best to achieve their own milestones when they need a little morale boost.
Rank in on the leader board by maximizing your list of deeds, completing hobbies and all other wacky deeds and tasks you wanted to do at some point in life.
Your profile will store all photos of you achieving your minor or major milestones and displays the cheers you got for the deeds you fulfilled. It will also list all your followers and along with your achievement history and the number of times they have been done. Further, you can even see the number of people who have done the same thing too.
Each deed has a tag and a description and as a community encourages you to call on more people to do it along with yourself to spread the action. It gives you all the tools you need to perform the action too.
You can also discover interesting deeds and actions that are keeping the Did This community buzzing to see what everyone is up to and get some fresh inspiration to add in more cool goals in your bucket list.
All in all, the objective of the Did This is Android app is clear and resonant – to help you achieve all your life objectives so that you can proudly say I did something different today and share them with your friends and family saying, "Hey! Did This?"