I know the alarm bells in your head may be ringing, "Please, not another flight booking app!", with a name like easyJet, it sure sounds like a smooth booking experience is guaranteed. So without further ado, let us present to you easyJet – an Android app for booking flight tickets and optimizing your flight routes. The best part about it is that it is absolutely free!
However that is not the only part. Like other such apps, this app can search, book and manage your flights all in the palm of your hand. Apart from the obvious, this app has the following features:
– BOOK FLIGHTS
Book easyJet flights directly from your Android in an experience designed to be as fast as possible. Search for cheap flights across Europe.
– CHECK-IN AND DOWNLOAD MOBILE BOARDING PASSES
Check-in on your mobile or PC and then simply download the boarding pass to your mobile. No need for a network or internet connection to access your boarding passes, once downloaded they are stored offline. So no roaming charges too. Paper free is stress free!
– CHOOSE YOUR SEATS
Want extra peace of mind, to sit next to companions or just simply want extra legroom and comfort? Then use their brand new seat maps to choose your favorite seat.
– MANAGE YOUR BOOKINGS
Log in to view your easyJet travel details. Add your passport details, change your flight, disruption management, view all your bookings and more.
– ADD FLIGHT OPTIONS
Want to add bags or sports equipment? You can do all that whilst booking your flight or even up to 2 hours before check-in!
– BOOK TRAVEL ESSENTIALS FOR YOUR TRIP
Book a hotel, car or add travel insurance in one click via easyJet partners.
– SAVE YOUR DETAILS
Log in using your 'My easyJet' account details for access to your flights and to make future bookings as quick & easy as possible
– TRACK FLIGHTS
Check the latest information about your journey, flight disruptions and more. And if you are picking up a friend, relative or business partner from the airport, you will have the most up to date flight information in your hand.
– SHARE YOUR BOOKINGS
Email or text your flight details to other people on your booking, create flight and check-in reminders direct to your phone calendar or just share your trip information on Facebook, Twitter, Google+ and many more.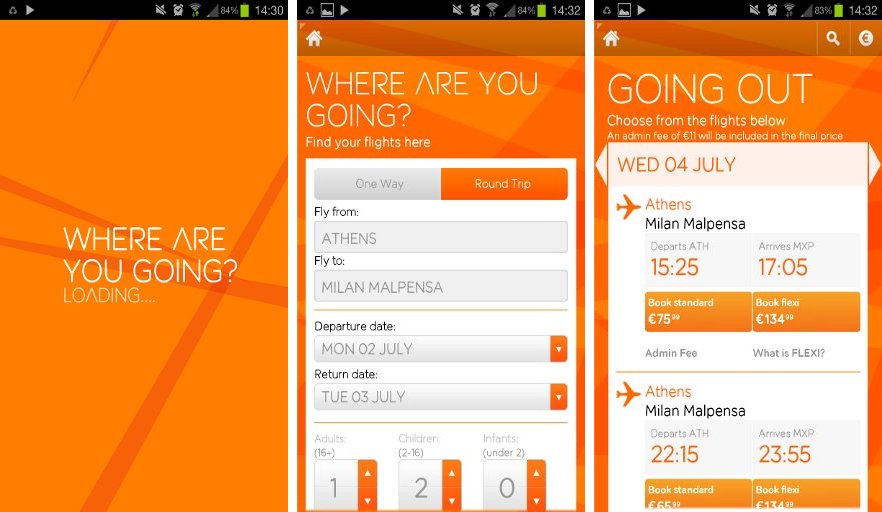 I could have never imagined a world where all these things – from booking flights to booking hotels to integrating every personal information with our social media pages to let our friends and family know that we have everything sorted so that they do not worry – could be done via one platform – FOR FREE! Call me old school but whenever I plan holidays I keep in account how much commission money I would need to keep aside for getting such stuff done.
Getting everything taken care of through a few clicks and just paying for the end product and/or service is the best thing that could have happened to people like me whose desires are far more than what is affordable. Money saved is money earned after all!