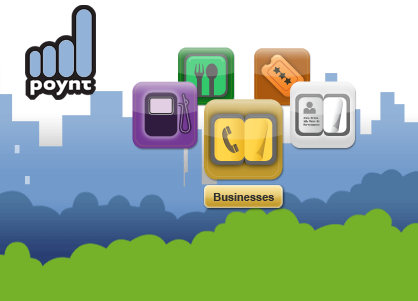 People these days heavily rely on their smartphones for all kinds of information. It can be pretty annoying to go through various apps for different kinds of information like booking a show or a restaurant. This is where Poynt comes in and does us all a favor. Poynt is an app that helps the users find services, events, restaurants, nightlife and people when they are out and about. The app uses GPS and the mobile network to pinpoint the users current locations and then show the results. Along with providing a detailed directory, it also includes mapping directions and directory to make its search more interactive.
When the user first opens the Poynt Android app, he is presented with a page of colorful icons to get started with. The app provides the user with the following five options –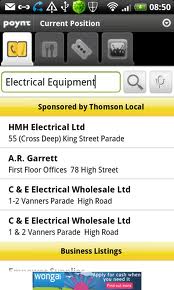 Businesses
Movies
Restaurants
People
Events
Gas Prices.
"Businesses" is a useful tool provided by the Poynt app. It helps users find stores and businesses in the nearby area with their details. Users just have to input the sort of company they are looking for and Poynt looks for it in its database. As with all search results provided by Poynt, users have many options if they click on a particular search suggestion like; Call, Map, Directions, Search From Here, Send to Friend, and Website.
Although the use of landline is becoming pretty obsolete these days, you may want to get hold of someone via his or her home phone for some god-forsaken reason. Poynt has this covered for its users by the "People" search feature. All the user has to do is just type in the name credentials and voila! They have the address and the phone details.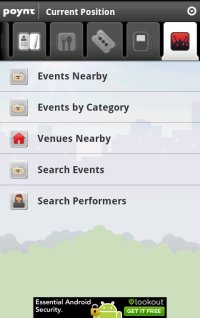 The "Movie" search feature lets users view the surrounding theaters, the movies playing, top 10 movies. Users can even view the movie times, details, view trailers, read the synopsis and book movie tickets.
Users can search for restaurants by location, by cuisine or by its name through the "Restaurants" search feature. Reviews and stars are provided for some listings. However, users cannot access individual restaurant menus from the Poynt app.
The US version of the Poynt app also lets users search for the best gas prices in the vicinity. Poynt even asks users what type of gas they are looking for such as diesel, regular, mid-grade, premium, E-85 or Bio-diesel.  Also when a user wants to click on a specific search option, for example – Movies, there is a bar at the top showing the four other icons if the user wants to switch quickly to the other options i.e. Businesses, Gas, People, or Restaurants searches. Poynt also gives users the weather information like the current weather and five day forecast.
Poynt for Android is one of the best multi-purpose apps available in the market. So the next time you are planning to paint the town red, don't forget to download this nifty little app. It takes up only a little of your memory space, but offers a truckload of high-end features to make your life much easier. You can make restaurant reservations or book a movie after reading reviews or watching trailer, all through the same app. Now you can spend less time thinking and spend more time having fun. So what are you waiting for? Download the Poynt Android app today from Google Play Store and enjoy a navigational experience unlike any other.