One of the most useful things about technology is the introduction of e-books. This is especially good for book lovers who like carrying a lot of book with them wherever they go. E-books reduce the weight one needs to carry around with a lot of books. Also, more books can be stored, in turn, making books consume less space as everything is digital. So since digital books are there to make the reading experience convenient, why should it not be customised? Why should the text be pre-formatted? When we are talking about convenience, why should we not go all the way and make digit reading as convenient as possible, individually?
All this can be achieved through an app called ePub Reader. ePub is a free and open e-book standard by the International Digital Publishing Forum (IDPF). Files have the extension .epub. It is designed for reflowable content, meaning that the text display can be optimized for the particular display device. The feature of ePub, especially compared with Word and PDF formats, the content in an ePub book is not pre-formatted as fixed book pages.
When a reader device displays the content of an ePub book, it formats the content into pages according to the display size and text font. So when you are reading an ePub book, all you have to do is only flipping the pages. You don't have to zooming or panning the window to view the page parts out of the displayed area.
This freeware makes your Android phone become an ePub reader. It manages the .epub files you imported from SD card or downloaded from web sites, and let you read them by flipping as books, or by browsing as web pages. This software is not bound to any book store or online library. In addition, it provides you some web-site links to download DRM-free ePub files. This software performs a rapid, low power-consumption method to format a chapters into book pages. If you are familiar with web browsing, the software reserves the function that lets you read the chapters as raw web pages.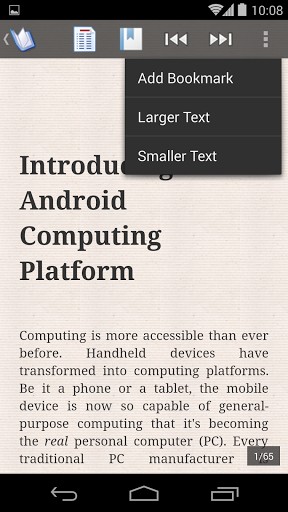 ePub reader includes the following features:
The software is a light reader for ePub format, with lower power and memory consumption, and can run smoothly on low-end Android phones.
– It's also a downloader: The software is not bound to any book store or online library. It has a built-in web browser. You can visit any web site with this browser by entering a url. When you click a hyper link to an .epub file, the software downloads and imports this .epub file for your convenience. If you don't know where to download ePub books, the software provides you a list of web sites.
– Various operation modes: You can choose to read ePub files as web pages or as books. If you choose to read ePub books by page flipping, you can further choose to flip the pages by tapping or sweeping.
– Remembering the last reading position and bookmarks: The software automatically remembers the last reading position and used text size of each book for you. In addition, you can also remember the current reading position by adding a bookmark.
– Rapid running and low power consumption: This software does not kill your battery.
So since technology is supposed to make our lives convenient, ePub Reader for Android makes sure that our digital reading experience becomes as convenient as possible, according to our individual reading requirements!