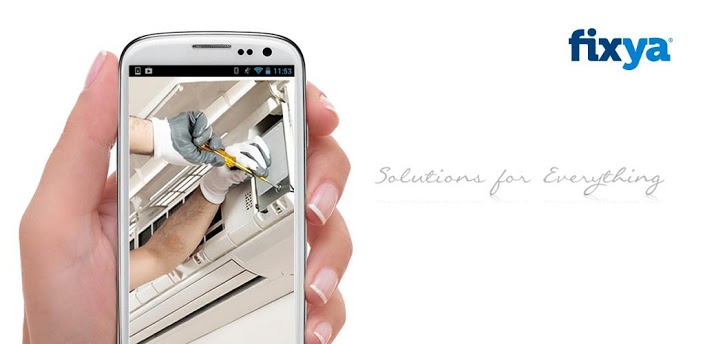 On an average, every household is home to at least 10 to 15 pieces of electronic equipment for carrying out different tasks. And it's arguably a daunting task to know how to manoeuvre around each one of them. To add to this, each of these devices requires servicing and not all of us have the technical proficiency to service these products at home or in case some malfunctioning occurs.
To aid you and ensure you never have to open that manual ever again and wade through complex migraine-inducing instructions, Android developers have created an online helpline for your Android device that redefines the very concept of a 'helpline'.
Fixya is essentially a video app for your Android device that shelters thousands of users troubleshoot their electronic equipment, each of which are intertwined in a helpful service circle. Simply put, it is a community of helpers and those who seek help to come together and help each other with a little twist.
Fixya houses videos which are instructional in nature and cover all backgrounds of tech equipment. These video cover plenty of frequently encountered troubleshooting problems on topics such as:
How service my Air Conditioner
How to change my Car tire
How to get your TV to start again
What's the screechy noise on the radio
My laptop crashed, help me bring it back on
These are just a few of the extensive plethora of instructional videos offered to users of the Fixya app.
Fixya encourages its users to ask questions. Ask as many questions that relate to their products that require a little tweaking and a little fixing. The large integrated community thus comes together and to effectively resolve problems such as fixing your expensive DSLR camera and reconfigure your PC settings desktop without banging its CPU hoping it will work!
One of the biggest plus point of the Fixya app is the video shooting of your query. You are required to simply take a video of your broken piece of equipment explaining what happened. Maybe add in the model number, the manufacturer and the date of manufacture along with a few extra details to get a better answer for your problem.
Once you have uploaded this video, you can then almost within an hour, get an answer to your query and it's more than likely that you won't have to be swimming around the internet for further solutions after that.
Fixya has a well-implemented and neat database with tech questions and their related answers.
This is present in the app in a list where you can find and see solutions.
Viewers who have an issue with a related problem can directly view the solution and save on time of waiting for a reply from the Fixya app community.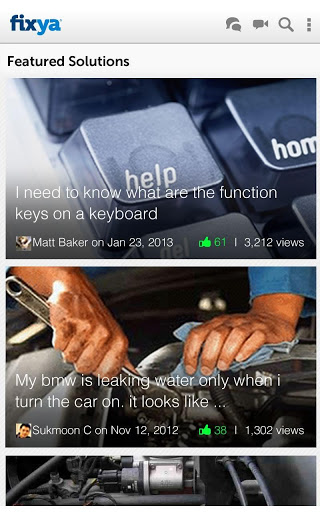 What happens in the bargain is that you throw out the extra time that was otherwise required in contacting customer care executives and then explaining to them what your problem is and wait for even longer to get a solution. You will also spare yourselves steep expenses for resolving these technical problems that could've been just as easily fixed by you with a little effective research.
Fixya can be used not only for electronics, but other things around the house as well, such as furniture, pipes and tubes in the water filter and even the kitchen sink!
The objective behind videoing your problems is that many a times you may be unable to explain what exactly the hardware in front of you is or can't find a particular button which apparently Is supposed to be right there. Taking a video obviously is the easier way out. So go ahead, get rid of your electronic item troubles without waiting on long telephonic lines and and download Fixya today!