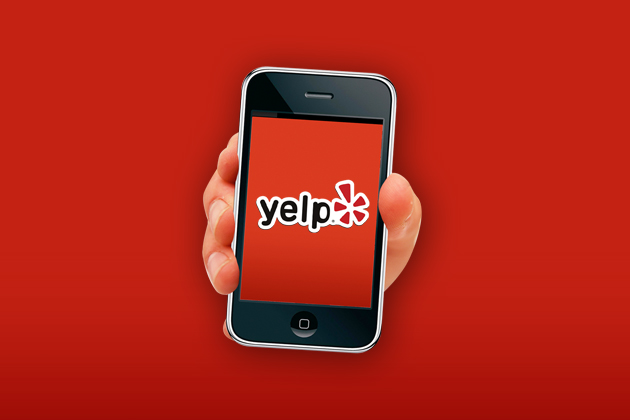 We've all been lost in places we've never been to before. And even on places known we get lost as to where we could possibly go now, or how do we find this particular place. And that's when you make a huge yell for help, i.e. resort to your beloved mobile and online sensation – Yelp!
Yelp is the perfect handy-dandy app that stays with you as a virtual gastronomy guide that makes sure you've been to all the right places to eat all the right food. It helps you look for and ensures that you are at the right place when it comes to eating all the delicious kinds of food.
As soon as you log in to the Yelp app, you will be presented with a list of searchable categories to you like Restaurants, Bars, Cafes, Coffee and Tea, Dine- outs, Drive-ins etc.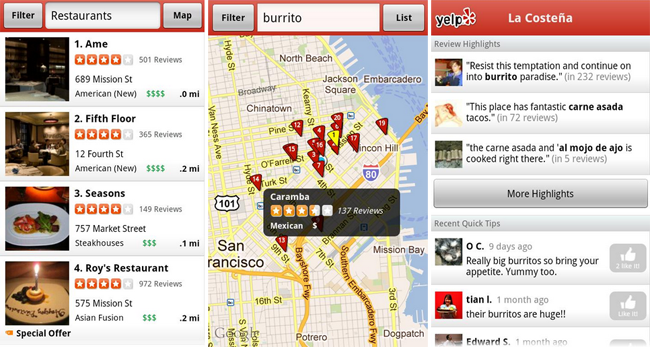 It also recommends places based on your past search with courtesy of its smart searcher built inside it.
Each category has a comprehensive list of restaurants under it and all of them can be segregated by :
Area
Cost
Cuisine
Location
Kind of restaurant etc.
This gives the user enough details for their page. Once you have made a search you then click on a restaurant you would like to go to. Here you have a huge list of things that can be done.
You can see the exact address of the place with the average number of stars that reviewers and others have rated the place as. You also see below that the cuisine and the timings of the place.
You could either book mark the place for further reviewing and as a reminder to keep that place in mind or you could check in your already there.
Once you check in you have an option to post it across your social channels or not.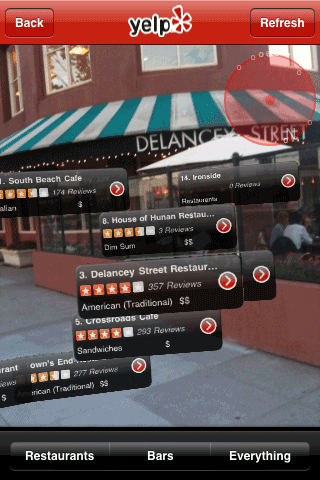 You can add a photo of the place too so that others can take a close look at the place up close and personal from the eyes of another visitor.
Finally you can go on and add a review of the place elaborating your experience and the kind of food and service that was offered to you.
You can then see a list of other reviews form other individuals.
You can even use these reviews before you go to a place and scan through them to see whether the place is an appropriate match for you.
What's more, you ask? A lot more than you would expect, folks! Yelp also allows you to check out individual menus of the listed dining establishment that you are about to visit to check whether that favorite pesto sauce penne you have been lately craving is on the list or not.
In addition to this, the Yelp app allows you to make reservations through the app itself and you can make a call to them directly too. This is a way helps restaurants to see the effectiveness of Yelp as a platform to market them too.
In case you are a little clueless about the location of the place you want to visit, you can even get precise directions via an interactive map that will take you right to the door step of the place without any confusion.
So that's Yelp for you – the ultimate foodie's guide to the ultimate eating experience. Go get it now from Google Play Store and make your dining adventures count for more!