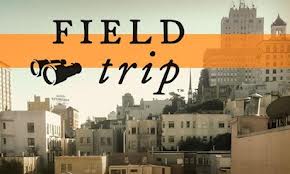 Remember those days in school where you were more than excited with a filled backpack waiting to board your school bus to go visit a destination you never have been before. Whether it was a trip to the dinosaur museum downtown or a camping trip in Florida, going to new places always got our curiosities tingling with excitement. Luckily, travelling to unseen destinations still elicits the same sense of enthusiasm from most of us even as adults. Today, we are going to introduce you to an ingenious augmented reality-based app for the Android platform named Field Trip that will multiply this excitement by several folds the next time you go out on a journey to some place.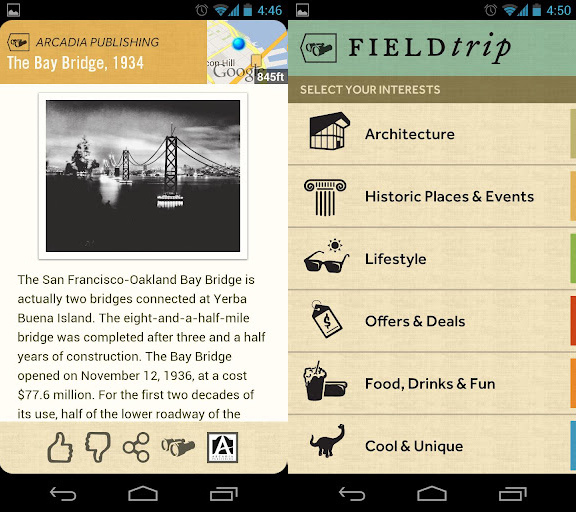 Travelling is fun and is even more fun when you have someone to do it with, and in today's world who better than your trusty Android smartphone to accompany you on your journey.
Explore the world around you like a local no matter where you go with Field Trip. Field trip doubles up as your very own virtual tour guide everytime you step out and convoys your journey to make your travel experience as comfortable and exciting as possible.
Field Trip simply runs in the background and uses GPS data on your Android phone to locate the best places there are around you when you are out at a new place.
These notifications will be displayed to you as pop-ups on your Android device screen and the minute it finds you in a place you may like, you will get the appropriate intimations immediately.
No click is required and it gives you the detailed information of the place you are at.
Additionally, if you have a Bluetooth device attached to your Android phone, it gives you voice notifications so that you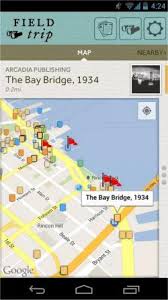 never miss a thing in an instance where your eyes may be away from the screen.
As a user, all you have to do is pick the local fields that you like and voila! All the pertinent information that you never knew about the place is presented to you.
These may be eateries, historic landmarks, ice cream shops, malls, places to have fun, everything! The hyper local history experts of Arcadia and Historvius will reveal local wisdom in places you never even know would exist.
To know the best places to fill that hungry stomach, trend-setting publications like TimeOut, Thrillist, Food Network, Zagat, and Eater will guide you to the best places to eat and drink.
For the latest in trends of products and unique stores, experts at Sunset, Cool Hunting, WeHeart, Inhabitat, and Remodelista will point out exactly what you need be it shoes specific to the area or the typical clothing that the folks of the area done.
Looking for hidden gems? Atlas Obscura, Dezeen and Daily Secret help you uncover hidden gems no matter where you are.
And for the music lovers who can't do without it on their trips, features like Songkick and Flavorpill guide you to explore local music by listing the gigs scheduled in the area you are in so that you can match your musical tastes with the local folks.
The places that Field Trip lists could also be highly unconventional places like that represent Architecture, Historic Places & Events, Lifestyle, Drinks & Fun, Movie Locations, Outdoor Art and other obscure places of interest around you. It's all about igniting the spirit of adventure within you to create your own unique travel memories.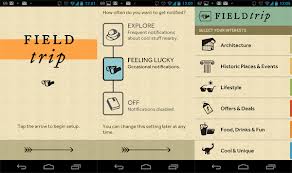 You can set different modes for the trip be it on foot or through car and you will get places in accordance with your current mode of transport. It will even talk to you about the interesting features around the place.
Capture the memories of all the places you visit through your Android camera and share it with your friends via your social networking profiles.
You can even give a thumb up or down to the information the 'Field trip' pulls out for you in order to develop a better crowd-filtered database and prioritize only the best recommended places around you.
Field Trip is the best guide there is to your random excursions and makes them all the more informative and fun so that you can make the best of it while you are there. Download it from Google Play Store today for free and enjoy your outdoor adventures like never before!