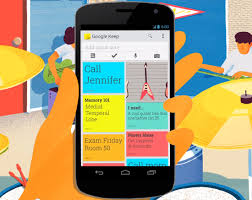 When it comes to thoughts, there is no consistency in either the speed or traffic they create in our brains. The human mind had the ability to cognitively process huge amounts of data not all of which it can recollect. This is why it's pointless to fret about our biological incompetency and important to figure out a more pragmatic solution to this problem.
Keeping this challenge under consideration, the tech-savvy developers of the Android platform have created an app to store all the significant thoughts you need to track and retrieve at the touch of a button. The app we are talking about is named Google Keep.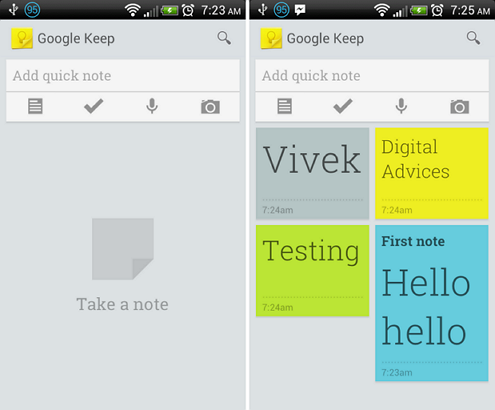 Google Keep is a breakout Android app that emerged recently from the vast market storage offered by the Google Play Store. It manages all your thoughts and essential tasks by storing them on a colourful set of notes that can be digitally reconnected at any particular point in time.
On downloading it and opening it on your smartphone, the very first thing you see is the 'Google Keep' home screen. It displays the following options: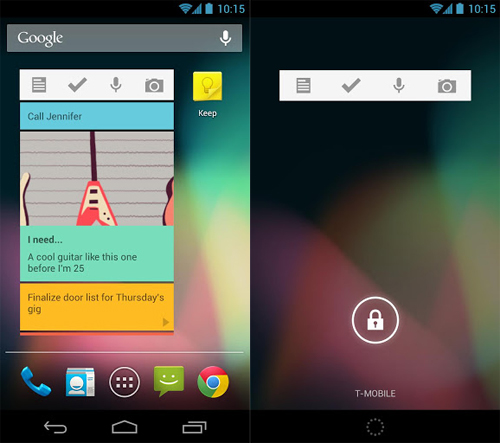 Add a quick note bar
The search bar
Sharing bar
Add a list
Voice transcription
Photo Note
The 'Add a quick note' bar function enables you to store your thoughts, notes and reminders and a lot more in a sticky note format. These notes can then be displayed in a tile format on the home screen of your smartphone so as to ensure you never miss out on anything.
To add a little liveliness, you can also add colours to each note and also extend this idea to sorting and categorizing notes using different colour themes to match their priority levels. In case you have a lot of reminder notes stacked and lined up, you can also use the search bar to retrieve the note you are looking for.
Another great feature of the Google Keep app is voice-assisted note input. This could come in handy when you're quickly taking down phone numbers or are in an important meeting taking down notes.
The 'picture reminder' feature  makes use of a special button that looks like the camera icon, which allows you to spontaneously take a picture and add an adjoining reminder to it using annotations.
You can also create lists within the note with an in-built option of adding photos and data through voice-overs. Google keeps your notes safe across all your devices using cloud computing. So a note created on your tablet is visible on your laptops and smart phones with just a login away.
You can also access digital chunk of thoughts through really interactive and simple to use widgets on the hone screen of your tablets and android smart phones. A very famous app with a good rating and available freely at the Google play store along with all of the above features makes up Google Keep. Download today and organize your thoughts resourcefully.