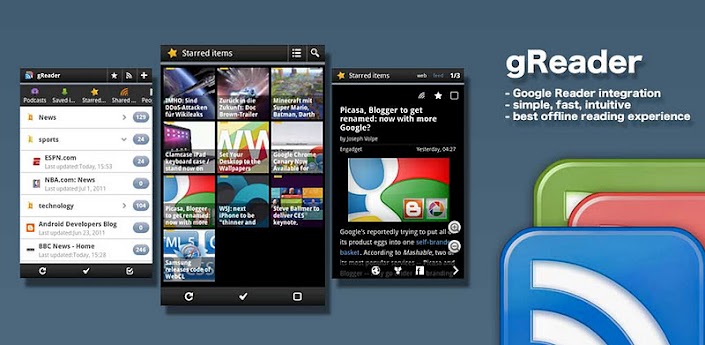 If you have stopped Googling when it comes to news because you are extremely dependent in Feedly to deliver the customized bundle of topics that interest you, I have good news for you.
As much as we love Feedly, it was mostly limited to our account on its website which is more convenient on our laptops and tablets. Since Feedly associates itself with only smartness, it did not take long for it to realize that our phones have also become smart and if the website is doing so well then imagine how well it would do if it were an app. This is because our phones are our companions much more than the other gadgets and news can happen anytime.
So let us welcome gReader Pro – a simple, fast and intuitive feed/rss reader for Android, featuring beautiful themes, podcast support and full offline support. Read all your rss/feed news in one place, where keeping up with your favorite websites is as easy as checking your email.
There is an amazing PRO version with the following features:
– Support developers
– Ad-Free version
– Better Widgets
– Better Podcasts features
– Voice-Reading
– Custom Notification
The services that it provides are:
– Feedly Cloud: Feedly Cloud is a new way to browse the content of your favorite sites.
– The Old Reader: The Old Reader is a simple, web-based RSS reader with lots of great sharing features.
– RSS Reader: Use gReader without any online services. All data are saved locally.
It comes with an impressive number of other features as well:
– Synchronization: Use gReader at home, at your office, or anywhere you go and keep your feeds, tags and shared items synched in one place.
– 2-Way Sync: Synchronize your read items between gReader and Feedly/The Old Reader. Keep your articles up-to-date
– Auto synchronization
– User Interface: Simple, fast and intuitive
– Tablet-Optimized: Read your news more comfortable on a tablet.
– Themes: Light, Black and Dark, Sepia, Blue, Green
– Night Mode: Read your articles with white font on black background. Save battery and increase readability in the night.
– Offline Reading: Reading full article content without internet connection
– Mark read on scroll
– Podcast support
– Voice-Reading (Text-To-Speech)
– Search Filters: Search and filter keywords, save search results
– Folders / Tags support
– Notification
– Share articles via Email, Facebook, Twitter, …
– Services: Translation, Mobilizer (Google, Instapaper, Readability)
– Save to Pocket (Read it later) / Instapaper / Readability
– Sort: by newest, by oldest, by feed
– Quick and Swipe actions: faster access to useful functions
– Rich article list (snippet and thumbnail)
– Widget: Icon widget with unread badge
– Easy Reading: Reading mode view, inverse webpage color
– Full screen mode: Enlarge your reading space
– HTTPS connection: Use Http Secure to get your feeds
– Backup/Restore: Backup/Restore your preferences
I do not know about you but as soon as I got to know about gReader Pro, I became so excited because I love Feedly and always have as it has never failed to keep me up to date with whatever is going on in my areas of interest. I think this app is the best thing to happen to Feedly or any other feed/rss reader!