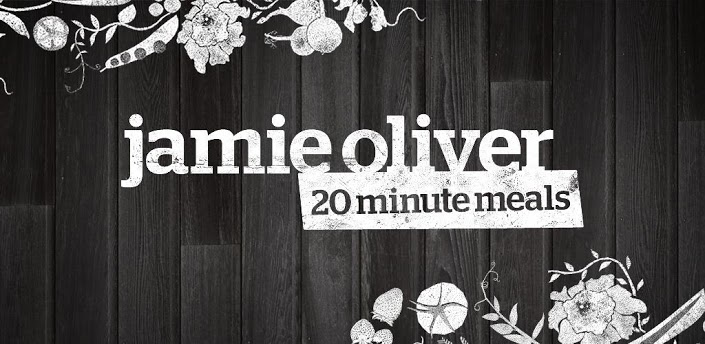 Cooking enthusiasts, food connoisseurs, kitchen newbies assemble! It's time for you to don that chef's hat and get cooking. Whether you're under-confident about your culinary skills or just a tad bit too lazy to prepare elaborate meals, it simply does not matter anymore. How you wonder? Well, that's because Jamie Oliver can now officially be your new cooking buddy. Since the award-winning British chef and television personality best known for his food-based TV shows, cook books and healthy food endorsements is too busy to be by your side for your cooking adventures, he has come up with an ingenious cooking app titled Jamie's 20 minute meals as the next best thing to actually being by your side.
It is one of the first ever celebrity chef-owned apps on the Android platform to teach you exactly how to cook like a master in the kitchen and help you recreate the cooking magic you see on TV and cookbooks in your own kitchen.
The objective of this app is to provide you with the equipped tools through the digital platform and the inspiration for you to be just like Jamie Oliver when it comes to cooking.
Jamie's 20 minute meals consists of 65 mouth-watering recipes to tantalize your taste buds and provide you with the basic easy to cook food details that you can further incorporate into different dishes.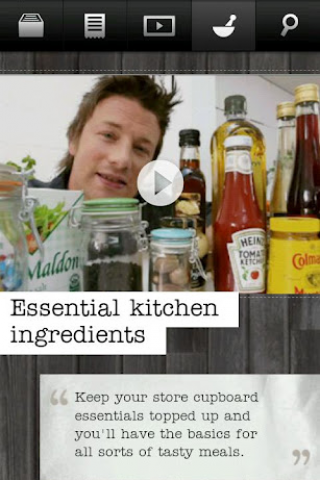 It gives you the foundation tools to sharpen your culinary skills and sets you on the right path to becoming a better chef.
How you ask? Jamie's 20 minute meals offers a plethora of cooking tips, recipes, step-by-step guides that ensure you can never go wrong in the kitchen again.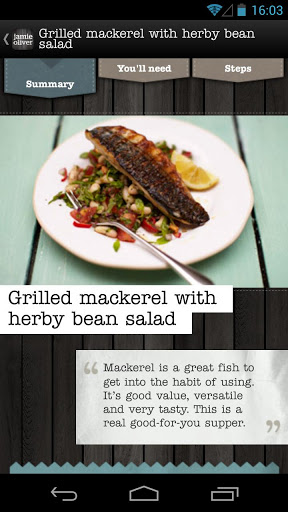 The recipes listed in the app are illustrated with beautiful pictures detailing each stage of the cooking process so that you can visually compare your actual dish with the expert's dish and make sure you're on the right path.
Each of the recipes listed in the Jamie's 20 minute meals app catalogue live up to the title of the app and are guaranteed to be completed in 20 minutes or less. This makes it a highly appealing app for casual cooking enthusiasts who want to cook up something classy and delicious without fretting over complex ingredients and hour-long preparation times.
The 'Shopping List' is a great feature offered by the Jamie's 20 minute meals app is its ingenious shopping assistance. It efficiently sorts out all the ingredients you require to prepare your dish according to the aisle they can be found in. This helps in making your shopping experience as speedy and stress-free as your cooking experience. If you're a cooking newbie who has no idea what part of the super market to start from, then this feature will guide you through your ingredient shopping endeavours with zero hassles. For example – it will tell you what all from Aisle 1 you can pick up without having to come back. This ensures you save up on a whole load of time.
The user interface on the app is just as easy to use as it is easy on the eyes.  Its rich and vibrant menu screens give you a feel of a professional yet fun cookery app.
You can see the last recipe seen and a list of dishes to choose from in a category-wise display such as easy pastas, easy soups, risottos etc.
Once you have chosen a dish you want to make, you will get a 'Summary', an all 'you'll need' and a step-by-step 'procedure' to recreate that dish with the same level of perfection as Mr. Oliver himself.
The recipe is in the format of a page torn out of a notebook for a fun cooking diary-like feel that would remind you of your mother's old cookbooks.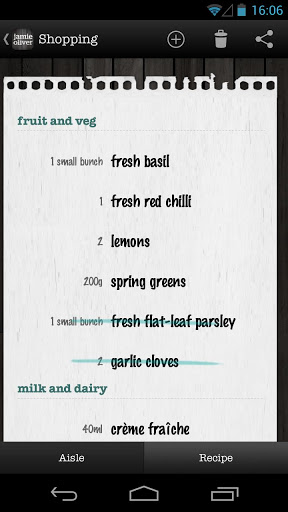 To add a deeper level of intimate detail to the step-by-step cooking instructions, you also have 21 independent videos featuring by Jamie Oliver himself telling you how to go about things.
Overall, Jamie's 20 Minute Meals is a stupendous cooking app without too much of extra jargon that takes effort to learn and a learning curve is almost non-existent.
It holds a strong 4.3 rating with thousands of users and critics thoroughly impressed by it and using it progressively. So what are you waiting for? Learn from the master himself and wow your guests with your cooking wizardry with Jamie's 20 Minute Meals by your side.