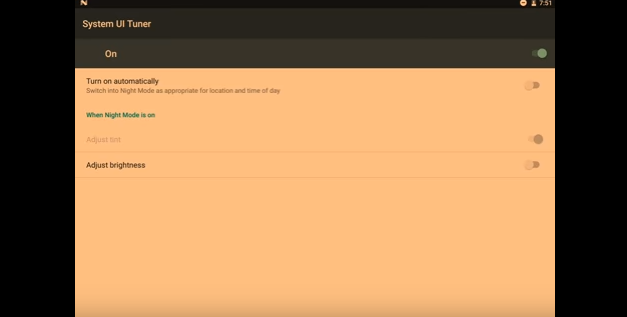 Do you want Night Mode on Android 7.0 Nougat? Unfortunately, it's not built into the newest version of Android from the ground up.
We do have some good news: there's a free app you can download to activate Night Mode once again.
Best of all, you don't need to leave this app installed. You install it, activate Night Mode, uninstall it, and you have access to the mode for life. How great is that?
Night Mode, by the way, is Android's blue-light killer mode that makes it easier to use Android in bed without messing up your sleep cycles.
Here's how to take advantage of this new app called Night Mode Enabler:
Step 1) Download Night Mode Enabler for free from the Play Store
Step 2) Enable System UI Tuner (long-press on the gear icon when the notification shade is down)
Step 3) Open the Night Mode Enabler app
Step 4) Tap the Enable Night Mode button
It's ridiculously easy. All this app does is grant access to the hidden Night Mode Quick Tile on Nougat – which for some reason was hidden in the latest update.
Anyways, the app is free to download and has received thousands of positive reviews. The developer didn't initially add any type of monetization system to the app, but people requested it, so in-app payments are now available. As we recommend with all app developers, consider kicking them a couple bucks for helping you out.
Michael Evans, the developer, actually explains how the app works here.