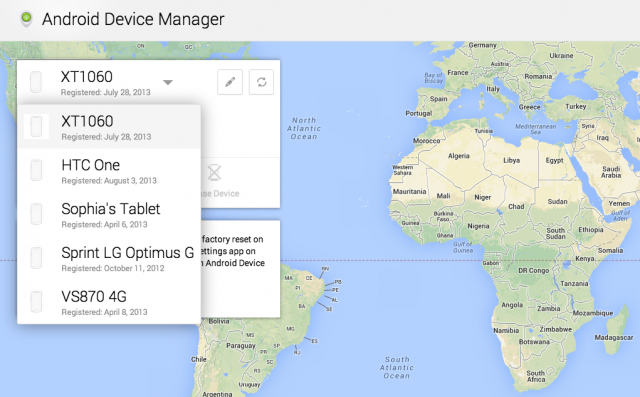 Losing a smartphone is a devastating experience. You may not know if your smartphone has been stolen or if it has just fallen into a deep crack in the couch. Your Android may be safe, sound, and powered off, or some thieving goofball could be prying into your deepest, darkest secrets.
Google finally got around to making an official Android locating app. It's called Android Device Manager, and it's currently available as a free download weeks before it was scheduled to be released. Obviously, this isn't the first and only Google device locator on the market today ('Lookout', Samsung's 'Find My Mobile', etc.), but it is the first one created by Google.
How to use Android Device Manager
Unlike other Android locator apps, Android Device Manager is available natively on Android. You don't have to download it and you don't necessarily have to have the latest version of Android installed. Instead, the update is automatically rolling out to all Android devices over the next few weeks. In fact, you probably already have it.
To check if Android Device Manager is available on your phone, keep reading.
Follow the directions below to check out the Android Device Manager tool:
Step 1) Go to your Android settings and navigate to Android Device Manager (if you can't find this setting, just skip to step 3)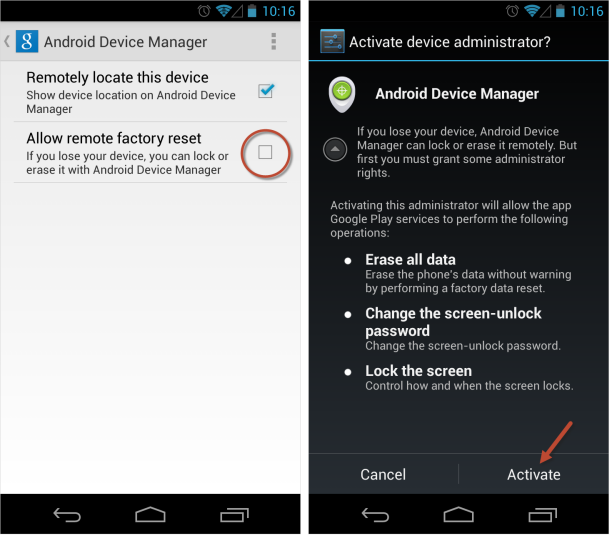 Step 2) The locator feature is enabled by default, but you'll have to activate the 'Allow Remote Factory Reset' option in order to use all the features of Android Device Manager (this just gives you permission to reset your Android device over the internet even if you're not in possession of it).
Step 3) Go here: https://www.google.com/android/devicemanager
Step 4) That webpage will immediately tell you the location of your Android. And if you didn't activate remote reset in step 1, then you can click a button to send a notification to your phone and that notification will take you directly to the settings page.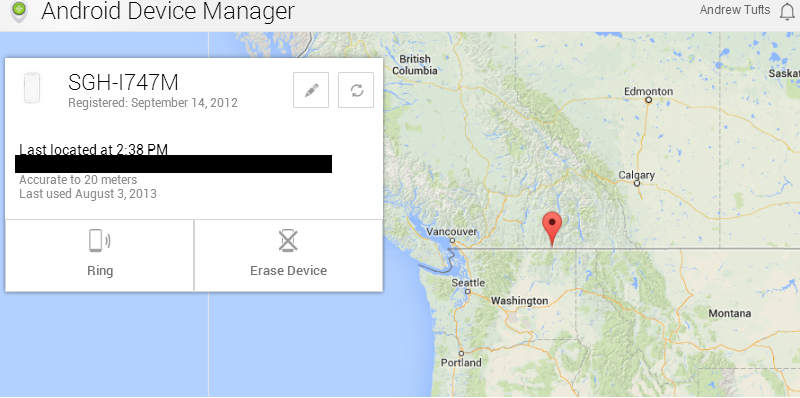 You can also call your device, in which case it will ring sharply for 5 minutes until you find it.
The location is accurate to 20m (at least where I am in rural Canada). So if your Android is lost in your house, then 14m may not narrow it down too precisely. But hey, at least you can tell if it's stolen and halfway across the country, and the ringer feature will undoubtedly locate a few lost phones.
If your phone has been stolen, and you don't think you'll be able to retrieve it, then you can erase the device (provided you have previously enabled the remote factory reset option). This is a smart thing to do whenever you lose your phone – especially if you use it for banking, work, or other important stuff.
Basically, Google is just sharing the location data that it already collects about your phone. But this feature could be the difference between losing and finding your $500 Android smartphone. Try it out today.