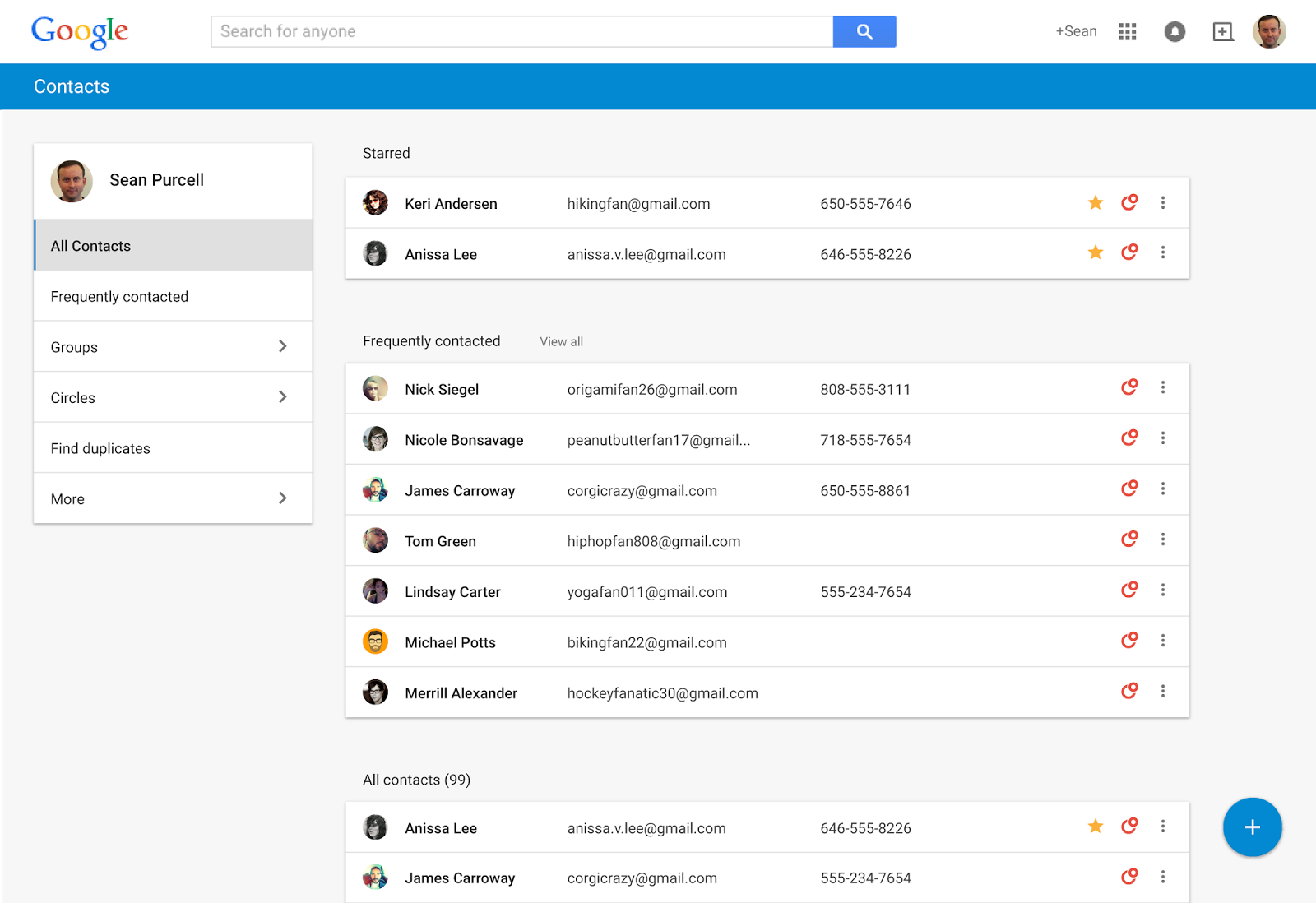 Did you just buy a new Android phone? Whether you're switching to a new Android from an old Android, or you're switching away from an iPhone, we're telling you the best ways to transfer contacts to your new phone.
First, one of the nicest parts about Android is that there are several easy ways to move contacts to your new Android phone. You can back up your contacts through your Google account (which actually happens automatically on most Androids), back up your contacts to hard storage, use native phone software, or download a third party app to do everything for you.
With that in mind, here's how to move your contacts to a new Android phone.
Using Google Accounts and your vCard
This is probably the easiest way to move contacts to your new phone, although some people freak out when Google gets involved in their privacy. However, if you're switching between Android devices, you can complete this process in under 60 seconds using the following steps:
Step 1) Open the Contacts app on your phone (also called People on some models)
Step 2) Look for the Settings menu (check under the More tab)
Step 3) Look for the Import/Export option (typically under Manage contacts)
Step 4) Select Export, then choose to export your contacts to the device storage
Step 5) Your entire list of contacts will be stored as a vCard file. You can then transfer that vCard file to your new phone in multiple ways – like over email or even Bluetooth.
Step 6) On your new phone, follow the steps listed above, but choose the Import method instead. Your contacts will all be added onto your new phone.
Step 7) Want to upload all your contacts to your Google Drive account / Gmail? Transfer the vCard to a PC or laptop, then go to google.com/contacts and click Import Contacts. Choose the vCard file on your PC and click Import. Those files are now saved on your Google account, and they're immediately accessible on any device where you're signed into your Google account.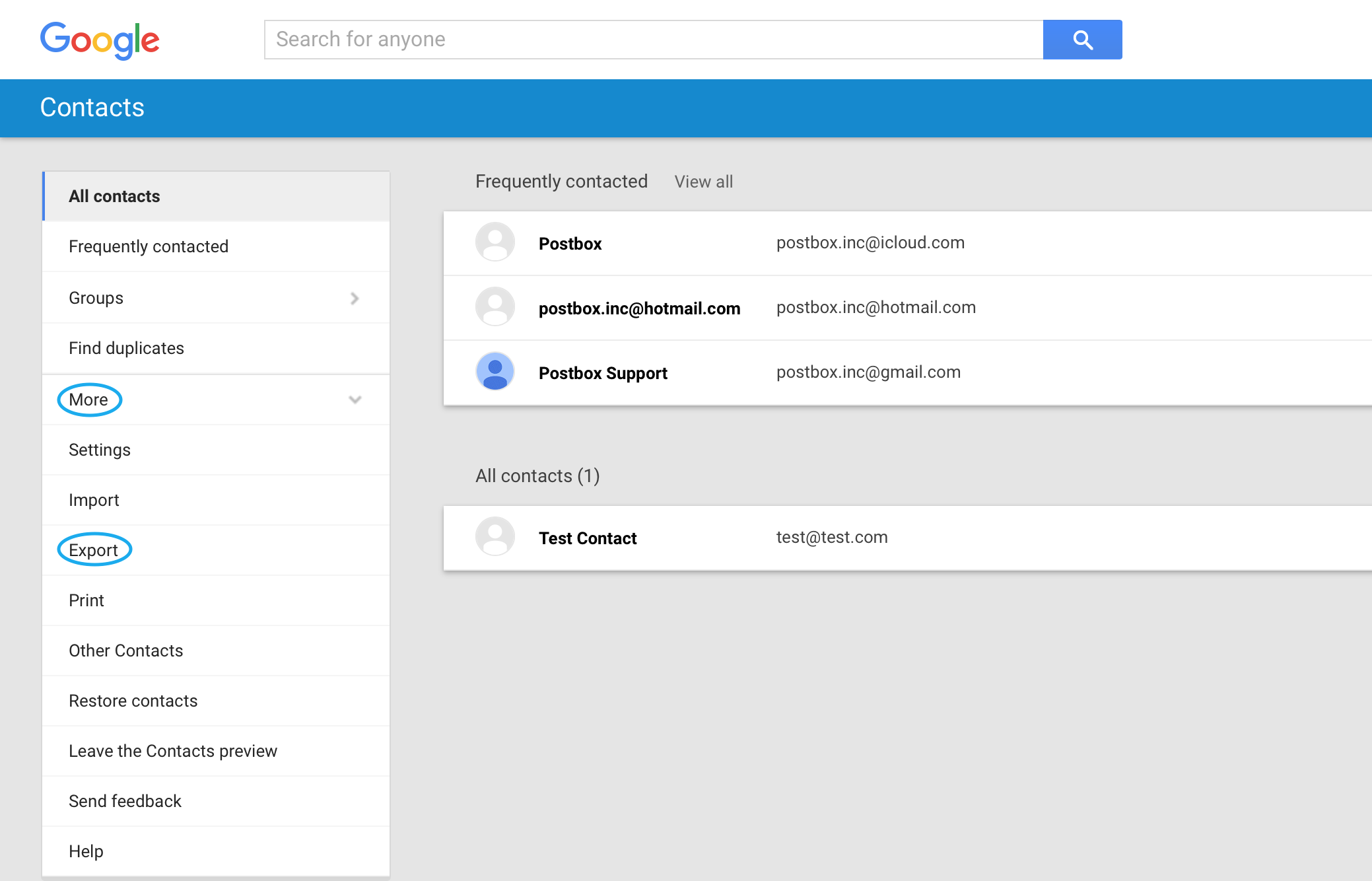 The specific steps vary slightly according to your Android model, but you should be able to figure it out based on the information above.
Transferring a vCard from an iPhone
You can do a similar process with an iPhone. The only difference is that you sync your contacts to iCloud using the Settings menu, then export your vCard file from there. You repeat the process listed above, going to the Android > Contacts menu and selecting the Import option.
Backing Up Contacts to a SIM Card
If you're getting a new phone from the same carrier, then you might be swapping over a SIM card. Or, at the very least, you can use your SIM card to transfer contacts and save them onto your new device. Here's how to do that:
Step 1) Open the Contacts or People app on your Android
Step 2) Go to Settings > More
Step 3) Choose Import/Export, found under Manage contacts
Step 4) Tap Export, then choose to export your contacts to the SIM card
Step 5) Take out your SIM card and pop it into the new phone, assuming that it's the same size SIM card as the one used in your new phone (if your old phone is more than 4 years old then it may use an outdated SIM card model, in which case this method isn't ideal for you)
Step 6) When you pop the SIM card into your new phone, a prompt should pop up asking if you want to use SIM contacts. Tap yes, and they'll be added to your phone.
Use Third Party Apps
Or, you use a third-party app to manage the transfer. There are apps designed specifically to help you move everything from iPhone to Android.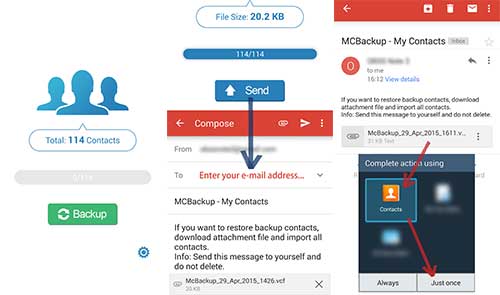 The Play Store and iTunes App Store have plenty of third party apps available to download for free. These apps will transfer your contacts with a few easy steps. MCBackup – called My Contacts Backup – tends to be popular. It's available for both iPhone and Android for free.
With MCBackup and similar apps, you install it on iPhone or Android, give the app permission to your Contacts when prompted, then tap the Backup button and the Send button. You can easily send contacts data between devices.
These apps may seem like magic, but they're straightforward: they just send the vCard file to your new device, automating all the steps we listed above.
That's it! These are the easiest and fastest way to transfer contacts to your new Android.