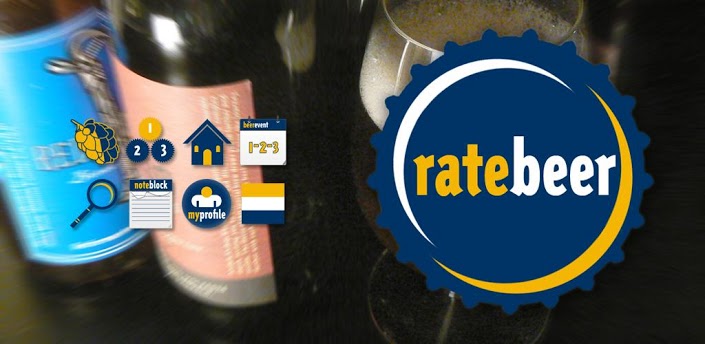 If I were to ask you what's the favorite party fuel of every socially active person or a beverage we all love to kick back with after a hard day's work, you probably would instantly shout out, "Beer!" This affordable and mild alcoholic beverage has been the drink of choice for millions of people around the world and is available in thousands of different brews sold by hundreds of different brands.
Contrary to popular perception, the fancy etymology of the word "beer" is just a cover-up for its actual acronym B.E.E.R., which stands for Beverage that Enhances Enthusiasm and Revelry. For all those beer enthusiasts and connoisseurs who love experimenting with the massively diverse brews of their favourite alcoholic beverage available worldwide, let us introduce you to an ingenious Android app that will do all beer lovers justice.
Enter Rate Beer – A one-of-a-kind Android app that serves as the last resort to the drinker in distress and provides a great deal of the best information on beers to help you pick the perfect brew to entertain your taste buds and enhance your buzz with. Many a times when you are out drinking with friends and you see a new beer on the list you're confused and bewildered whether this one's going to be my new spoiler or no. RateBeer is created for just that kind of crowd, and with just a few clicks, your drinking experiences are going to be more cheerful than ever.
So let's explore some of the cool featured offered by the Rate Beer Android app that happens to be the world's largest disseminator of information on draft beer.
On opening the Rate Beer app, you will see a white homescreen with three major tabs listing: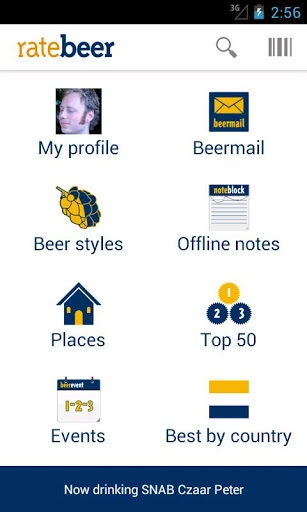 Details
Ratings
Availability
The Details tab is a comprehensive list of beer details that you need to bring out that responsible drinker in you.
These details include:
Percentile – the scoring of the beer per hundred beers. So a 98th percentile is an indication that this beer is better than 98 beers per 100.
You also get a ratings score below it.
Further the style of the beer be it saison, Black and Tan, Light Lager, Sahti etc.
And the alcohol by volume content of the beer.
Another great feature is the easy accessibility the app gives you when you are craving that delicious yellow-tinged beverage.
The Rate Beer app uses GPS tracking to give you the best location of the beers in your locality depending in where you are currently.
You get to know what beers are stored and hosed by what restaurants and can find exactly where the beer you want is available.
You also get the location on the map presented on your screen with the restaurant details and the Phone number.
You can also rate the beers and review them for the score to be seen and other to get a better idea of what everyone thinks. These can be rated on aroma, palate, taste and appearance.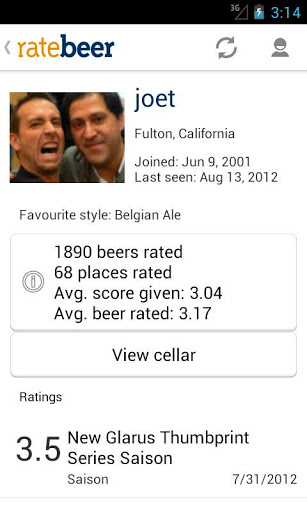 Further places can too be rated and an average score given by you and a given rating given by you is visible in your use profile that you create.
You can also view all the user's ratings of a particular brand or brew of beverage. You can see a respective user and his/her detailed reviews too.
A separate page with tabs Beer, Places and Users is available to access all the above information and add in your own likes and dislikes thereby forming an online community of the world's finest alcohol reviewers and avid fans of beer.
You can see the Top 50 beers worldwide and country-wise as well through the details and search buttons.
Perhaps the most socially brilliant feature offered by the Rate Beer app is allowing you to keep a track of the latest upcoming events and offers in your area that involve a whole load of beer. You can locate these events through the map and add it to your calendar as a reminder too.
Finally, you have your own Beer Mail box that you can use to send and receive the coolest news on what's happening in the beer world.
Download the Rate Beer Android app right away from Google Play Store and enter a world created exclusively by beer lovers for beer lovers.