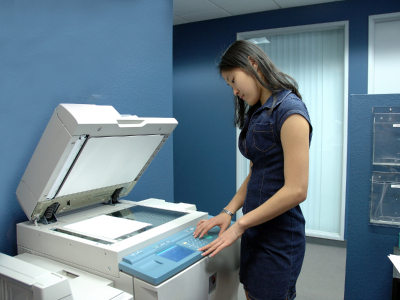 Photocopiers are essential in a home office or in a fortune 500 company. While the latter may need a more sophisticated copier than the former, it is still important to know exactly what you are buying. With photocopiers, there are a plethora of functions that will ensure that the user is able to copy the way they want – and with a fast pace. These top 5 tricks will show you exactly how to find the perfect photocopier for your needs without going over your budget.
1. Know What You Need
How many copies will you be making regularly and how important will color prints be to you? These two questions will be of the utmost importance. Color photocopiers are priced significantly higher than their counterparts as well as the copier's ability to print massive amounts of copies in a short time. If you need a photocopier for your home office and will use it sparsely, there is no need to have all the bells and whistles that will only do one thing – raise the price. Before making a decision on what copier to buy, ensure that you know what functions you will actually need beforehand.
2. Utilize Supplier Matching
Supplier matching is a great way to find not only the best suppliers based on your specific needs, but this also allows buyers to find a reputable seller that is offering great discounts. Websites, such as http://www.photocopierprices.com, allow users to plug in their information and will display the best photocopier matches based on the user's information. With the ability to receive steep discounts and utilize reputable vendors from the top manufacturers in the world, this is one of the key tricks to finding the right copier fast.
3. Speed Concerns
How important is speed going to be for your business? Can you wait 3 minutes to print over 50 copies or will you need a copier that has a printing rate of 52 prints a minute? The slower speeds will come at a reduced price. This comes down to your own usage patterns. If important internal documents will have to be copied and handed out to hundreds of employees, speed will be a concern. If, however, you only need to copy a customer's receipt, a slower machine will suffice.
4. Multi-function Copier
Multi-function copiers are great to have, but do you really need one? Many consumers will buy a multi-function copier just incase. However, if a copier has a fax and scanning capability, it will add onto the overall price of the copier. While these are two great features to have, this does not mean that they are necessary in most cases. With online fax services, many offices are opting out of physical fax machines to utilize their online counterparts. If you do not need this functionality, you will have cut your cost in half.
5. Leasing Options Are Available
Did you know that you can lease your copier if you are on a tight budget? This allows payments to be made over time so that upfront capital does not need to be substantial. This is a great option for businesses that are on a tight budget, but there are some downsides as well. A lease is a legally binding contract and continual payments will need to be made so that the lease is satisfied. Furthermore, the overall costs will be greater in the end as leasing will have interest or extra fees attached to the overall price.
These few tips will allow anyone to find the ideal copier that fits into their budgets. With a little patience and the ability to use comparison sites that display relevant suppliers that match your needs, it will be possible to find an affordable option that fits your business requirements.