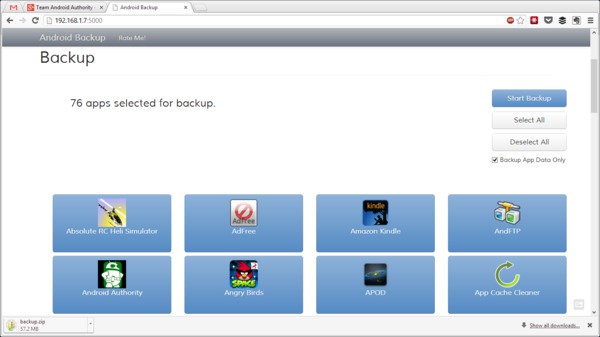 Backing up is something that everybody tells their friends to do, but few people actually do it themselves. Fortunately for the handful of people out there who actually back up their handsets on a regular basis, they'll be the ones laughing at the end of the day.
Remember: nobody thinks their smartphone or computer will crash until it's too late.
That's why I like an app called Carbon Backup, which makes the app backup process so easy that anybody could do it. Carbon Backup allows users to automatically store all of their phone information in a cloud storage system like Dropbox.
What is it?
Carbon Backup was made by the same folks who made the ClockWorkMod Recovery, which is basically the world's most popular app for rooted Android users.
The goal of Carbon Backup was to provide an intermediate solution between the average backup app and full-service backup apps for rooted devices like Titanium Backup.
Before you leave the page – no, Carbon Backup does not require you to root your device. Although rooting your Android is never a bad idea. Carbon Backup also works better on rooted devices, although it's certainly more than usable on non-rooted devices as well.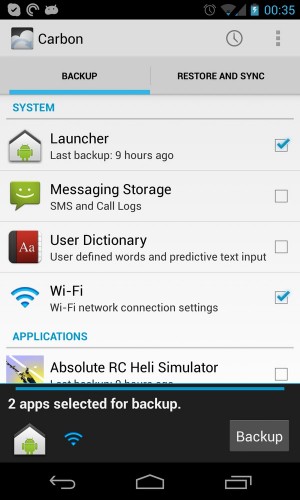 How it works
Carbon Backup has a different installation process than your typical Android app. You'll first need to download the desktop client of Carbon from this website. Install that program as well as any Android drivers that you have not yet installed (most Android drivers are automatically installed the first time you attach your Android to your computer).
Once you've installed the program and any required drivers, restart your PC, then connect your Android handset via USB.
Once you've connected your Android, you'll see a list of instructions appear onscreen. Follow those instructions, after which Carbon Backup will be enabled on your device.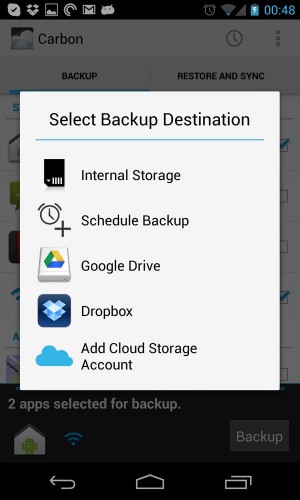 Using Carbon Backup
After successfully installed Carbon Backup, open it on your Android. You'll find two tabs along the top:
-Backup
-Restore and sync
Both tabs feature a list of all the applications currently installed on your device. There is a checkbox beside each app that allows users to select which items will be backed up. You'll see a list of apps as well as specific system settings – like your Wi-Fi connection information.
Obviously, the more boxes you check, the easier it will be to backup your phone if it crashes. On the other hand, backing up lots of apps can take some time. If you have a lot of apps, then your backup could be several gigabytes in size – which could take a while to upload even on a strong internet connection.
Backups are saved onto your computer or into a cloud storage folder. Restoring that backup is easy. Just open the Carbon Backup program on your PC and follow the restoration instructions. Backups can be completed over a Wi-Fi connection, although they will go faster if you connect the Android to your PC via USB.
You can backup your phone manually without paying the premium fee. This is all most people will need. But if you want a more automated solution, then you may consider upgrading to premium.
Premium features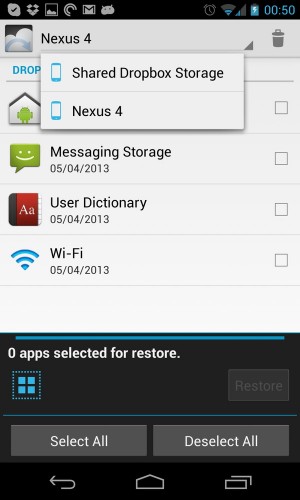 Users who are looking for a full-featured free experience will be disappointed with Carbon Backup. Some of the backup program's coolest features – like device-to-device sync, automatic backup scheduling, and backup to cloud services – all require an upgrade to the premium version, which costs a whopping $5.00.
Automatic backup
The automatic backup services on Carbon Backup are useful, but not totally necessary for most users. Carbon Backup services include the ability to:
-Backup only on Wi-Fi
-Backup only when charging
-Choose specific days and times of the week to backup
If you want the ultimate peace of mind, then paying the premium $5.00 fee is probably a good idea. If you'd prefer to save your money and backup your Android whenever you remember, then there's nothing wrong with that either.
Why rooting your phone is a better solution
Sure, Carbon Backup is a decent app that backs up most of the information on your phone. But it doesn't back up everything. In fact, it's impossible to backup everything on your phone without rooting it first.
Why is that? Well, rooting gives apps access to every single file in your phone. Instead of being locked out of useful folders – like the app folder – backup apps on rooted devices can effectively restore an entire phone to exactly the way it was before a crash.
There are popular backup apps specifically designed for rooted devices – like Titanium Backup. However, existing Carbon Backup users will be pleased to note that Carbon Backup works better on rooted Androids when compared to the normal version. After rooting, you'll be able to backup all of the personal data on your device – not just bits and pieces.
However, Titanium Backup is widely regarded as the best rooted Android backup app available today. Download it for free here.
Or, download Carbon Backup for free here: http://www.clockworkmod.com/carbon