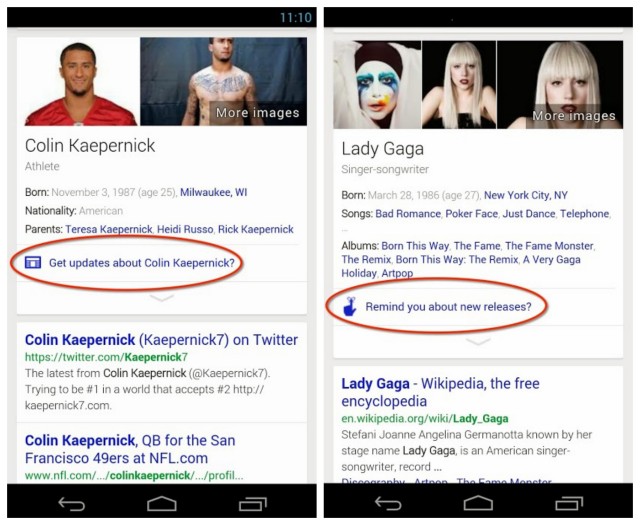 Are you actively stalking a celebrity? Do you want to stay up-to-date on the latest news for your fantasy football team's star quarterback? Google Now can help.
Google Now recently added a feature that makes it easy to stay up-to-date on the latest news from your favorite celebrities. To access this feature, simply search for your favorite celebrity and look at the bottom of the 'knowledge card' about that celebrity.
You'll see a button that says Get updates about Lady Gaga or whoever you're searching for. Google only recently added this ability for celebrities. However, in late August 2013, Google added this feature for bands and TV shows.
Once you click the Get updates about… button, Google Now will find the latest news and articles about that person. If it's a really active celebrity, you should be receiving important news articles every day or two.
If you accidentally sign up for updates on a celebrity you really don't care about, then you can edit your Google Now settings from the settings menu of that app.
The settings menu lets you choose exactly which notifications you receive on Google Now. It's a useful menu because I once looked up tickets for a random soccer match in Germany and then Google wanted to tell me every score from every game in that league.
Only available for Google.com users
So far, this feature is only available to American Android users (or anyone who uses Google.com). Since Google Now automatically uses your local search engine, it won't work outside the United States unless you manually enter Google.com.
Anyways, this is likely just another way for Google to learn a little more about you. If you don't care about how much Google knows about you, then happy stalking!
Google Now just keeps getting better and better (or creepier and creepier). You can read a Google Now vs Siri comparison by clicking here.