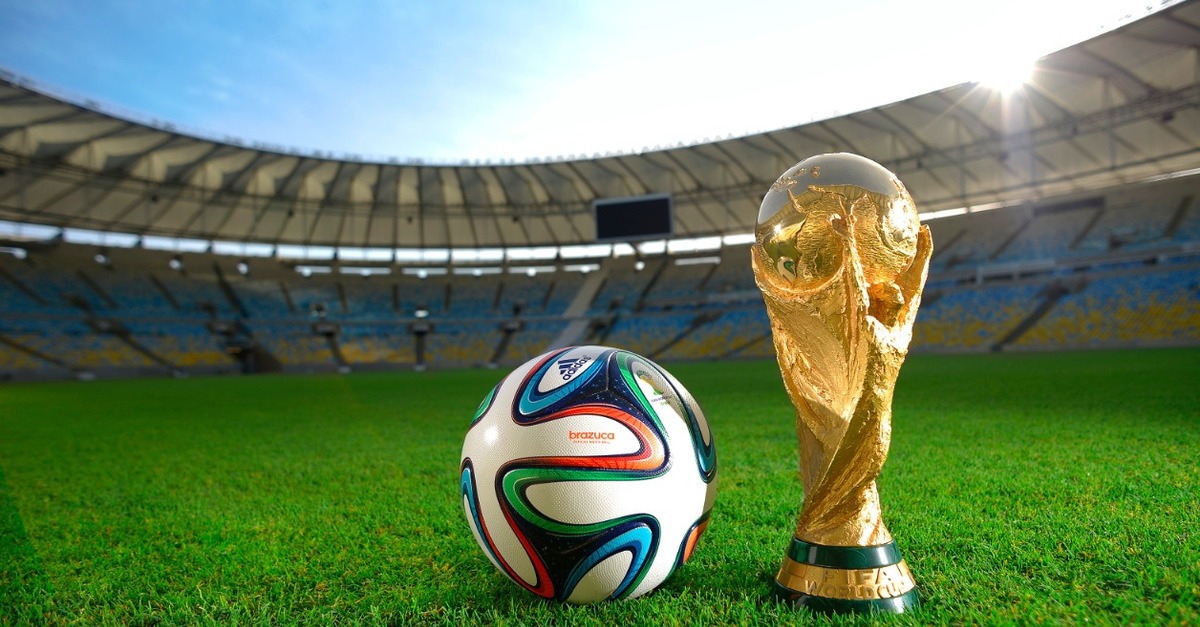 This summer will be filled with soccer. The FIFA World Cup is taking place in Brazil over the next four weeks.
Whether you love soccer or you "just don't care about it", the World Cup is going to be impossible to avoid.
The action kicks off on Thursday, June 12 and lasts for a month until July 13. 64 matches in total will be played over that time.
During the last World Cup, mobile streaming was limited. Now, with 4 years of technological advancements at our back, this World Cup brings us plenty of new ways to enjoy the action.
Want to watch the 2014 World Cup on Android? Here are the best methods:
WatchESPN (US-Only, Requires Subscription)
ESPN has FIFA World Cup rights in the United States. Users can watch live coverage and game streams over the WatchESPN app.
However, this option is only available to users in the United States and users require cable, satellite, or pay-TV subscriptions in order to use the app. You can view full details about the WatchESPN app at the Google Play Store, including the supported cable providers (AT&T U-Verse, Time Warner Cable, Google Fiber, and others).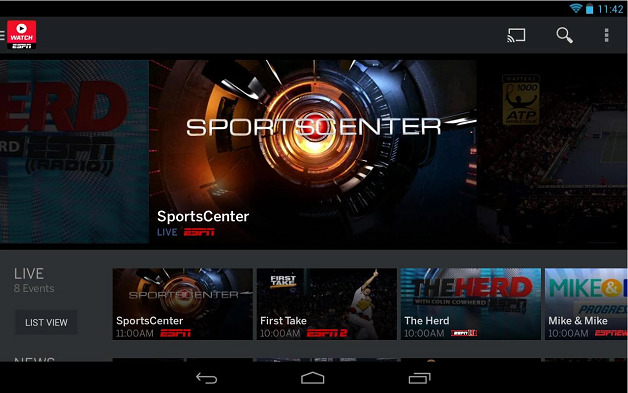 If you are fortunate enough to have a subscription, then you can also watch coverage on your PC, iPhone, iPad, or any Android device. Yes, it costs money, but this may be your best way to watch good-quality FIFA streams throughout the World Cup.
Unfortunately, reviews of the WatchESPN app have been poor so far. Users have complained about poor video quality, laggy streams, and mysterious dropped video connections.
Wiziwig (International, Free)
Wiziwig compiles live streams from all over the world and shares those streams for free online. Wiziwig has already fleshed out its World Cup 2014 coverage page and it will continue updating the page throughout the spectacle.
You can view the Wiziwig World Cup page here.

Wiziwig has more than just FIFA matches. In fact, the website features every sport imaginable. Live streams from around the world are available with a single click.
The site works on mobile browsers, but some of the streams are ad-heavy, which can make them difficult to view on mobile devices.
Of course, as with most free live streaming broadcasters, the legality of Wiziwig varies according to your location.
YouTube and FIFA TV
FIFA has launched a YouTube channel as part of the 2014 World Cup. That YouTube channel is easily accessible on Android devices over the YouTube app.
Unfortunately, you will not be able to view live streaming video on the YouTube app. Instead, FIFA will be posting highlights, team previews, opening ceremonies, top 10 goals, and similar videos. If you can't access the other options listed here, then YouTube is an easy and effective way to satisfy your football cravings.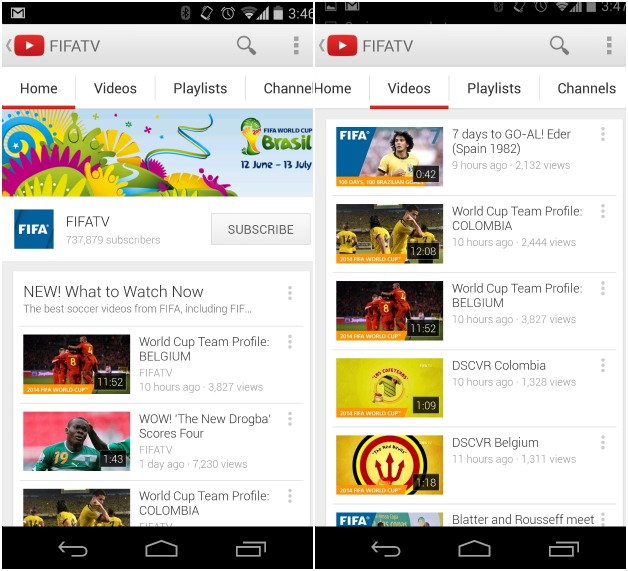 Your official cable provider
FIFA's World Cup limits viewing options and sells broadcasting licenses to specific broadcasters in each country around the world.
You can view your country's specific broadcaster and their viewing options in this PDF document.
That document lists all of the "media rights licensees" along with their available viewing options.
In Canada, for example, CBC has full coverage rights across TV, radio, mobile, and internet.

In the United States, ESPN and ABC have those rights.
Check that document, determine which media company has your rights, and then look at their website for more information about their apps and streaming options.