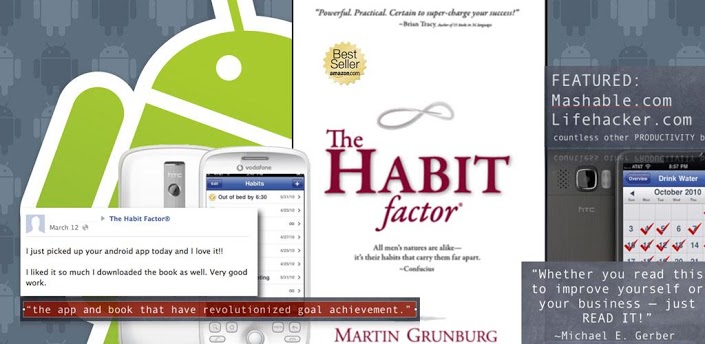 How often has it happened that an Android app has been converted into itself from another source like an online portal like a website, or a company or a magazine? Pretty often, yes. With the power of connectivity that smartphones and tablets have brought upon this technologically-driven generation, it's no surprise that everyone is trying to gain a competitive edge by offering their services on the go to millions of their loyal customers.
And how about an app stemming from a book? The Habit Factor that was written by Martin Grunburg to inculcate and help individuals be consistent with their resolutions and plans that they have. Many a times a plan is made and the execution gets hampered for the laziness monster kicks in. Sloth is one of the most underrated sins of mankind and procrastination is the killer of productivity. But there has to be a way out doesn't there?
The Habit Factor app for Android is just an extension of the teachings of the book and ensures you are right on track with your tasks with the help of your mobile device no matter where you go.
The Habit Factor app is fairly easy to use and has two major parameters that sets the tone for your consistency; goals and habits.
The Goals and Habits are the two pillars and it lives on the information you need to feed it with in order to kick off.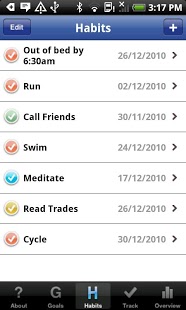 The 'goal' tab enables you to add in a start and end date to your task that is pre-defined. It becomes easier for you when a structured time frame is decided upon. Give it a name and define its core tasks.
Something you may find that will work in your favour is the 'Associate Active habits' tab. This allows you to add in other key 'Goals' that have an association to the tab that you are in.
For example – If you are currently setting a schedule for daily exercise, the alternate goal of 'Running' or 'Swimming' that you set a separate schedule for can be added here as an associate habits.
This feature enables you to simultaneously track the progress and success of your tasks.
The habits set a list of the goals that you initially charted out and display the end date so you know when it's time and how you should amend your current schedule if required.
The 'Track' tab tells you where you have reached and graphically displays your journey so far.
The 'Overview' button has an in built calendar that tick marks the day you have successfully completed the task this is a great motivator observing straight ticks across the chart.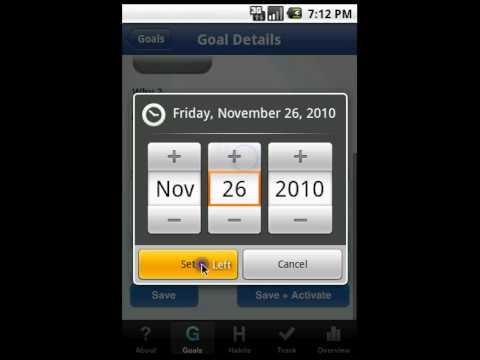 The overview also has a graphical feature that shows you your overall progress through a bar stick
The daily tasks are displayed at the top and a connecting bar-stick below it showing your overall progress.
This is the same for all the tasks in the list and each one of them is seen as a list in the secondary overview tab.
The chart period is mentioned at the top and the rest is all there for you to understand, navigate and explore.
The Habit Factor Android app comes with screen widget for you to know what your status is.
The simplicity of the Habit Factor app lies in its near flat learning curve, smart interface and simplistic graphics that add to the eye-catchiness and overall utility factor of the app.
To know and keep your habits factor at the highest score, all you have to do is keep yourself aware of your goals and daily, weekly and monthly targets you set for yourself. It's okay if you haven't read or forgotten to read the latest Warren Buffet management book for your college report work. You can just use the app to motivate yourself to do it and track your progress as you take over the reins of your life and become an effective learner and manager of things.