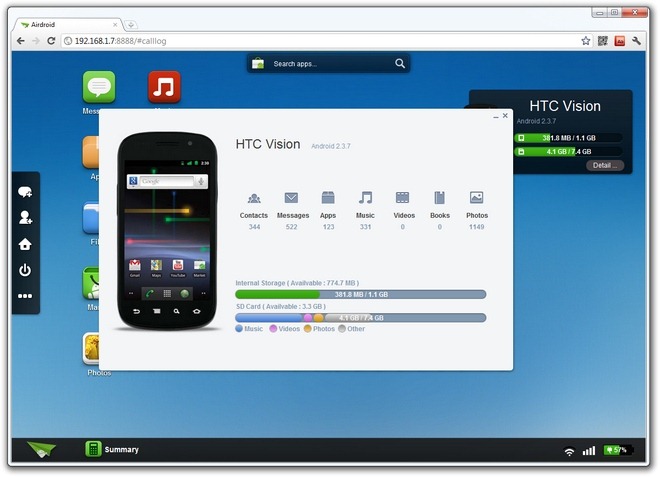 Today, most Android users connect their smartphones to their PCs with a micro-USB to USB cord. There's nothing wrong with this. But with all the technology that's available today, there are way easier ways to connect Android to your PC without ever touching a cord.
We've covered remote control Android PC software like SnapPea in the past. But today, we're here to tell you about a new software program that aims to do the same things other Android-to-PC software programs do, but better.
That program is called AirDroid, and it's designed to be the easiest way to wirelessly connect your Android to your PC.
Here's how it works:
Step 1) Download AirDroid for free from the Google Play Store
Step 2) Start the app and walk through the initialization steps
Step 3) Make sure you're connected to the same wireless network as your PC
Step 4) AirDroid will send you to web.airdroid.com along with a unique password
Step 5) Enter that unique password and you're ready to go (you can also scan a QR code if you don't want to be bothered typing an annoying password)
Step 6) You're ready to start using AirDroid
AirDroid features
AirDroid comes with a number of helpful features that help wirelessly manage your Android. Users can easily perform all of the following tasks:
-Access a desktop-like interface that transposes your Android OS into a helpful, PC-like environment
-Monitor battery life, current, wireless signal strength, storage usage, and more
-Send and receive texts/SMS conversations
-View contact information
-View media files, like movies, photos, music, and more
-Transfer files to and from your PC wirelessly
-Change phone settings
-Manage files, including the remote deletion of files
AirDroid is free to use and very easy to figure out. If you're looking for a good way to manage your Android wirelessly, AirDroid is a very good option.