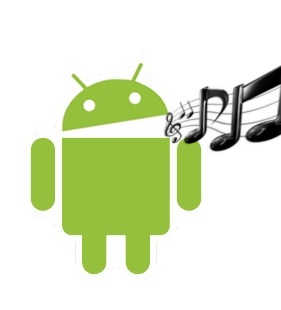 In a world of glitzy musical production value and advanced sound software programs, we usually sit and wonder whether it's really the vocalist making magic with his voice or is it the power of sound engineering that gives him the voice of a superstar. You'll never really know until you hear them live in most cases. But you'd be amazed at what a little sound effect tweaking can do for an artist. It can make your bathroom singing sessions sound professional and it can turn a fairly average professional vocalist into a multi-platinum record selling artist.
Thanks to the Android app world, now even you can get a taste of utilizing these professional music tools to jazz up your voice with some fun electronic effects and audio correction tools. Here are two innovative Android apps that are designed to give your voice that extra razzle dazzle to make you sound just like your favorite artists and share your vocal masterpieces with your friends.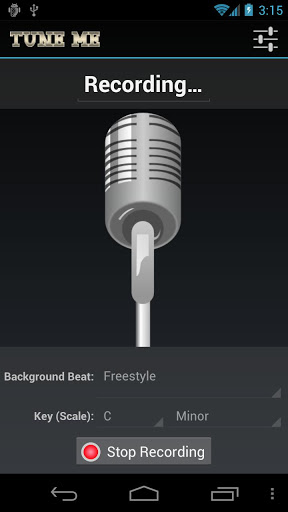 Tune Me is an Android voice app designed to give your vocals a touch that makes you sound like the vocals of the artists like Kanye West, Akon, The Lonely Island, T-Pain etc.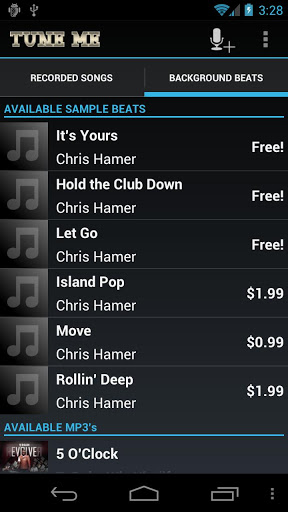 All you have to do is sing into the mic after switching on the app. The app records your voice and then uses its pitch–recording technology to give you an output that makes your voice sound like the above artists.
This is a great app for parties and using it along with friends.
You can install background beats from your phone's music library which you can sing to, or record Freestyle rap songs to share with your friends.
Check out the pre-recorded beats to get a feel of the app too.
Save all your music on the tune of these beats and enjoy some more.
The recorder has a mike on the top of the screen so that you get an actual feel of being recorded.
To get the latest updates on this Android app, you can also follow them on Twitter at @TuneMeApp
After text-to-speech and its success across smart phones, Android developers have taken a step forward to create something unique and creatively engaging by giving a whole new spin to the conventional text-to-speech technology. Here's another app that does something very different and hilariously fun with your speech by turning it into a song; hence, 'songifying' it.
Songify asks you to speak into the mike of your phone and it then converts this text into a song, and a melodic one at that.
With over 9 million people all across the globe using this app, it's more than likely that you will get addicted to it too once you download it because it is nothing like you've ever seen.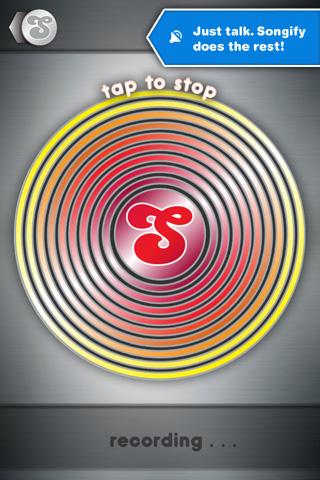 Songify is the official app of the Gregory Brothers, creators of the AutoTune, The News series on YouTube, and other viral videos such as "Bed Intruder Song", "Double Rainbow", "Can't Hug Every Cat", and "Winning!"
Songify has been featured in papers like The New York Times, USA Today, Forbes, MSNBC, The Guardian, Washington Post, Mashable, and more!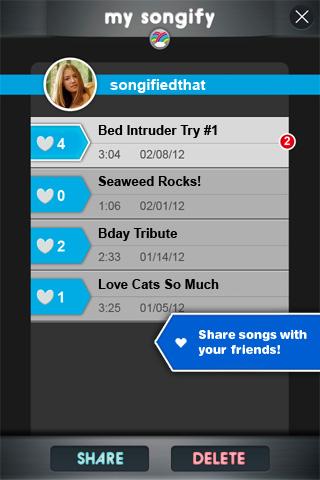 Songify yourself with these popular tracks from above and many more from a huge list that the app offers.
The unique technology which converts your speech into a song was invented by Smule to turn speech into music. Songify varies from and is not the same as Antares Auto-Tune. Auto Tune does not work on speech and voice together as against the core feature of Songify.
So if you are a poet and want to see how your rhyming poetry is going to sound as a song or just a budding rap artist trying to find the right flow, all you have to do is get your lyrics ready and speak into the phone and get songified. Songify will masterfully produce a song from that little recording in just a couple of seconds for you and who knows, perhaps you may get the perfect tune for your song.