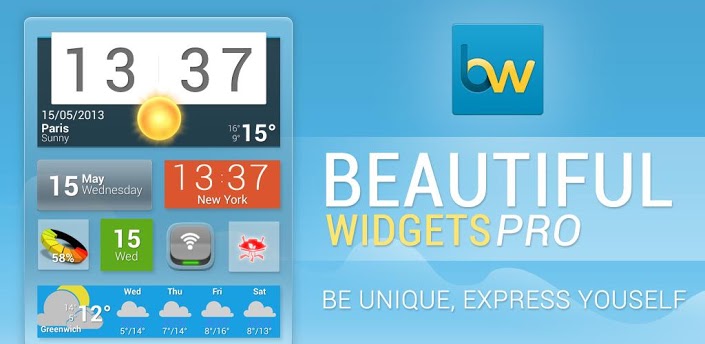 Widgets form an extremely imperative part of our Android devices and give true meaning to the term "smart" in smartphones. And let's face it, the more creative and visually stimulating the widget is, the more the likelihood is for you to get enchanted by it and add it to your Android device. Though a volley of popular standalone Android Widgets already exist in Google Play Store, only a few can deliver an all-round performance for all the basic informative widget needs. So let us take a deeper look into this massive app market and fish out a truly multi-faceted dedicated widget app that takes the functionality of all your essential Android widgets to a whole new level. The esteemed app in discussion is quite aptly named Beautiful Widgets Pro.
This ingenious and nifty widget-enhancing Android app enables you to express yourself with the help of a host of customizable features to beautify your widgets to make your homescreen come alive and give you instant access to a multitude of tools on your phone with a single touch or swipe.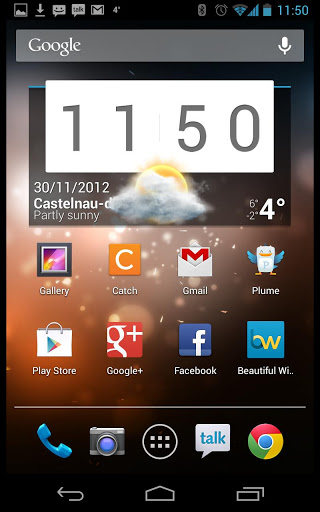 Beautiful Widgets, in its free version carries the following advantages for its users:
A dedicated home screen for the weather widget with beautiful animations to show you the latest and most accurate weather
forecasts.
Precise location through the Accuweather data.
Get three main kinds of widgets, Clock, weather and the toggle Wi-Fi.
With a data base of over 2000+ themes
Unlock these features for your app to get a taste of way more than you can imagine with the following tools available at your disposal:
Get more weather information like hours, moon-phases and lifestyles.
More kinds of widgets.
A Day Dream Screensaver (for 4.2+) with weather information.
An all new weather provider: Weather Underground for all the more accurate weather data.
Toggle widgets for Wi-Fi, Bluetooth, GPS (shortcut), Brightness Vibrate, Rotate and a Timed Silence, Silent mode as well.
Special widgets in HD for your tablet.
Unlimited downloads of themes by downloading and unlocking and trying free apps. These earn you Getjar Gold.
More customization for your widgets, with colours and creative themes and layouts for display in high def.
A super rich notification for weather.
On upgrading to the pro version, you can get access to the following additional features:
5 days forecast with scintillating animations.
Language forecasts in more than 5 languages.
The localized time, irrespective of whichever part of the world you are in.
Precise 12 Hours forecasts.
Get the Moon-phases, current forecast and a forecast for the next 4/5 phases
Weather alerts (USA only).
Get OpenGL accelerated live wallpapers for the weather which displays the weather live on your wallpaper, with many effects, movables, physics and interactions to give you a better experience.
With the latest Jelly Bean notifications, be on a constant look out for the current weather.
You can have either the weather icon or the temperature display bar displayed in the centre of your screen.
Get the best of Android Holo look & feel.
Access the Web Skin Market with cloud to device communication: All you have to do is browse themes from your computer and apply it directly to your Android phone.
Enjoy the Web Skin Mixer where you can create your own customized skins from the elements of the others themes.
Get the best of HD (High definition) themes.
Additional toggle widgets for Wi-fi, Bluetooth, Mobile, Brightness, GPS (shortcut), Silent, Vibrate, Plane Mode, Rotate and a Timed Silence other than those in the free version.
Enjoy animated weather when your phone is unlocked.
With a huge list of features and consecutive updates over the past three years, Beautiful Widgets has managed to make it to the top of the editors' list and continues to create ground-breaking animations for you to apply to your Android homescreen and personalize it to perfectly suit your tastes.