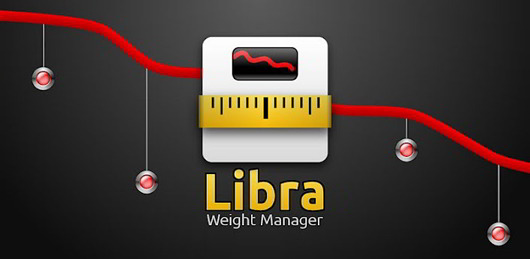 I have met very few people in my life who are completely content with their weight. Most of us have some issue or the other regarding it. Some of us keep eating but never gain enough, thus, becoming too skinny and then there is the majority of us who cannot help gaining weight just by breathing, or so we think. Too much or too little, whatever the case may be, only a handful of us are happy with how much we weigh. The problem most of the time is not our unwillingness  to do something about it, the problem is that we are not aware about where exactly we are going wrong. Thus, to help us keep a better check on our weight, there is an app called Libra. This app tracks your daily weight and displays it in beautiful interactive chart.
You must keep in mind that you still will need to do all the handwork yourself, Libra will make it easier to do so. This is how it works:
As soon as you enter your weight into the app along with your height, it will give your all the vital information you need like how much your Body Mass Index (BMI) is and how much it should be. It will also tell you the number by with you are either overweight or underweight.
All you need to do is enter your weight every morning as soon as you wake up. The date is automatically selected, and the tape scrolls smoothly when you flick it left or right. It is a beautiful way to enter your weight, and it sure beats fiddling around with the keyboard. Libra lets you create a shortcut that launches you right into the "Insert value" screen, for maximum speed. Apart from the graph, Libra lets you see numeric stats showing your trends over various periods of time, as well as "records" of highest and lowest weight/trend values.
All the functions that it performs are:
– Simple data entry
– Scrollable, zoomable chart
– BMI
– Weight goal
– Time-to-goal estimate
– Daily KCal estimate
– Visualisation of your diet plan in the chart
– Statistics
– Import/Export to Excel (.csv)
– Synchronisation with Withings (download only)
– Withings real-time push notifications
– Widget
However, Libra cannot function without the following permissions:
– Internet: Withings sync and showing ads
– Access network state: Required by the ads library
– Write external storage: Importing and exporting the database
– Receive boot completed: To reset the daily reminder on reboot
– Get accounts: Receive push notifications from the Withings service
– C2DM receive: Also required for push notifications
– Wake lock: Handling of received notifications
Whether or not doing something about it is unto you but knowing what is going on with your body is extremely important so that at least you know where you are going wrong, or what time period was it when you lost the most amount of weight so that you could follow the same routine again. Libra gives you a detailed graph of how your weight transformed each day, thereby making it easier for you to track it and to know how to cope with it.