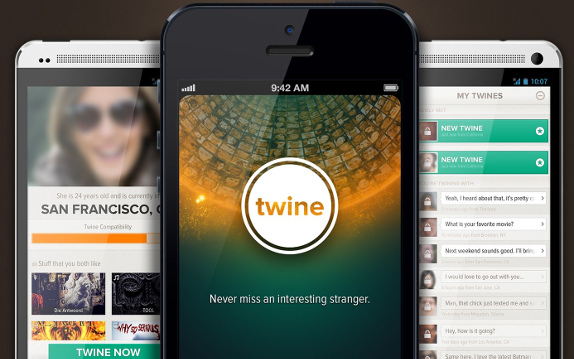 Are you single and ready to mingle? Well then Twine might be perfect for you. Twine, designed by the Sourcebits Design Company, is the latest dating app in town for the Android platform that works on the, "Flirt first, Reveal later" mantra. This Android app is designed to act as your mobile wingman that looks out for a suitable partner among the listed suitors after carefully analyzing and matching your interests and what topics both of you would enjoy talking about.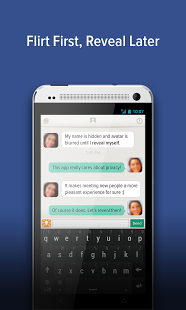 Once downloaded, the Twine Android app app asks the users to log in via Facebook through which it extracts the chosen data like interests, likes, age and profile picture. Once logged in, there is an option on the lower left corner to access your profile where you can choose to twine with men, women or either. You can then enter in a brief or elaborate description of your life, your passions and any interesting thoughts and kinks that define you in your profile to improve your chances of finding the right mate.
The Twine Android app also encourages users to suggest new features to help improve the app and make the users happy. Once the user updates his profile, he can go ahead and click on the "find new twine" button to start looking for a date. After this, the app starts to scan the universe for another "you" to interact with.
It uses a unique algorithm based on the user's interests and proximity to other users, to create compatible connections. Once found, it displays the person's profile with a blurry picture at the top with details like age, hometown and interests at the button. There is also a bar that shows the twine compatibility.
Once you go through the profile, you can either choose to twine with that person or go back and look for a new twine.  After three attempts, the user runs out of the "twine juice", as they call it, and has to wait for a while to start the process again.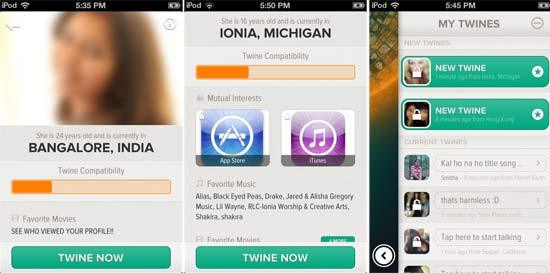 To ensure there is an equal ratio of boys to girls, the Twine app has a queue feature that limits the numbers of messages and requests you get in a day. As more users of the opposite gender enter, the faster the user will be able to enter Twine.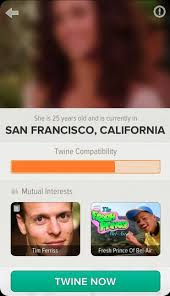 Once you like someone's profile and feel that he or she could be your possible date, the user can click on the "twine now" button and start a conversation. If you are the nervous kinds and don't know where to start off from, there is a small bulb near the text box, which when clicked, displays a few topics that can help break the ice.
The Twine app uses a technology called ICE Breaker (Intelligent Conversation Enhancer) that suggests topics to keep the conversation flowing, as it can seem a little different to speak to someone you cant really see. After the user gets comfortable with the person, he can choose to reveal his photos; however, the opposite person must also agree to do that.
Also if the user comes across a twine he does not like, all he has to do is click on the "!" (block sign) and he will never hear from that person again to avoid any creepy interactions or harassment. This way Twine ensures on having meaningful conversations with others rather than liking one's profile picture.
So quit wasting hours scanning various profiles on social networking sites and download Twine, because with this app, you will never miss out on an opportunity to pick out your soulmate from a interesting group of strangers.