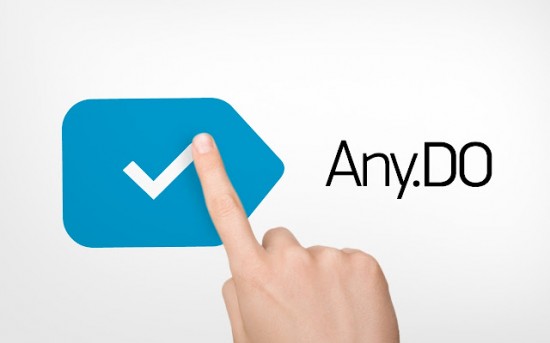 Have you ever wondered at your minds capacity to store information? Amazing isn't it? But the mind has its limitations. There's so much information stored in all fields. But sometimes it becomes quite the task to retrieve all the information, because the human mind has its capacities too .We can't remember everything and the tendency to forget is very common.  So what do we do in that case? We start off by making lists; lists where we write down the list of activities to be done. At times the list is endless.
With the help of your Android powered mobile phones and tablets, many of your routine day-to-day tasks have become twice as easy. There's an app for almost everything you need these days. One of the esteemed apps beloved by users on the Android platform is Any.Do – the ultimate 'make things happen' app.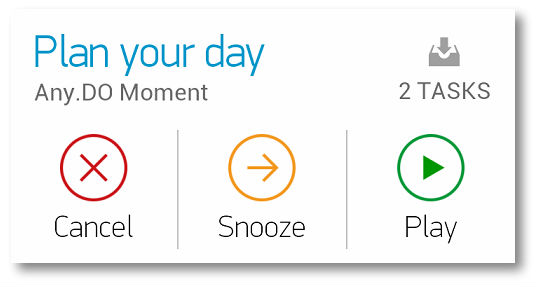 All it requires is an Android 2.2 and up OS version to function. As soon as you launch the Any.Do app, the interface comes up with really vivid animations and has the user captivated right from the word go! These animations give you bird's eye view of what the entire app is.
The user can make multiple lists under different folders according to their suitability. Be it from things to be done from home or office. The user can create different folders, set timings and days for their tasks. There are widgets that keep popping up on the screen reminding you of the tasks to be done. Add anything that's on your mind. Use drag and drop to remain organised.
You can share your tasks with other contacts. Different tabs on the interface show you different pictures in the background so you can easily select from them if you happen to have forgotten anything. Once you finish a task you can simply strike it of the list by swiping across it.
You can just shake your phone and get the list cleared once all your tasks are done.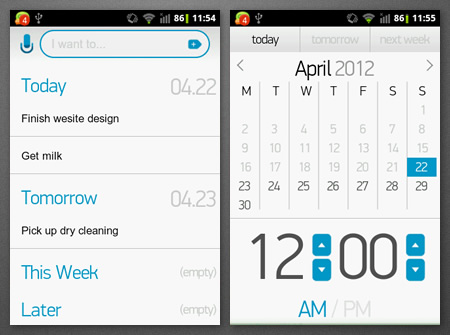 Any.Do offers great multi-platform integration and you can easily get your to-do lists managed across all your devices. Whether you are working on your laptop or computer, you are reminded of the tasks at hand at the right times. Install Any.do widgets on your screen for more efficient and hands-on usage of the app. Here's how to set up the Any.Do widgets and use them on your Android devices:
1. Open your app drawer
2. Click on the widgets tab
3. Long press on any one of the ANY>DO widgets on the list
4. Drag and release it where you want it
Typing can be very painful at times. The good thing about this app is that you can convert your speech to text. All you have to do is press the microphone icon on the left hand top of your screen, a Google icon appears that instructs you to speak, once done it converts your speech to text and puts in whichever folder you want.
There are two folders namely Personal and Work and more folders can be created. When you press the three bullets on the right top corner of the screen you get a list of icons namely Date, folder sync, plan settings and help which actually help you organise and plan your tasks. The settings folder enables you to choose between two themes black or white. You can gift it to your friends the app too
Any.do gives you a choice of languages you could select according to your convenience .The app also gives you a backup of your tasks. The user has multiple choices of sounds to choose from for notifications. If you get lost somewhere in your tasks one has the help section to go about.
So there you go, a huge list of features on a rather simple to do app that brings back the fun in creating lists to do things.