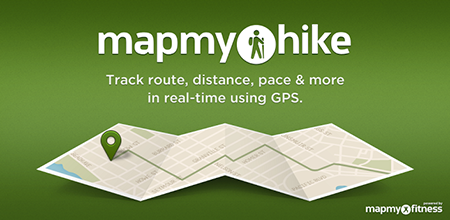 Since we live in a world full of apps. the best thing to do is to embrace them with open arms because it is very true that they have made our lives much easier. Now, if you are an adventure junkie and like to be amidst nature to get a break from the concrete jungle and first world issues like the laptop and the television, basically, technology then that is great so long as you make one tiny exception to that break from technology – your smartphone. No, not for updating your Facebook status but for a more hassle – free experience while you are away.
Let us welcome Map My Hike – a nifty GPS hiking app for your Android device that leverages technology to give you an unforgettable nature bonding experience when you plan your next outdoors adventure.
Using the GPS sensor, Map My Hike will log data from your hikes, such as pacing, elevation, distance, and route. It will also calculate calories burned based on an estimate of the hike's difficulty. All of this data can be viewed in graph format and it can even be uploaded onto a leaderboard per trail. For casual hikers, it's a fun way to visualise your hike from start to finish. For hardcore hikers, it provides a way to compete with yourself and push yourself beyond your limits.
You can search from millions of hikes and bookmark the hikes you like, then open the app and easily navigate the trails. This app has over 600 activities including track hiking, walking, cycling that come with the following:
– Pace (Avg, Max, Current)
– GPS Route Mapping
– Distance
– Calorie counting
– Elevation profile
– Route navigation
– Nutrition, food, diet, and weight tracking
– Real-time Stats (avg, min, max) during workout
– Split graphs and times
– Voice prompts that give you updates on your progress as you go!
– Sync with heart rate, speed, cadence and power sensors from CycleOps, Wahoo, Polar, Garmin and others (Bluetooth Smart™ and ANT+™)
– Compete on local Courses: receive automatic achievements and overall rank on Leaderboards for popular local runs and rides.
– Tracks in the background so you can listen to music, take calls, and use any other feature of your phone, while still tracking
If you happen to be a social media butterfly, then you can post everything on Facebook or Twitter or keep it private, it is up to you. Map My Hike also includes training and tracking features to suit recreational cyclists, bike touring, commuters, all the way through competitive racers. It is great for training for group rides, century rides, and everything in between.
Although the free, regular version is good enough for most of us but for those of us who are exceptionally adventurous, there is a paid pro version with the following features:
– Customized audio coaching tells you real-time workout details as you move
– Share your real-time location with family and friends using Live Tracking
– Analyse heart rate data for every workout (requires compatible HR monitor)
– Enjoy an ad-free experience
– Reach your fitness goals with personal training plans on our website
– Route Genius (web feature) gives you route recommendations for any distance, starting from your current location.
Now that you know how awesome Map My Hike is, I know the adventurous side of you has started itching to go for a hike immediately. So have a fun and a safe trip!