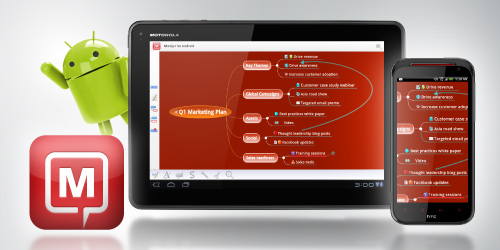 Whether you're hard at work or kicking back and writing your book, organizing ideas is the key to executing every successful project. This process of brainstorming and thought cycling is the blueprint for any task you want to take up; hence, having a visual platform to shape your ideas in is a great tool to have at your disposal. Professionals like construction managers and architects have already been using mind mapping software like Microsoft Project.
The organizing and structuring of content is quintessential to report writing, book writing, etc. Penning down ideas and tasks in the form of lists can be rather tedious and unappealing to someone who likes to think more visually and clearly. Luckily, the Mindjet app for Android is a brilliant innovation designed to take spatial organization of your content on a grand scale.
Mindjet provides a great visual overview of your project goals and milestones and graphically shaping work execution strategies for different phases of your project. You can create mind maps for everything ranging from organizing your annual financial details or something as simple as a blog posting strategy for a week.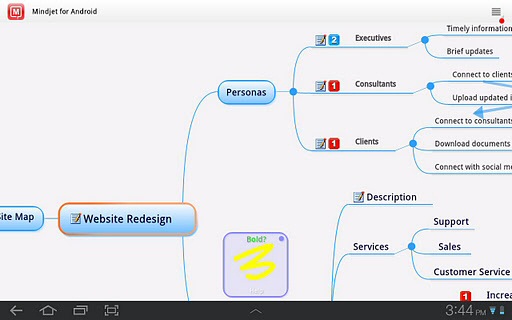 FEATURES
Both the Android mobile and tablet version of this app work smoothly allowing you to see, search, and edit mind maps on-the-go with one-touch access. Mind maps may often be too widespread and difficult to view on small screens. However, Mindjet does a great job in overcoming this viewing obstacle by allowing you to adjust the size of your map and collapsing the branches accordingly. You can tap the part you want to zoom into on your screen and it will expand that part of your map for an improved view.
Its highly elementary and user-friendly interface is easy to navigate through. By tapping the bottom-left part of your Android's screen, you will be taken to the main settings menu. You can now choose from a wide variety of options like inserting and removing nodes and links, editing texts and changing font styles, expanding and collapsing the mind map by zooming in and out.
Along with inserting and manipulating text nodes, Mindjet can also be used to give a stylish touch to your mind map by letting you style it using different color combinations, shapes and images icons. Enhancing your mind map even further with visual cues like pie charts, graphs, flags, clocks, smilies, etc. help in bringing out the clarity in your plans. On the other hand, you can also take customization a step further by uploading your own images and inserting them in nodes as thumbnails.
All your mind mapping customizing and editing details are automatically synced to the web version of the app once you go launch Mindjet with the data connection activated. This benefits you by allowing you to work on a map offline or online without any worries.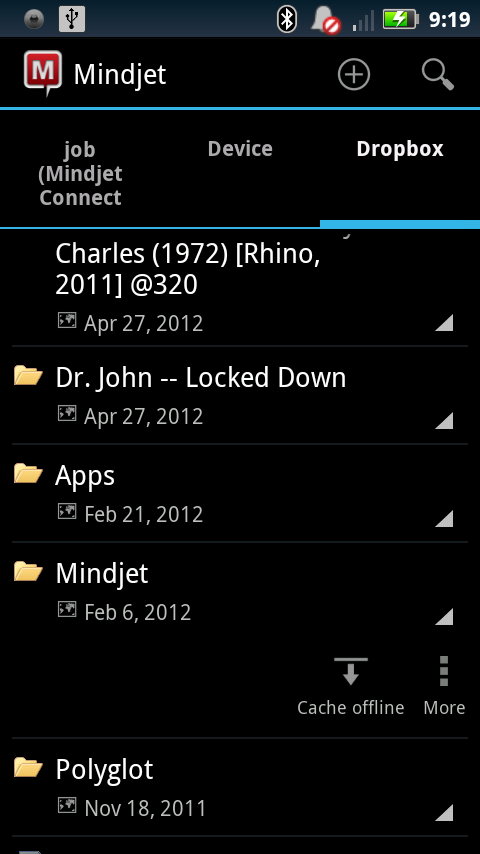 Working on the Cloud
Almost every successful app these days is designed to have seamless integration capabilities with all major cloud sharing platforms. Mindjet also follows this essential trend with finesse and lets you sync all your mind maps via your Android smartphone, tablet, PC or its web app version. A lot of other mind mapping apps do not allow you to edit your mind maps when you are not using your PC; Mindjet however, overcomes this problem by letting you edit and customize your mind maps on-the-go even in the offline mode on your smartphone and PCs.
To get started with editing your mind maps, all you need to do is register for an online account of Mindjet in order to sync your mind maps with the cloud.