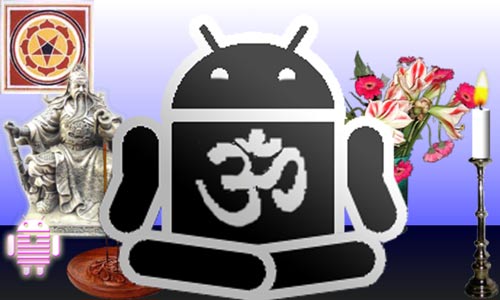 Relaxing and meditation is known to make wonderful contributions to your well being. Closing your eyes and breathing heavily has taken the world of health enthusiasts by storm. It's not just a fad for Yoga lovers anymore. Meditation has quickly transcended cultural barriers to gain mass acceptance by millions of people around the world looking for a way to retain their mental harmony in this stressful life. Everyone's doing it and it seems to be catching on. There's something so calm and serene about it that it that once you start you just can't stop. For all those busy bees looking for a quick and effective meditation session on-the-go at a time convenient to you, we have just the thing that you are looking for.
Enter Insight Timer – a well-renowned meditating app for Android devices that has featured in big publications like Forbes Magazine, Washington Post and the US news and World Report. Insight Timer takes that very concept of meditation and extends it to another world of its own. But you might be wondering; how does an app help you meditate?
The answer is simple. Insight Timer uses exclusively composed music and tones to calm you and your nerves through its carefully constructed and recorded music. But this isn't just any music. This music contains frequencies best suited to stimulate your brainwaves and recreates the meditative ambience associated with monasteries and temples right in the middle of your bedroom or office meeting room. This app includes features like:
Interval Bells
Presets
And Meditation Journals
The interval bells are bells that have been recorded with state of the art equipment around famous meditation centres around the world. The come with heavy fade in and fade out and sound great with built in speaker. But the best effect is with head phones or ear phones on.
These bells can be set at many intervals from 1 second to 20 seconds and play at the start and the end of the session whose length can be determined by you in the beginning of your session.
There are 7 bells each varying in tone sharpness and have sound of metal gongs. There even is a wooden block is also included.
The presets enable you to set multiple training and meditating schedules. These can be used anytime in the future and you can select your predefined course depending on the time available at hand. You can set routines for morning and evening and can shift easily between the two as both are pre fixed.
The meditation journals are pass word protected records that require you to add in notes about your meditation after each session. Objective is to maintain consistency and this also somewhere down the line psychologically motivates you to keep going. This therapeutic practice can also be exported via email.
Insight Timer also gives you statistics about your performance. It gives you charts and session logs which gives you a helpful picture of how your meditation is evolving.
The best feature of the Insight Timer app is its massive community of meditators. A lot of the app users form communities which are representative of various spiritual beliefs followed by them. You can join in too to gain more insights and share your own views.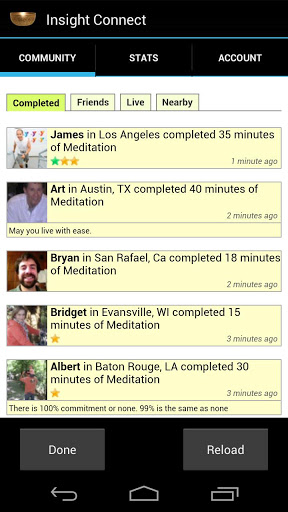 What this does it helps you in keeping track of your friends who are meditating and that in turn motivates you to keep going.
Additionally, there are milestones in the form of stars that appear under a meditators profile. These milestones are attained by completing single sets of 10 consecutive days of meditating. These well-designed meditative programs will help take you in a journey of continuous meditating for days and weeks and months on end with a high degree of motivation.
Insight Timer currently stands on a pedestal of 4.8 star rating in Google Play Store, which is completely justified by the quality of research and offerings it has for the user. The app is available at a great bargain price from the app store and is a must-have tool for every stressed out individual who wants to dedicate some peaceful time for their mind to keep their life balanced.