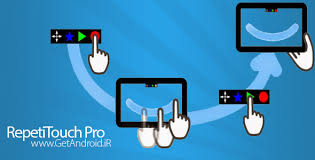 If you enjoy videography a lot or of you prefer videos over photographs and your phone gallery is filled with more videos than pictures, then you need a system that lets you record and replay videos with a lot of ease. Yes, photographs do capture memories but videos give a very different way to relive them. It captures moments without deception whereas photographs can be deceptive. Videos reveal the exact atmosphere of that vacation, that birthday party, that fight going on on the street.
Therefore, today's article is dedicated to making video making a better, easier and faster process. Hence, today's app being covered is RepetiTouch Pro. RepetiTouch enables easy recording and replaying of touch events. Simply record and replay your touchscreen input!
Just click the record button and start recording – the panel will stay on top almost all the time! When you're done, you can replay your touch events as easily. To access the menu, click on the star.
But beware, replaying touch events can fail or cause unwanted effects for many reasons, e.g., if replay is started at a different device state than during the record or if during replay a popup is shown or something else is different than during record. Thus, always monitor your device during replay! Replay automatically stops if you're touching the screen, pressing the power button or on a phone call.
This app that requires a rooted android device has the following features:
– record & replay global touchscreen input
– record & replay hardware buttons or other device input via "Additional Input Events" (only on certain devices)
– edit recordings
– pause replay
– Locale/Tasker support
– draggable, customizable panel
– load & save records
– auto-save/auto-load last record
– loop replay with configurable loop counts (start by long clicking, i.e., clicking and holding, the replay button)
– dim screen while replaying (only on certain devices)
– hide panel while replaying
– appending record (start by long clicking on the record button)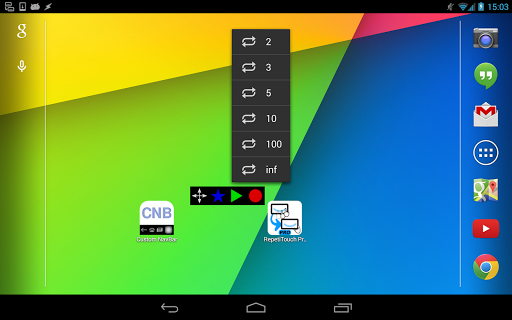 Before buying RepetiTouch Pro, you can test the free version and then decide whether you want to buy it or not. Also, it has a refund policy, incase you do not like it after the purchase. You can request a refund of this app within seven days after your purchase.
RepetiTouch Pro requires the following permissions:
– Superuser: To record&replay the touch events
– Draw over other apps: To display the panel
– Read phone status and identity: To stop record/replay on a phone call
– Modify or delete the contents of your USB storage: To save a record on your external storage
– Run at startup: Automatically start after booting
– Google Play license check: To check the license of this app
Make your video making experience a better one with RepetiTouch Pro. Even though it supports a refund policy, which is great and rare, yet, once you use it you will definitely not want to let go of this app because it really does provide a lot of convenience while recording and replaying videos. With this app, you can capture all your important moments on video swiftly!