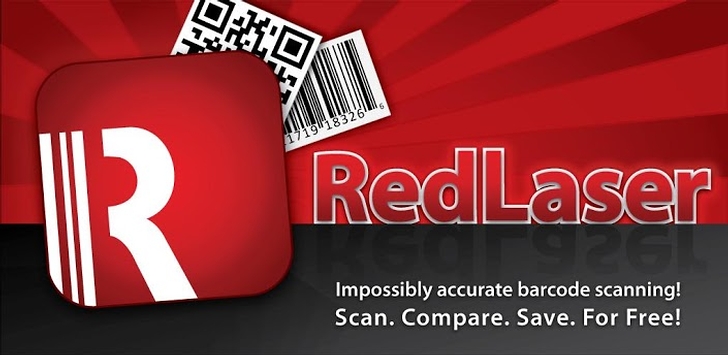 As the name would suggest and you may have guessed right, Red Laser is a barcode scanning app. With barcode technology being the global industrial standard for product information processing for ages now, the lives of retailers, manufacturers and users have enjoyed a tremendous uplifting experience. The age old fascination of little children with these ' laser toys' has been carried forward and evolved to quite a phenomenal level of sophistication and significance. And when you can have such a toy in your hand on your Android device, it makes it all the more fun.
Red Laser is a brilliant little shopping tool for your Android device that allows you to scan almost anything and everything under the sun when you visit stores and examine products. The age of the informed and enlightened user is here, and the arrival of apps like Red Laser is facilitating this transition with great velocity.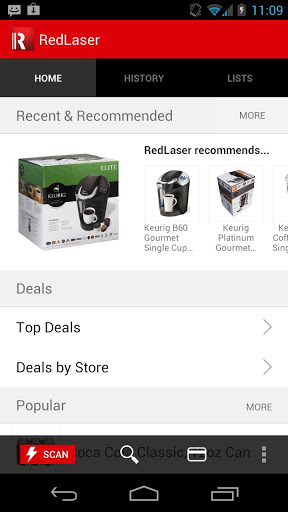 From retail barcodes like UPC, EAN, UPC-E and EAN-8 to QR codes, you can use Red Laser to scan all there is that comes in your sight.
Red Laser scans and gives you prices of items and objects all across the country helping shopper's everyday creating a better and more fun shopping experience.
It searches for millions of products across thousands of retailers and brings up to you the best price there is in the market. In addition to this, you can find deals and coupons across the country to avail within a short given period.
The Red Laser Android app ensures security and makes sure you don't get ripped off on any deal. You can even scan all your loyalty cards and store them and share them with family members.
With Red Laser on board your Android app tray, you can compare prices available at different retailers and even search for these retailers that sell the related good.
You can also get relative products if not the very same, probably the same product line of a different brand on scanning a product.
Get an array of listings of the prices on each of these. Through Red Laser, you can buy products directly from your Android phone and have them shipped to your doorstep or pick up in store from local retailers.
You can use the top deals option in this app to filter them by top ones for the day, for the week and for the month. In fact these could be filtered store wise too depending on the merchant you prefer the most.
An inordinate feature is the food data on scanning a food item. Not only does it give you the prices and product comparison but the nutritional content as well with the composition of vitamins and fats and carbohydrates thrown in there too.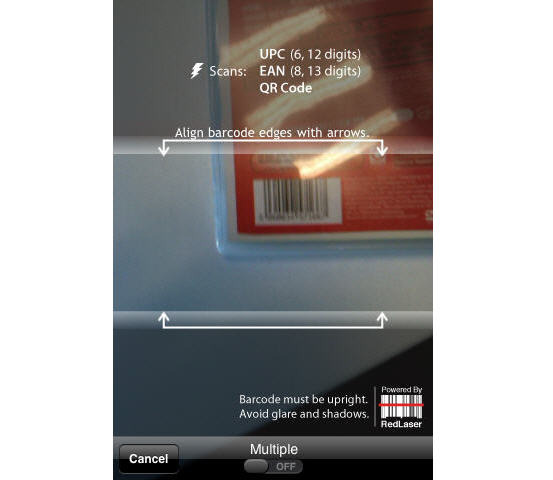 Red Laser users are spread all across the world and they all look for products that may be pertinent to your locality. Keeping this in mind, you are authorized to see all the products that other users have scanned using the app and check out its product info in case you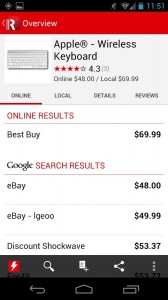 need to pick up something extra special.
Further you can create QR codes for yourself and assign them to contacts, websites, other information, location and much more. These are all personalised and exclusive.
With Red Laser you can create shopping lists, wish lists and gift lists to share with friends and family. Use it also for archiving your book, CD, DVD, and hey! Add in your wine collection to it too.
Don't currently have access to the barcode scanner? That's all right. Use the integrated keyword, voice, and image recognition search to find the best deal through Red Laser's diverse and extensive database.
The Red Laser Android app has gained recognition from prominent sources like E! News, Better Homes & Gardens, Marie Claire, the Oprah Magazine and All You. All of these have given great credit to the app and its usage and high utility factor for everyday smartphone users. Also, it can be downloaded for free and the more you use it, the more you will move towards getting the best possible shopping experience. So what are you waiting for? Download it right away from Google Play Store.