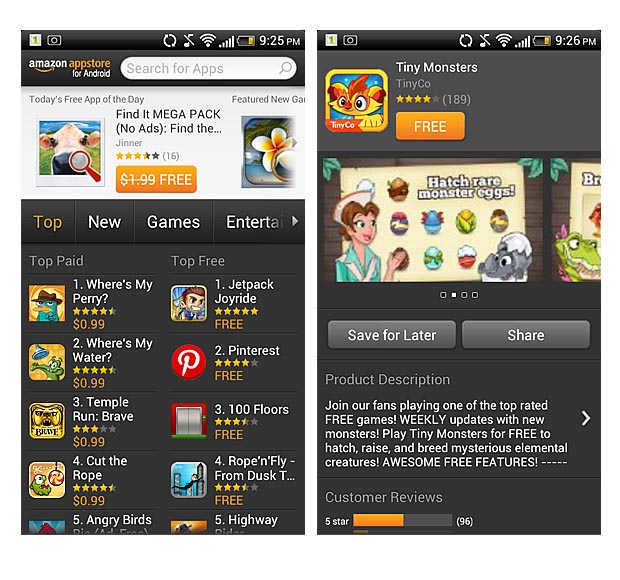 If you're like most Android users, you use the Google Play Store to download apps. However, the Google Play Store isn't the only app store available to Android users. In fact, some of the best free and paid apps can be found outside of the Google Play Store.
Unlike iOS, Android allows you to download apps from third-party stores quite easily. If you're ready to experience what the wide, wide world of apps has to offer, then keep reading. Here are our top 5 favorite app stores that aren't Google Play:
5) Opera Mobile App Store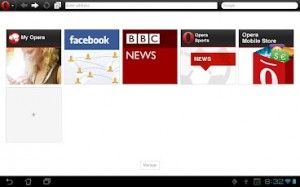 Opera may not be the most popular internet browser on the market today, but the company has nonetheless decided to open a mobile app store for Android. The app store shows promise with a wide offering of free games that are unique from what you might find on traditional Android app stores.
From the Opera Mobile App Store, users can browse through apps in a number of different categories, or just sort through apps based on popularity. The interface will be familiar to anyone who has used the Google Play Store.
4) Facebook App Center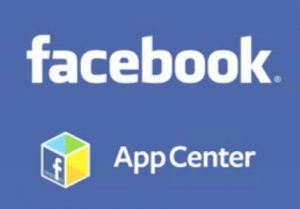 Facebook games are hit and miss. Some games are incredibly addicting while others are ridiculously awful. Whether you're addicted to Mob Wars or Farmville, the Facebook App Center has the Android apps you need to satisfy your fix.
The Facebook App Center, unlike the other app stores listed here, isn't downloaded separately. Instead, it can be found directly in the Facebook app that you've probably already downloaded from the Google Play Store. Just open up Facebook, click on the three dashed lines on the left side of the top menu, then tap the 'App Center' button.
3) AppAware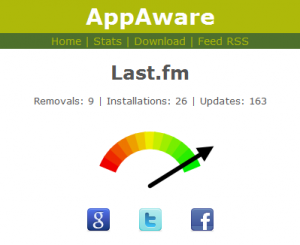 AppAware is more of an app discovery tool than a third-party app store. That means it will help you find awesome apps and then show you the best place to buy or download those apps.
AppAware recommends apps that it thinks you would like based on a number of different factors. It looks at the apps your friends are playing, as well as popular or 'trending' apps that are currently being downloaded around the world. Users who don't want to get automatic AppAware recommendations can simply browse through the AppAware app itself to look at local apps and games, editors' picks, top apps, and a number of other useful categories.
2) AndroidZoom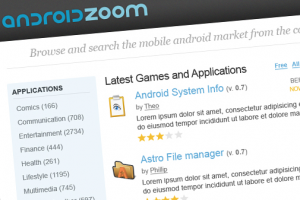 If you like to read reviews of an app before you start downloading, then you'll appreciate AndroidZoom. Like AppAware, this is more of an app recommendation tool than an app store. It allows users to browse through a list of some of the world's most downloaded apps based on their daily download number, local relevancy, and a number of other factors.
But a big advantage with AndroidZoom is the detailed review system. AndroidZoom is filled with useful reviews written by users. And best of all – these reviews are readable whenever you tap on an app. That saves you from having to navigate to another site to read reviews or scroll through countless star ratings to read what users actually think about an app. Reviews also feature a list of pros and cons, making them as easy as possible to read.
1) Amazon Appstore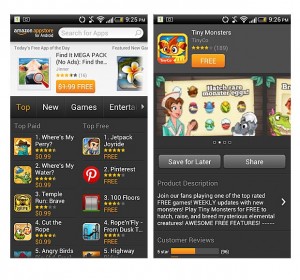 The Amazon Kindle runs a heavily modified version of Android. But since it's still Android at its most basic level, those who use other Android products can download apps from the Amazon Appstore quite easily.
Amazon's Appstore has a range of free and paid apps. Amazon tends to be strict about which apps it allows into its store, so it doesn't have as wide of range as the traditional Android app stores, and many of the best apps cost between $0.99 and $1.99. In spite of that fact, there are plenty of hidden gems to be found on the Amazon Appstore, and you can take advantage of Amazon's regular sales in order to save money on apps that are found on other app stores.
Oh, and there is one other restriction to tell you about: only Android users from certain countries can download apps from the Amazon Appstore due to licensing restrictions. So far, the United States, Canada, and most of Europe have access to the Amazon Appstore, although service can be spotty throughout the rest of the world.