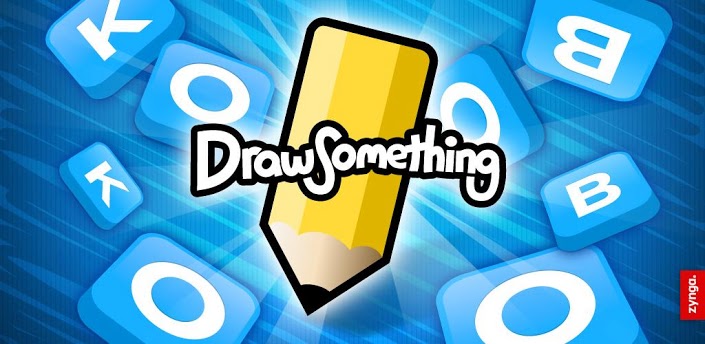 Android phones and tablets on the whole have taken almost everything that is done in real life and mirrored it onto the Android platform. This includes the now ancient art of holding a colorful mini-stick like instrument in your hand and using it to create physically artistic images conjured in your restless imaginations onto your bedroom walls. Or you might probably be watching your toddler carry on this legacy by doing the same.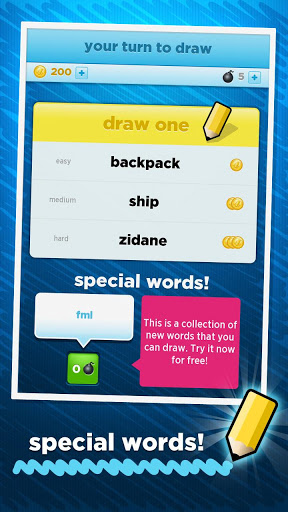 Only in this case, you are smart enough to understand that your walls are paying the price for these misadventures. What if we told you a simple app could divert their creative skills in a more constructive and less vandalistic way by using your Android device screen as the canvas for their artistic expression by using a stylus or their fingers to draw whatever comes to your mind.
The app in discussion is named Draw Something. It is a game designed for both kids and adult artists in development who simply can't resist expressing their vivid dreams into magnificent reality. It slightly steps out of the community bandwagon and even houses a multiplayer game that involves you and your friend together in a battle of wits and this extends to people whom you don't know as well. This unique combination of features makes Draw Something a brilliant educational app as well as a fun-packed gaming experience in one package.
The game is relatively simple but pushes you to enhance your creativity to the maximum.
On logging in, using your created account Draw Something lets you connect with your friends who are currently online in the app community or to connect with others who are willing to take up a challenge.
It then gives you a list of 3 words that you can choose from.
You are then required to pick a word and draw it on the game screen.
All this is available on an easy to use interface on a blue screen with cutting edge tablet and handset gaming layouts.
On the draw screen, you can draw a picture of the word you selected out of the list using the already existing colours.
On the top of your draw screen while playing a game, your turn number is displayed along with who you are drawing the image for.
Below that is a set of colors that you can choose to draw your image from and then the massive digital white board with the pencil and eraser underneath it.
After drawing your image, you can submit it and here's the best part, after this you can go back to the main menu of Draw Something to draw anything else you want for another player you are competing with.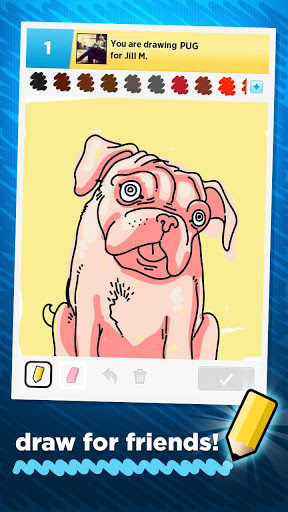 That's right. Draw Something enables you to play multiple number of games with multiple art enthusiasts all at one time.
When your opponent has drawn something for you, you get a list of jumbled letters from which a few out will comprise of the letters used in the drawing.
The more games you win by toppling your opponent by guessing what your opponents draw while ensuring they don't guess what your creation is, you can earn coins. Its rules are somewhat similar to an alternate version of Pictionary.
The coins you earn from winning games on the Draw Something app can later on be exchanged for more colours to embellish your images further and add more layers of intricate design to your work.
They can also be exchanged for bombs that will blow out a few of the letters when you guess or present an all new set of jumbled letters.
You can earn badges as you keep progressing in the game as well.
To make the game better though a lot of people have suggested the following:
An In-game chat to communicate with the player
Free style draw out of the gamer to practice your drawing skills
More awards for coins – other than just colours and bombs
A wider range of patterns brushes
Other than the above mentioned features, Draw Something offers a phenomenal experience for art fans and creative gamers across all ages. It has already made a strong impact across several operating systems and is widely played all across the world. So what are you waiting for? Become an avant garde Picasso or turn your kid into one by downloading the wonderfully addictive Draw Something app on your Android device right away.