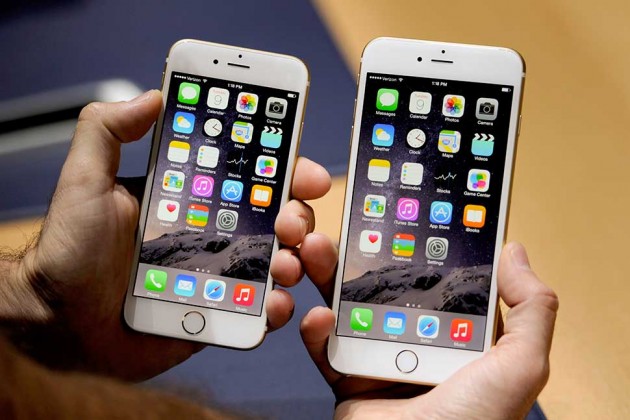 The iPhone 6 and iPhone 6 Plus are the most legitimate Android competitors we've seen in many years.
Over the last few weeks, we've seen dozens of comparison articles published online. Everybody has a different opinion about the usefulness of iOS 8 and the sleekness of the iPhone.
But here's something that isn't subjective: tech specs. Today, I'm going to see how the iPhone 6 compares against some of today's most popular Android devices in terms of screen size, battery life, display, price, and other metrics: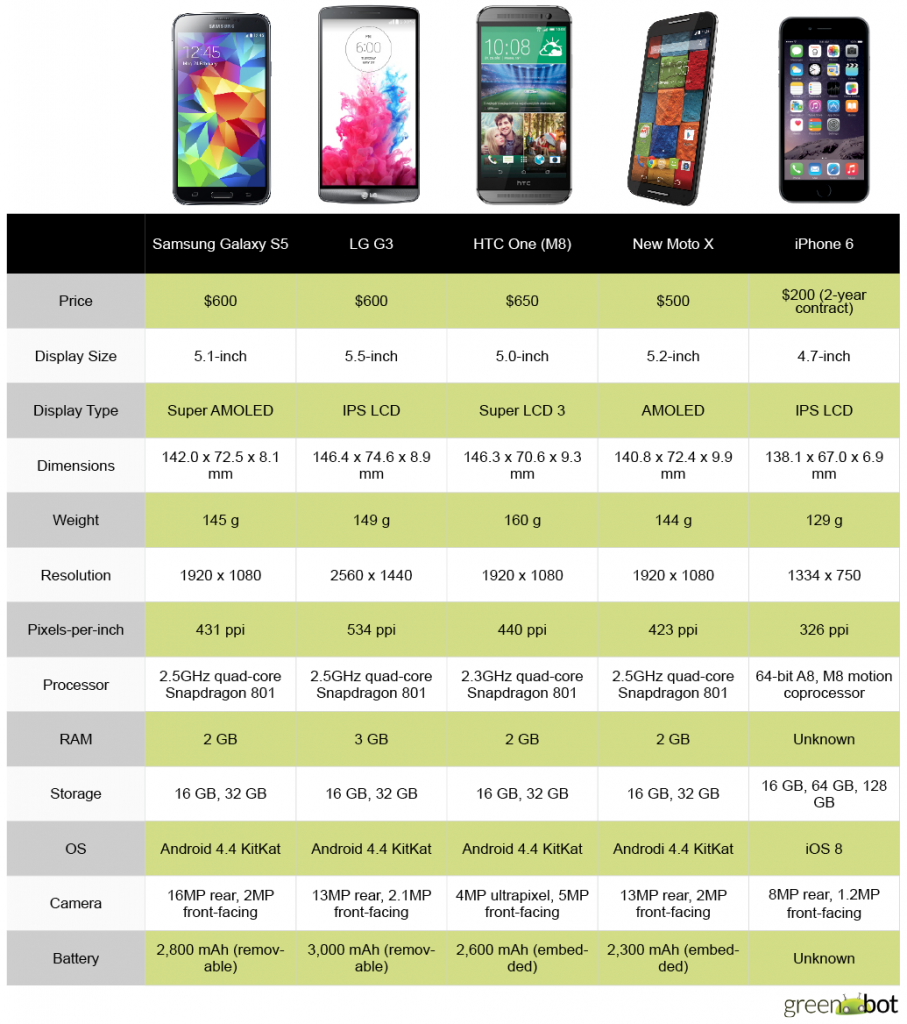 Thanks to our friends at Greenbot.com for putting that comparison chart together.
Clearly, if tech specs, performance, and battery life are your primary concerns, then all major Android flagships wipe the table with the iPhone 6. In fact, the iPhone 6 has more in common with Androids from 2012 and 2013 than it does with modern Android devices.
Here are some notable things to see in this comparison:
Apple is lagging far behind Android in terms of resolution
My Galaxy S3 is 2.5 years old and has a resolution of 1,280×720. The iPhone 6 was released this month and has a slightly better resolution of 1334×750.
Last year's Androids bumped up their resolutions to 1080 (1920×1080). This year, smartphones like the LG G3 have taken that a step further with 2560×1440 resolution.
Most people will say that 2560×1440 resolution isn't necessary. But if you want to watch full HD YouTube videos or Netflix videos, then a 1080p screen is a huge advantage.
Take a look at the ppi column too: Apple is about 100 ppi behind its closest competitor, the Moto X.
Apple may have a similar screen size, but its ppi and resolution is extremely disappointing compared to competitors.
Apple is the only flagship with 32GB+ storage options
If onboard storage is important to you, then the iPhone 6 is your best option. It's the only flagship that features 64GB and 128GB onboard storage options.
Of course, all the Android devices listed here also support microSD card slots – which let you expand your storage by up to 128GB for around $100.
Android phones are killing Apple with their cameras
You can't talk to an Apple fanboy about the iPhone's camera for more than 10 seconds without hearing "megapixels aren't everything."
That's true, megapixels aren't everything. But in terms of camera features, all major Android cameras have caught up and surpassed the iPhone with features like Optical Image Stabilization (OIS) and fast auto-focus. They've done that while doubling the iPhone 6's sensor resolution to 16MP on devices like the Galaxy S5.
But the front-facing camera is where Android is really killing the iPhone. The iPhone 6 has a measly 1.2MP front-facing camera, which is capable of 1290×960 shots and 720p video recording.
Meanwhile, competing Android devices have a baseline 2MP front-facing camera, with the HTC One M8 leading the pack with a 5MP front-facing camera.
Whether you're taking selfies or landscape shots, modern Androids are your best option.
This comparison chart obviously doesn't tell the whole story. iOS8 is a superior operating system according to some people, and many people prefer the build quality and case design of the iPhone 6. But if you're looking at raw tech specs, the iPhone 6 is miles behind its competitors.